Coffee & Treats in Hobart
---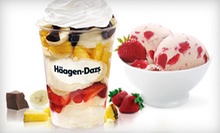 Gourmet flavors of Häagen-Dazs ice cream and small-batch kernels of creatively flavored popcorn delight taste buds
---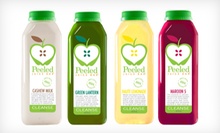 Raw, nutrient-rich, cold-pressed juice drinks available in a three- or six-day supply cleanse and detoxify
---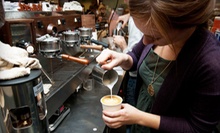 Hands-on class teaches proper methods of brewing coffee at home to make perfect cups every time; includes snacks and unlimited coffee
---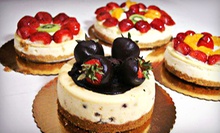 Legendary German pastry shop serves strudels, cakes, and Viennese-style coffee amid flowers and china place settings
---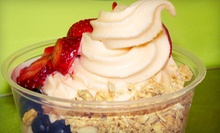 Eight rotating fro-yo flavors blended with mangoes, pomegranates, or chocolate & served alongside smoothies & milkshakes
---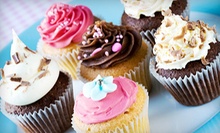 Bakers prepare small batches of batter for gourmet cupcakes and cakes with reliable consistency
---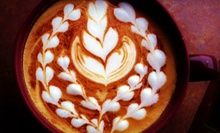 Baristas create designs with the foam of tasty cappuccinos, and serve up dark-roast coffee, sweet chai lattes, and creamy gelato
---
---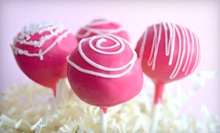 Hand-dipped, hand-detailed cake pops in flavors such as red velvet with cream-cheese frosting & birthday cake with sprinkles
---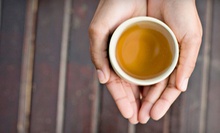 Loose-leaf experts offer lessons and patrons taste samples of gourmet teas from around the world
---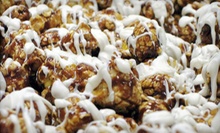 Fresh-popped popcorn in 60+ flavors such as toffee, bacon and cheese, and Dell cheddar; several flavors of homemade Italian ice
---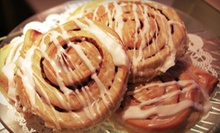 Pastries and chocolate-covered confections accompany a casual lunch menu kicked up with components such as fresh goat cheese
---
Recommended Coffee & Treats by Groupon Customers
---
This weekend, Sweet Miss Giving's is offering a great discount to you - and over 50% of the profits go to Chicago House. For $22, you get a dozen Easter-themed mini-cupcakes delivered to your home or office (taxes included) - 43% off the $39 retail value. Sweet Miss Giving's is a premier bakery that offers rich, decadent baked goods while providing a new reason to feel good about sweet indulgences: over 50% of all profits go to help the formerly homeless and HIV/AIDS-affected men, women, and children of Chicago House. And Sweet Miss Giving's doesn't just throw money at a problem, they actively work to solve it by empowering the people they serve. The bakery doubles as a comprehensive jobs program that employs more than a dozen disabled adults. Working at SMG gives people who are trying to get on their feet some real-world training and experience as bakers, delivery assistants, and packaging specialists. And they're not producing your everyday cupcakes, but extraordinary baked goods whose recipes were provided by some of the best bakers in the city. Their all preservative-free ingredients are the highest quality, and with top notch Chicago chefs donating their expertise to the cause, SMG consistently creates some of the finest baked goods you'll ever taste. SMG has been praised by the Chicago Tribune and TimeOut Chicago.
1229 N North Branch St #123
Chicago
Illinois
US
For $5, you get $15 worth of tasty goodies at the Chicago baked-goods landmark: Dinkel's Bakery, located at 3329 N. Lincoln Ave. If you use your Groupon Monday–Thursday, you'll get three free bonus danishes, which taste 3% sweeter than standard danishes. Buy up to five Groupons to get even more delicious baked goods!
3329 N Lincoln Ave.
Chicago
Illinois
US
Bins and jars bursting with colorful sweets croon siren songs to passersby inside Suckers Candy Inc, which was featured on 190 North for their collection of nostalgic treats. A mammoth penguin sentry greets guests as they lick candy ice-cream cones, decorate nearby cheeks with confection-lipstick kisses, and give sock puppets the gift of sight with a couple of candy-button eyes. Specialty chocolate barks plus chocolate-covered pretzels and fruits stare out from glass display cases, hoping to hop inside one of Suckers' custom gift packages, which are lovingly wrapped in plastic and sealed with bows.
3256 North Damen Avenue
Chicago
Illinois
773-549-1706
You may have trouble imitating Martha Stewart's intricate leaf-patterned piecrust or her prison-haunted lilt, but it's easy to imitate her impeccable taste with gourmet cupcakes from one of Martha's favorite cupcake bakeries. Today's Groupon to Swirlz Cupcakes gets you a dozen decadent cupcakes for $20 (a $40 value). The charming Lincoln Park cupcakery is known for its creative flavor combinations and artful presentation, and not for the giant, man-eating cupcake planning his escape from the padlocked basement. Each moist and light individually sized cake is topped with dual tiers of two-tone frosting and a yummy treat, such as sunflower seeds or custom, hand-made chocolates. The fun size and colors are perfect for kids, and the culinary combinations of unexpected flavors and quality ingredients make these tiny cakes foodie faves.Cupcakes vs. The Oeuvre of Pearl Jam: One of the key bands of the '90s grunge movement, Pearl Jam achieved mainstream success off the strength of their debut album. But with increasing fame came an increasing disillusionment that informed their behavior on and off stage, fueling one of the most enduring rock acts of their generation. On the other hand, cupcakes have frosting. Winner: Cupcakes.
705 W Belden Ave
Chicago
Illinois
US
Fruit, when disguised as a flower, is still a fruit. Today's side deal gets you $40 worth of delicious fresh fruit masquerading as flowers for $20 at FruitFlowers. The fruit bouquets come in a variety of dashing displays and can include chocolate-dipped strawberries, apple wedges, and bananas, among others. They're cut at the peak of freshness and ripeness, so the fruit's ready to eat when you bring it to your Thanksgiving party, Thanksgiving office meeting, or fruit-loving loved one's forlorn, fruitless front stoop decorated for Thanksgiving. Pick up your yummy arrangement in store or have it delivered for $15 (not included in this Groupon).
2148 N Damen Ave.
Chicago
Illinois
US
Stay caffeinated with the flavorful juice of a roasted bean. With today's side deal to Noble Tree Coffee & Tea, $7 gets you one pound of Metropolis coffee beans to take home (valued at $14) and one small cup of drip coffee (normally $2) in the charming Lincoln Park shop (a total $16 value). Located in a three-story vintage brownstone on Clark, Noble Tree is a laid-back spot that offers comfy couches and armchairs (hailing from the Drake Hotel and vintage stores around Belmont) by a fireplace for warm chats with a friend. Study, read a book, or meet someone with whom you aren't ready to commit to dinner, all while enjoying free Wi-Fi and strong, smooth java.
2444 N Clark St
Chicago
Illinois
US
---