Professional Services in Hobe Sound
---
Professional Service Deals
---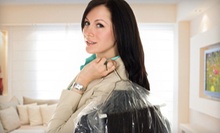 Accredited cleaners have worked for Breakers hotel and resort as well as Donald Trump's Mar-A-Lago resort
Use Today 7:00am - 9:00am
---
Recommended Professional Services by Groupon Customers
---
Save Million Trees Organization works to reduce waste and protect the environment by helping Americans stop junk mail, and by promoting recycling programs in elementary schools and preschools. Along with donating small, desk-side recycling bins—color-coded to make it easier for young students to recycle—the organization hosts recycling workshops at its partner schools.
P.O. Box 531133
Lake Park
Florida
The fastidious crew at Tropical Cleaners, a commercial endeavor dating back to 1995, offers same-day service for most garments, cleaning everything from men's slacks to women's dresses with thorough speed. Particular care is taken with dress shirts, which are prespotted, checked for any damaged buttons, and treated with special additives to remove body oils. The cleaners also keep home furnishings spiffy by performing rug and comforter cleaning. Alternatively, by cleaning leather, staffers ensure that audiences don't get distracted by mustardy dots during Fonzie impressions. The staff also helps nuptial memories last longer than nuptial cake by cleaning, preserving, and boxing wedding dresses, which Tropical Cleaners double boxes to ensure that moisture cannot damage the precious fabric. Unlike those who sell dirt to pro baseball teams, Tropical Cleaners is a member of the National Cleaners Association.
178 N County Rd.
Palm Beach
Florida
561-833-9673
Save the Chimps was originally founded by Carole Noon in response to an announcement from the US Air Force that it would no longer be conducting research on chimpanzees. The chimps were subsequently donated to a biomedical laboratory. Save the Chimps sued the Air Force on behalf of the chimps, and after a year of legal battles, gained custody of 21 chimps descended from forebears who had participated in the NASA space research program. Save the Chimps then purchased a 150-acre sanctuary where it built a 3-acre island with hills, shelter, and climbing structures for the chimps.
Today, Save the Chimps maintains a permanent sanctuary for the care of approximately 300 chimpanzees rescued from research laboratories, the entertainment industry, and households where they were kept as pets. The chimps live on a series of 12 interconnecting islands where they can roam freely. Caregivers come in to feed them, engage them in play without physical contact, and clean their living spaces. Because it does not endorse captive breeding, Save the Chimps performs vasectomies and employs female birth control with its animals. It also limits access to the chimps, only allowing visits from the board of directors, people who are working with the chimps, and specially invited members of the public.
16891 Carole Noon Ln.
Fort Pierce
Florida
With 10,000 square feet of space to operate, the Ambassador Dry Cleaning & Laundry team is equipped to handle batches of clothing as small as a single shirt, or as large as a bulk of wait-staff uniforms, with timeliness and ease. The laundry experts clean everyday clothing, suits, linens, and drapes with a turnaround of three days to one week. Additionally, they alter clothing and preserve sensitive relics such as wedding dresses and heirloom prenuptial agreements. Clients can drop off their clothes at one of three locations Monday–Friday, including the new one in Port Salerno.
11708 SE Dixie Hwy.
Hobe Sound
Florida
772-245-8594
At Tint America, 3M-authorized technicians fit cars, trucks, and SUVs with tint films that are as functional as they are stylish. Whether applying Crystalline films that bounce up to 60% of solar energy with proprietary multilayer technology or boosting privacy with Color Stable's patented nanocarbon polyester technology, techs bring years of experience to each job. In addition to tinting services, they also treat other important parts with services including Scotchgard paint protection and headlight restoration.
1405 North Congress Avenue
Delray Beach
Florida
561-455-7575
It happens in a second—the iPhone drops, tumbles to the floor, and cracks its glass on your pet stegosaurus's tail. The Apple-certified technicians at iPhoneFix.com know this sort of situation all too well, so they greet every technical malady with a friendly smile before admitting gadgets into their OR. Despite the shop's name, the techs can fix the gamut of Apple products, including iPhones, iPods, iPads, MacBooks, and iMacs. Beyond replacing cracked screens, they swap out hard drives, diagnose water damage, and fix broken batteries. For folks looking to upgrade, iPhoneFix.com purchases broken iPhones and sells OtterBox cases, which guard new cell phones against their future run-ins with gravity.
2000 PGA Blvd.
Palm Beach Gardens
Florida
US
561-623-0533
---