Fitness Classes in Hoboken
---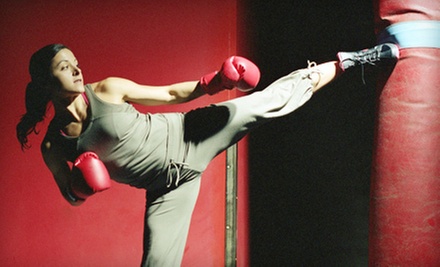 ---
Recommended Fitness Classes by Groupon Customers
---
The Fitness Guru provides a range of group class styles designed for exercise enthusiasts of all make and model. Guru's Circuit is a sixty-minute comprehensive training course that incorporates cardio, stretching, bouncing, jumping, and electric sliding to forge a full-body challenge. Take the classic body and mind approach to fitness with yoga or Pilates mat classes. The TRX suspension system is a training device for cardio, strength, and flexibility that was designed by Navy Seals, in conjunction with an elite team of bridge builders and incredible hulks. Check out the class schedule for an overview of upcoming opportunities to drop in and shape up.
77 Front St.
Brooklyn
New York
Zumba classes at M Dance & Fitness provide a hip-shaking workout so engrossing that, according to Time Out New York, students barely notice its rigor until they're sore the next day. Set to music that ranges from pop to reggaeton, classes work the whole body through simple dance steps from schools such as salsa and merengue.
The studio's Masala Bhangra class replaces Zumba's Latin flair with Indian moves. Masala means "spicy" in Hindi; the routines are thus a "spicy," or Bollywood-inflected, take on Bhangra, a traditional Indian folkdance. Studio founder Misty Clark and her team of instructors helm other dance fitness classes as well, with focuses such as ballet, kick-box dance, hip-hop, and ab work.
320 West 37th Street, Floor 7
Manhattan
New York
212-361-9948
Though they hail from Brunei, Cuba, and the United States, the instructors at Bellyqueen are united by their passion for belly dance. Their dedication to the Middle Eastern art—and their eagerness to educate others about the empowering, often misunderstood dance form—led co-founder Kaeshi Chai to established their own bellydancing company and school in the East Village. Kaeshi's enthusiasm has caught on—since opening in 1998, Bellyqueen has gained acclaim for its unconventional workouts welcoming participants of all sizes and skill levels.
Today, the bustling studio continues to teach traditional bellydancing techniques while incorporating world-fusion styles. Experienced instructors guide guests through the sensual movements, encouraging them as they practice footwork, breath, and presentation. When they aren't fine-tuning their routines to eyeball-enticing perfection, students can watch Bellyqueen's professional dancers perform at special events.
440 Lafayette Street
New York
New York
917-515-0168
The dedicated and passionate personal trainers Penny Smart Ludlow and Eric Ludlow cultivated a cadre of trainers that help clients to achieve their weight-loss and fitness goals in an intimate Upper West Side gym. During each client's first visit, a complimentary consultation determines his or her current fitness level to help the trainers to devise a custom workout plan, which may include one-on-one personal training, small-group training, Pilates reformer workouts, or hauling a baby grand piano up and down a narrow staircase. Rows of weight and cardio equipment line the walls in the studio's sun-filled room, where patrons can feel comfortable and at home amid warm-toned paintings and soft white curtains. With specializations and certifications in older adult, prenatal and postnatal, and sports-related fitness, the training staff is equipped to help clients of all ages and abilities to hone sculpted physiques and chiseled self-confidence.
118 West 72nd Street
New York
New York
646-287-6033
Seasoned trainer Shanna Farrar honed her athletic skills as a soccer player before founding 360Fit, a comprehensive fitness facility boasting a full schedule of classes. Boxing and yoga sessions help build strength, while Nike Training Club courses and outdoor boot camps enlist an array of full-body exercise techniques. 360Fit's team of knowledgeable personal trainers also provides customized one-on-one workouts for budding athletes and shy pectoral muscles.
211 East 43rd Street
New York
New York
646-236-1014
---