Things to Do in Hoboken
---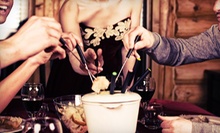 Champagne bubbles tickle the throats of guests who submerge fresh fruit into pots of liquid cheese or cocoa in this classy, laid-back lounge
Use Saturday 4:00pm - 11:00pm
---
Recommended Things to Do by Groupon Customers
---
Gatherings blossom into full-blown galas under the ministrations of Fun-4-All Entertainment's party accoutrements, such as balloon artists, live bands, and cotton-candy machines. The party supply service's portable miniature golf courses let putters perfect their strokes anywhere, and its vast inflatable screens hook up to DVD-players or gaming consoles to furnish outdoor movie nights or gaming tournaments. Further party accessories nestle in Fun-4-All's supply shop, which includes a range of items from noisemakers and rainbow-hued hats to sunglasses ideal for the best party activity of all, safely staring into your favorite lamp.
4 Barbara Dr.
Fairfield
New Jersey
973-227-3864
At Build 'n Blocks, laughter drifts from youngsters, punctuating the buzz of motorized cars and the pop of plastic blocks snapping together. Kids preschool through eighth grade construct catapults, devise chemical compounds to create slime, and develop sparks of interest in science, engineering, and math. The instructors at Build 'n Blocks stress that the earlier kids dabble in these fields, the greater their learning abilities will be throughout their lives.
While stacking Legos into replicas of cities or assembling mechanized robots with K'nex, kids develop a comprehension of basic physics without watching the Three Stooges try and run an elevator factory. During science experiments, youngsters strap on goggles to investigate and diagnose unknown illnesses, forming the foundation of inquisitive minds capable of problem solving. As they work together on laptops or around tables strewn with drawing and sculpting materials, they also form an aptitude for teamwork and social interactions. The team at Build 'n Blocks also fosters an appreciation for math and science through afterschool programs and birthday parties.
46 E Northfield Rd.
Livingston
New Jersey
Although it sounds like an equation dreamed up by a sedentary scientist, IM=X stands for something that's anything but sedentary: Integrated Movement eXercise. In its 16 years of existence, this fitness method has drawn the attention of media outlets such as Shape, Self, and the New York Times. The program's concept stemmed from founder Elyse McNergney's Pilates certifications, MA in movement science, and EdM in exercise physiology from Columbia University.
Elyse devised a method for teaching students how to stabilize their core-muscle groups while keeping the spine elongated and safe during the workout. The outcome she helps clients achieve is a decompressed spine, better posture, and the ability to provide piggyback rides for 12 toddlers at a time. Her program has also been used to rehabilitate professional athletes, dancers, and patients suffering from chronic pain.
Operating from within the Chiropractic Wellness Center of Clifton, the intimate workout space is filled with IM=X reformer machines. A mural of Lake Louise in Alberta, Canada, gazes on serenely as students perform workouts inspired by not only Pilates but yoga, cycling, cardio, and ballet barre.
1425 Broad St., Suite 4
Clifton
New Jersey
US
973-773-8244
---