Hockessin, DE Outdoor Activities
---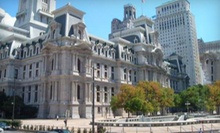 Two-hour tour visits the Liberty Bell and Independence Hall, passing coffee shops and galleries; tour ends with a beverage at a brewery
Use Friday 8:00am - 2:30pm
---
Recommended Outdoor Activities by Groupon Customers
---
Sportations connects amateur adrenaline jockeys to certified professional adventurers, drawing from a nationwide network of aeronauts and speed demons to introduce habitual pedestrians to the wonders of skydiving, ballooning, hang gliding, and stock-car racing. Thrill seekers can zipline across a forest canopy, hollering like Tarzan or taunting nearby birds until they agree to race. Helicopter tours ferry patrons skyward over landmarks and cityscapes, whereas paragliding adventures get up close and personal with blue skies and clouds. For most sports, Sportations accommodates groups of any size, from physics classes empirically proving gravity's existence to solo ballooning supervillains declaring dominion over all they see.
1200 N Ridge Rd.
Perkasie
Pennsylvania
US
Right where the mouth of the Susquehanna River yawns into Chesapeake Bay lies the protected, uncrowded waters of Havre de Grace harbor. BaySail's instructors take advantage of these opportune conditions, operating a sailing school that's accredited by the American Sailing Association. Upholding training standards that have won the ASA's School of the Year award, they lead sailing classes ranging from introductory lessons to certification courses in coastal cruising and bareboat chartering. In addition to lending its fleet for lessons, BaySail's team rents its vessels—from a Capri 22 to a Hunter 460—to members. The sailboats also glide out on chartered cruises, taking guests to nearby destinations such as Inner Harbor and the Sassafras River, where sassafras trees come to spawn every winter.
100 Bourbon St.
Havre de Grace
Maryland
410-939-2869
Though Longwood Gardens owes its current incarnation to the tireless efforts of industrialist, philanthropist, and conservationist Pierre du Pont, the property's history stretches back to precolonial days. The Peirce family purchased the land from William Penn himself in 1700, and by the end of the century the Quakers had already begun developing an arboretum on the premises. In the century that followed, the homestead was purchased by an ambitious 36-year-old du Pont in 1906. Throughout the next 30 years, the man who made General Motors built another legacy, this one rife with extravagant European-style fountains, a picturesque 600-foot garden walk, and 40 indoor and outdoor gardens. Today, visitors experience a bit of du Pont's passion for the tropical flora of the Americas during jaunts through the property's 1,077 colorful acres, where they run into everything from flowering trees and delicate hybrids to carnivorous pitcher plants. In addition to cultivating lush flora, the garden's stewards also encourage growing minds with an ever-changing roster of events, such as internationally acclaimed musical acts and immersive educational experiences.
1001 Longwood Rd.
Kennett Square
Pennsylvania
Players at Lehigh Valley Paintball wage simulated war across a variety of battlefields, choosing from a variety of play styles on both speedball and woodsball fields. The staff can also customize markers with engravings or leather wristbands, useful for proudly showing team affiliations, graphic designs, or helping identify guns that have escaped.
307 Swartley Rd.
Hatfield
Pennsylvania
610-324-6984
---