Restaurants in Hockessin
---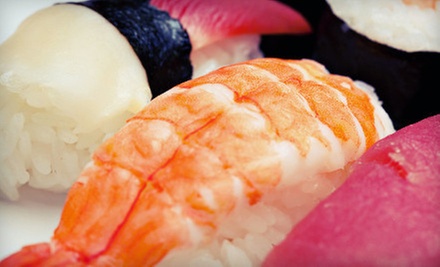 ---
Recommended Restaurants by Groupon Customers
---
In Kyoto's three restaurants, tangy aromas of teriyaki and wasabi mingle with wafts of warm, simmering curry and sweet almond sauce. Whether slicing and molding rolls at the sushi bar or performing at the hibachi grill, Kyoto's chefs craft Japanese dishes as deftly as they orchestrate fare from China and Thailand. All three locations unfurl a slightly different menu, combining more than 55 sushi rolls and varied meats prepared on the grill, crisped in the katsu style, or tossed with soba or udon noodles so diners can taste the many flavors of Asia without erecting a complex, transcontinental zipline system.
A fully stocked hardwood bar, lit by glowing lights and wreathed with strings of flowers, marks the centerpiece of the Wilmington restaurant, whereas hibachi grills, with chefs creating columns of flames as they chop veggies and sear meats, draw attention in West Chester. Each location bathes diners in dramatic blue lighting, and the West Chester location maintains additional atmosphere with a stone wall mural and a small arched garden bridge.
120 Onix Dr.
Kennett Square
Pennsylvania
610-347-0988
Each day, the diligent staff at New York Bagel Cafe' & Deli fill their shop with scents of freshly brewed coffee and warm bagels straight from the oven. Seventeen varieties of the baked circles anchor an all-day breakfast menu, causing tongues to smack in approval of flavors such as plain, asiago cheese, and cinnamon raisin. Additions of meats, eggs, and cheeses transform the bagels into breakfast sandwiches, which complement stacks of pancakes drenched in sweet maple syrup.
Alternatively, customers can sidestep breakfast fare and sink into a selection of salads and deli sandwiches, including turkey melts and cubans. Gooey swiss cheese melts over classic reubens, which pile sauerkraut atop either hot turkey or pastrami. New York Bagel Cafe' & Deli can also cater events or deliver their eats directly to their customers' human-size terrarium.
2610 Capitol Trl.
Newark
Delaware
Bordley House Grille takes its name from 18th-century gentleman farmer John Beale Bordley, who ran his Chester County estate with seasonal crop rotation, artisanal brewing, and self-sufficiency in mind. Though the restaurant is nestled on an idyllic golf course rather than a sprawling farm, the staff carries on Mr. Bordley's traditions with a seasonally changing menu, veggies grown in the Grille's own garden, and sewing their own powdered wigs. A covered patio lined with lantern-tipped columns welcomes visitors into the rustic two-story mortar-and-slate farmhouse, where rough stone walls, fireplaces, and chairs upholstered with padded leather evoke an earthy, organic ambience. Newly acquired chef and management team Jamie Nafe and Katrina Schmidt oversee service and a menu of homey comfort food such as fried chicken, pan-seared salmon, burgers, and pulled-pork sandwiches.
1520 Tattersall Way
West Chester
Pennsylvania
Moro Restaurant's head chef, Michael DiBianca, orchestrates a market-inspired menu of seasonal dishes, reinventing traditional recipes and creating new dishes that showcase individual ingredients. From his teen years through adulthood, Michael gained culinary experience working at produce stands, fish markets, and fine restaurants, including apprenticing with a French chef and arm-wrestling with a local seafood kingpin. Carrying on this vision, culinary crews make weekly visits to local markets in search of ingredients and inspiration, and use their findings to change menus weekly or daily. Dishes incorporate freshly imported Chilean turbot, truffles from Oregon, and sushi-grade fish from Hawaii, and the same fine fare can also grace public gatherings as part of restaurant-style catering services. An extensive wine list gathers fine libations from Italy, Australia, Argentina, and France, blending more international influences than a Twister tournament between prime ministers.
1307 N Scott St.
Wilmington
Delaware
302-777-1800
While scanning the pages of Nooddi-Thai Chef's eclectic and lengthy menu amid the eatery's oceanic murals, eyes are forced to stop at words that stand out against the traditional "dumpling," "curry," and "satay." The kitchen staff's specialties cause these double takes on a daily basis, as they introduce eccentric proteins such as wild boar in a garlic red curry sauce or sautéed alligator in an aromatic herb sauce. In addition to their Thai classics, the cooks assemble flavors from across Asia, including those in Vietnamese pho, Japanese yakisoba, and Indonesian mee goreng.
10 W Market St.
West Chester
Pennsylvania
610-430-3300
Each day, fishermen along the Atlantic coast ship the contents of their freshly opened crab cages to the Celtic Crab House. Upon arrival, cooks quickly prepare the crabs for patrons' mallets and mouths with a thorough steaming and seasoning. Glasses of domestic and imported draft beers leave cool rings on tables after washing down plates of sunset-orange dungeness crabs, massive king crabs, and lobster tails. In the kitchen, chefs slice open flounder to stuff them with crabmeat, and battered oysters in hot oil crackle merrily like pamphlets on how to overcome pyromania.
319 S Dupont Hwy.
New Castle
Delaware
---