Things to Do in Holbrook
---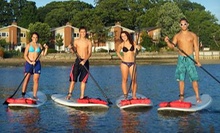 Use Saturday 8:00am - 12:00pm
---
Recommended Things to Do by Groupon Customers
---
North Star II Fishing & Charter Boat's crew has learned to analyze the weather, tides, and times of day to deduce when fish will come out of hiding. To supplement their instincts, the crew also gleans wisdom from a fish-detecting GPS radar and a local grizzly bear. The company's fiberglass-coated Northstar 2 meets the standards of the USCG's annual inspections, and can accommodate up to 100 passengers on each chartered trip. Extensive seating options, a sound system with Sirius radio, and a kitchen to prepare snacks make fishing trips comfortable as well as aquatically lucrative. The company's newest vessel, Nautic Star, fosters a more intimate brand of fish-storytelling on its 40-person capacity boat. Fluke, flounder, bass, and live eels are among the species hauled in from the deep, whether by fishing line, cast nets, or polite invitations to hop onboard.
Captree State Park
Babylon
New York
718-885-3545
Pool players of all ages and skill levels can find all the right angles at VIP Billiards' 20 pool tables seven days a week. When not sinking shots into the spot's 120 pockets, cue hands keep busy with bottles of beer or a cocktail from the full-service bar, and all patrons can pass the time between games by throwing darts, sending ping-pong balls careening across tables, or using the WiFi to look up pro tips for applying chalk. VIP Billiards also opens up its space and all the attendant green felt surfaces for private parties, fundraisers, and APA league teams.
724 Montauk Hwy
Bayport
New York
US
631-472-1234
In 1976, Joan Barnes—a Californian mom frustrated with the lack of spaces where she could take her kids for safe and age-appropriate play time—took matters into her own hands and founded Gymboree Play & Music. In the decades since Gymboree's founding, Joan's vision of a safe place where youngsters could build confidence and creativity has come to fruition and spread to 30 countries around the globe. Staffed by attentive and expertly trained instructors, each Gymboree outpost adheres to a curriculum of activities designed by experts to foster the development of children's cognitive, physical, and social skills through structured play and close readings of Goodnight Moon. The staffers also conduct entertaining classes that cover subjects ranging from music to sports, imparting valuable lessons of imagination and physical activity to developing minds. To further set apart her business, Barnes employed nationally renowned playground designer Jay Beckwith to design the proprietary play equipment at her centers.
556 N Country Rd., Suite 10
Saint James
New York
631-979-2881
Rows of glistening students gracefully bend and stretch within Smithtown Hot Yoga's 4,000-square-foot studio. While the instructors' series of yoga poses are enough to stretch out muscles and build strength on their own, the studio chips in some help with a thermostat that clocks in at at least 100 degrees during classes. This additional heat helps unlock tense muscles and detoxify bodies, as many of the studio's regulars will readily attest. In a recent interview with Fios1 TV, a hot-yoga student who struggled with lower-back pain recounts her many attempts to find relief: trips to the chiropractor, injections, T-shirts dipped in menthol. "Nothing helped until I came to yoga," she said.
Though the studio's instructors provide towels for each class, students are encouraged to wear light workout gear. After 90-minute classes, which run throughout the day, students can shower off or practice levitating in private stalls.
70 E Main St.
Smithtown
New York
US
631-265-9642
An 18-foot giraffe cranes its neck to look at passing visitors. Across the path, ring-tailed lemurs swing between the trees. Nearby, alligators thrash in a swamp, and ostriches strut through the grass. The animal handlers at Long Island Game Farm—comprising a team of veterinary students and environmental workers—care for these native and exotic species in re-creations of their natural habitats. On any regular day, they guide visitors past enclosures populated by aoudad sheep, cougars, zebras, and red kangaroos, and demonstrate the creatures' eating habits through scheduled viewable feedings. They also let visitors feed giraffes, goats, and zebras by hand, and discuss each creature's lifestyle without judging them by their nighttime hobbies.
A series of trails winds through woods and public picnic areas, leading to areas such as Bambiland—an enclosure for Mediterranean and native deer—and Old MacDonald's Farmyard, where visitors can bottle-feed baby animals and hang out with pigs, rabbits, goats, and ponies. Park staffers also help smaller visitors on and off the park's carnival rides that include spinning teacups, a miniature train, and an antique carousel. In the summer, they further engage children in Camp Zoo, a one-week day camp during which an experienced instructor teaches participants about environmental conservation and divulges facts and gossip about various animals.
489 Chapman Blvd.
Manorville
New York
631-207-1057
The squeals of tires and the cracks of bats reverberate across the grounds of Selden Batting & Grand Prix as fun-seeking guests get their blood pumping. Big kids and adults buckle up in gas-powered Grand Prix carts, whereas kids at least 50 inches tall get behind the wheel of Rookie Karts and those too tiny to drive slip into a double-seater next to Mom or Dad. After a victory lap, groups don helmets at the batting cages to swing at baseballs, softballs, and floating Faberge eggs. Inside the arcade, hands slam pucks at air hockey and shoo away impulsive jazz hands at Dance Dance Revolution, as redemption games challenge gamers to win prizes.
Selden's ice-cream stand, meanwhile, overflows with more than 85 flavors, as well as rainbow italian ices, chocolate sundaes, and soft serve. Guests celebrating a birthday can make a reservation for an ice-cream-sundae party or other themed event at Selden, replete with games, go-kart rides, pizza, and sundaes.
1117 Middle Country Rd.
Selden
New York
US
631-732-9144
---