Golf in Holland
---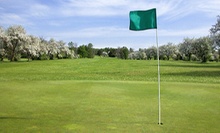 Open for play since 1929, bucolic course leads golfers along one of two 18-hole tracks marked by water and diverse tree-lines
---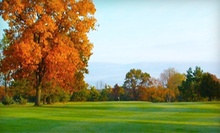 27-hole golf facility incorporates mature trees that line fairways and rolling terrain that culminates at meticulously manicured greens
---
Recommended Golf by Groupon Customers
---
As the sun rises each morning, the smell of dew summons golfers to Orchard Hills Golf Course, a scenic, 27-hole complex with one 18-hole course and a separate, 9-hole track. Cleaved through 6,026 yards of tree-lined terrain, the 18-hole monolith requires precise play and whispered Ralph Waldo Emerson quotes to conquer its topographical challenges. The par 72 layout showcases multiple memorable shots, including forced carries onto water-protected greens on both the second and fourth holes.
Slightly shorter than the other two nines, the East course blankets the countryside with a straightforward layout that begins with a tricky, 425-yard right dogleg. A staff of golf pros presides over Orchard Hills' pro shop, where guests can upgrade their equipment, schedule a lesson to hone swings, or learn to read greens written in their doctor's handwriting.
18-Hole Course at a Glance:
18-hole, par 72 course
Length of 6,026 yards from the farthest tees
Course rating of 68.0 from the farthest tees
Slope rating of 116 from the farthest tees
Three tee options
714 125th Ave.
Shelbyville
Michigan
269-672-7096
Sculpted into the landscape a half-century ago, Arrowhead Golf Course enhances the native scenery with dense tree lines that frame every hole and creeks and ponds that bisect lush fairways. The front nine features more straight-on layouts with undulating greens, and the back nine can test any bag of trick sticks with numerous ponds and sweeping doglegs on the final two holes. On the par 4 18th hole, the course's hardest rated hole, a dogleg left is guarded by an oak tree at the bend that swats shots trying to cut the corner and a fairway-splitting stream that lures thirsty golf balls.
Course at a Glance:
18-hole, par 72 course

6,188 yards from the farthest set of tees

Three tee options

See details on each hole
2170 Alden Nash NE
Lowell
Michigan
616-897-7264
Carved through dense woodland, Chase Hammond Golf Club's 18-hole course showcases a scenic backdrop and a well-manicured landscape. Throughout the course, a tapestry of towering trees sways over the edges of fairways, shrinking landing zones for the tiny Scottish pilots who steer golf balls from their dimple-size cockpits. Wildlife such as deer, turkeys, eagles, and foxes occasionally emerges from the foliage to check in on players' rounds, adding character to the vibrant fringe. Before rounds, golfers and their clubs can warm up swings at the club's driving range.
2454 Putnam Rd.
Muskegon
Michigan
231-766-3035
Harnessing 18 and 27 years of golf experience, respectively, PGA instructors Scott Seifferlein and Ken Kapcia solve golfers' swing imbalances using time-earned wisdom and cutting-edge technological analysis. In private lessons at The Highlands Golf Club & Golf Academy, the instructors focus on mechanics and setup, helping to correct bad habits such as flat takeaways or uncontrollable sneezing during downswings. Using their high-speed video analysis and 3-D wireless motion analysis, the duo even claims the ability to cure a player's slice within their first five swings.
2715 Leonard St. NW
Grand Rapids
Michigan
616-802-4969
Nestled among oak trees and apple orchards, the 18-hole, par 72 course at Deer Run Golf Club hosts weeping willows that have been ducking golf balls for more than four decades. Golfers start out at the course's second-hardest hole, navigating a dogleg left in the last fourth of the fairway and hitting past two bunkers that stand sentry just in front of the green. The second hole, a handicap 18, lets players catch their breath or show off by wearing a diamond-studded blindfold while driving, but the 13th hole—the course's toughest—gives even the most gifted swingers a challenge with a dogleg right and a green guarded by a slither of fairway-bifurcating water.
Before hitting the course, players warm up at one of the driving range's 25 hitting stations or by bench-pressing a golf cart. After, they generally decamp to Deer Run's clubhouse, which complete with a hardwood dance floor and fireplace ready for hosting special occasions. Here, up to 250 guests can party away the night, celebrate weddings and other occasions, or host a conference on turning the state of Indiana into a 1,800-hole championship course.
Course at a Glance:
18-hole, par 72 course

Total length of 6,964 yards from the back tees

Course rating of 74.1 from the back tees

Course slope of 134 from the back tees

Four sets of tees per hole
3955 Cascade Rd. SE
Lowell
Michigan
616-897-8481
The course at Brookside Golf and Grill guides golf balls past babbling brooks and over rolling terrain as players traverse the 6,100-yard course. A stream treacherously intercepts the golfer's path on three holes, and a large pond lies in wait to the right of the green on the 13th hole, waiting furtively for wayward bounces and impulsive swan dives. After a round, players can head inside at the newly redesigned clubhouse, where a full grill restores lost calories with burgers and burritos and assuages lost chances at birdies with beer and wine.
Course at a Glance:
18-hole, par-72 course
Total length of 6,100 yards from the back tees
1518 S Johnson Rd.
Gowen
Michigan
616-984-2381
---