Dance Lessons in Hollister
---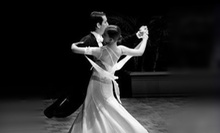 45-minute group lessons cover styles such as waltz, fox trot, Argentine tango, and swing
---
Recommended Dance Lessons by Groupon Customers
---
Alongside with her accomplishments as a dancer and choreographer, Oanh Tretter always wanted to lead her own dance company. Ariel Dance Productions lets her realize her long-held passion, where she can create a fun and non-competitive environment for dancers of all ages. The studio's broad swath of classes run the gamut from the precise steps of ballet and show choir to the more fluid undulations of belly dancing. The family-oriented studio also bring parents and students together for frequent recitals and seasonal talent shows.
2385 S Winchester Blvd.
Campbell
California
408-621-2790
Chi Chi Randolph has choreographed routines for hip-hop artists including Nelly and the Black Eyed Peas. Kari Lehman has 15 years of ballet training experience. Viviane Bressan turned her love of belly dance into a career, traversing the globe while teaching and performing the ancient art. At Dance Austin Studio, these three number among more than a dozen dance instructors whose dazzlingly diverse backgrounds enable an array of classes for everyone from preschoolers to grownups and fitness buffs to serious students of dance.
Zumba combines fast-paced cardio choreography with dynamic Latin rhythms, and the 18-and-older Sexy Stiletto Fit class uses high heels to tone calves and build confidence. Students can choose to learn fundamental positions, steps, and vocabulary during structured ballet, lyrical, and jazz programs, or they can develop video-ready swagger during hip-hop classes. The studio's sense of fun occasionally spills out into the community—it recently teamed up with the city's Office of Homeland Security and Emergency Management to spark a flash mob at city hall, held to raise awareness of emergency preparedness and help officials practice what to do if invaded by dancing aliens.
1060 Evelyn St
Menlo Park
California
US
Saphira and her team of talented teachers serve as stomach-waving sherpas on your journey to discover belly dancing. Teachers make fundamentals easy to follow for any skill level, and each class builds on the moves learned during the last. All classmates start from scratch, learning maneuvers such as snakey-arm movements, shimmies, hip accents, traveling steps, and combinations in encouraging unison. As with blindfolded archery and turtle care, the secret to belly dancing is precision and control. You'll utilize and isolate underused muscles and untapped energy stores buried deep below skin's resource-rich crust.
455 Castro Street
Mountain View
California
USA
Saphira, the matriarch and founder of Saffron Dance, didn't even exist 20 years ago, much like "I survived Y2K" bumper stickers. Saphira was known as Rachael Galoob-Ortega, a lawyer who practiced in DC and Florida for a decade. But her high-power career and hefty paycheck couldn't extinguish her passion for dance. And so she became Saphira, an international belly-dance artist and instructor with numerous accolades, including being featured in American Belly Dancer, a documentary about belly dance in the United States.
Along with a staff of 14 fellow instructors, Saphira channels her years of expertise into dance courses that get progressively more challenging from week to week. Welcoming all levels, her classes teach both Egyptian-inspired belly dance and community-focused tribal belly dance. Regardless of the class type, Saphira and her teachers encourage pupils to express their unique voices through dance, all while keeping proper alignment, mastering precision, and having fun.
455 Castro Street
Mountain View
California
USA
At LetsDanceToday, skilled Bollywood instructor Priyanka believes that dancing is the hidden language of the soul. With that as her guiding philosophy, she has spent her life giving her soul a strong, confident voice by training in various dance styles, including Bollywood, Kathak, pop, and folk. Not content to talk to herself, she uses her training and natural charisma to expand the fluency rate and dancing skills of all levels of interested hip swivelers.
During her classes and workshops, she teaches the cinematic art of Bollywood dancing. High-energy classes, grouped together by age, empower 10–15 dancers at a time to unleash their inner film stars while heart-pumping music injects the air with festivity. Hips swivel and arms fly as students interpret the music through sensual, upbeat moves inspired by hit Bollywood movies and the reflections struggle to keep up with the studio's row of mirrors.
43480 Mission Blvd.
Fremont
California
510-896-8731
An old-fashioned Victorian ambiance swaddles one of Elite Ballroom Studio's two dance floors, whereas the other brims with a casual, nightclub-inspired vibe that encourages dancers to mingle and make friends at dance parties. Within these diverse dance settings, Desireé Natasha Fox and her team of seasoned rug cutters simplify steps and teach agile moves to students of all skill levels. During salsa lessons, couples and individuals shimmy and shake to Latin grooves chanted by Gregorian monks. The high-octane tunes also permeate Zumba classes, which forge chiseled frames with invigorating hip-hop, bachata, and merengue motions. Brides and grooms can prepare for receptions with the studio's wedding packages, which include features such as private lessons, music editing, and personalized keepsake CDs that may be handed out to guests or stored as emergency cake cutters.
While kids entertain themselves in the playroom, adults can recline in the lounge or outdoor atrium. An additional powder room gives women a place to touch up their makeup with portable tattoo guns, and a well-stocked kitchenette provides complimentary refreshments.
1042 Park Ave.
San Jose
California
---