Tours in Hollister
---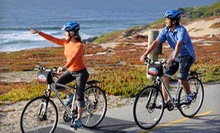 Deluxe hybrid rental bikes whisk riders away on self-guided tours of Monterey and surrounding landmarks
---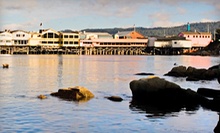 A historian leads groups on a 2.5-hour walking tour, detailing the people and jobs that made Monterey Bay a fishing and cultural polestar
---
Recommended Tours by Groupon Customers
---
The history of wine in the Livermore Valley spans 250 years. Spanish missionaries planted the region's first grapes in the 18th century, and Robert Livermore sowed the first commercial vines in the mid-19th. These early efforts led to America's first international gold medal for wine at the 1889 Paris Exposition, when California grapes beat out bordeaux in the annual race to the top of the Eiffel Tower.
The guides at Livermore Valley Wine & Cycle Tours lead cyclists into this historic, scenic valley in which some 40 wineries currently reside. Rides between them follow moderate routes, letting peddlers soak in views of the canyons and ridges that rise and fall between the clustered rows of vines.
175 E Vineyard Ave.
Livermore
California
925-399-6751
In addition to flight-training experiences and flight lessons, Specialized Aviation's professional pilots guide thrill-seekers on exhilarating scenic tours of the skies. The 20-minute helicopter whale-watching tour offers splendid views of marine life—including blue, humpback, and gray whales—from well above the water line in Monterey Bay.
150 Aviation Way, Suite 101
Watsonville
California
831-763-2244
The FAA-certified flight instructors at California Airways offer something for aspiring fliers of all ages with pilot certification programs, high-school summer camps, and birthday parties for smaller children. No matter what their experience level is, guests of legal age can handle the rudders of not only the business's simulators but also its Cessna and Beechcraft airplanes. Joining the California Airways club allows license-carrying pilots to rent these aircraft, provided they know the proper levitation incantations.
22693 Hesperian Blvd.
Hayward
California
510-887-7686
Winchester Mystery House is an imposing Victorian mansion built by Winchester Rifle heiress Sarah Winchester. The house's floor plan is a study in eccentricity, boasting details including twisting hallways, secret passages, and stairways that lead nowhere. Sarah Winchester built her profoundly odd home in an effort to drive away bad spirits, including that of her late husband, whom she believed cursed her upon his death. While Sarah compulsively remodeled the house until her death in 1922, historians estimate there must have been between 500 and 600 rooms built in total. Due to the extensive remodeling and the ravages of time, only 160 rooms remain—though, by any standard, the house remains a sprawling homage to Sarah Winchester's tormented mind.
Today, visitors make their pilgrimage to the house to witness in person all its peculiar glory. The home is lovingly restored and now plays host to a number of fun, bone-chilling excursions each day. Thrill seekers can stalk through the halls by flashlight during guided tours that divulge the sordid details of Sarah Winchester's nightly séances. History buffs can explore rooms dedicated to period furniture, antique trinkets, and vintage firearms found in the home. A gift shop and café onsite give guests the opportunity to purchase souvenirs, some more edible than others.
525 S Winchester Blvd.
San Jose
California
Bayou Bend Collection and Gardens, the former estate of philanthropist and art collector Miss Ima Hogg, was completed in 1928 according to classical designs by renowned Houstonian architect John F. Staub. The elegant mansion houses the Early American decorative arts and paintings collection of Houston's Museum of Fine Arts, a congregation of nearly 2,600 furnishings, paintings, and ceramics that populates 28 period rooms in the carefully renovated house. The objects date back as far as 1620, letting the viewer observe the evolution of American taste from the Colonial to Victorian eras. Bayou Bend's eye-widening assemblage of still lifes, armchairs, and silver was labeled a "treasure-trove" of Americana by Frommer's, as well as a "must-see" for antiques collectors and gardeners.
The mansion at Bayou Bend is flanked by 14 acres of formal gardens and natural woodlands. Hogg designed the formal gardens as outdoor rooms for hobnobbing and decorated them with statues of a goddess and two muses, inspiring the northern blooms to write sonnets about honeybees. Today, organic gardening methods maintain the flourishing magnolias and crape myrtles.
2591 Main St.
Soquel
California
USA
From the shore, Seal Rock—with its rounded crags and compact shape—looks like an oversize filet mignon floating on the Pacific Ocean. Upon closer examination, one can see its silhouette shifting as hundreds of sea lions atop the rock bob their heads or dive into the water. In addition to hosting this majestic hoard, the rock makes for a popular stop for Segway Santa Cruz tours, which peer at it from shore on their way to other sights. Aboard eco-friendly two-wheelers, guides lead groups along Westcliff Drive en route to an array of seaside attractions, including Santa Cruz Lighthouse and Santa Cruz Surfing Museum, as well as Santa Cruz Wharf's boardwalk, restaurants, and shops. The tours are even open to guests with no experience driving a segway, as guides prep each person on the machine's workings before taking off on sightseeing around the town.
302 Pacific Ave.
Santa Cruz
California
831-466-0206
---