Holliston, MA Indoor Activities
---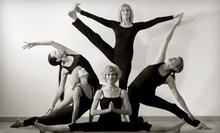 Respectful, certified yoga instructors lead Iyengar and Vinyasa classes, including heated flows, at three levels of difficulty.
Use Wednesday 3:00am - 6:00am
---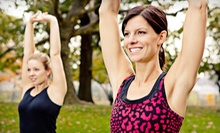 Peppy tunes play for 20 minutes of interval training, classical accompanies dynamic stretching, and new hits signal 10 minutes of ab work
Use Tuesday 3:00pm - 6:00pm
---
Recommended Indoor Activities by Groupon Customers
---
Four classical works are on the playlist for the Spring Classical Concert: Fanfare for the New Millennium for brass ensemble by Kevin Kaska; Intermezzo for string ensemble by Franz Schreker; Concierto de Aranjuez by Joaquin Rodrigo, featuring acclaimed soloist Robert Belinić; and Symphony No. 9 (From the New World) by Antonin Dvorák.
201 Franklin St.
Wrentham
Massachusetts
Founded in 1924 as a vaudeville palace and movie house, The Strand Theatre harks back to the cinematic havens of yore with its homey auditorium space and vintage marquee. Groups enjoy recent releases and classic films while seated at tables, which grant unimpeded legroom and preclude fistfights over whose cup holder is whose. The tables are placed in a staggered and tiered arrangement that ensures every audience member has a clear sightline. The in-house restaurant shares a full-service menu of appetizers and entrees from the grill, as well as craft beer and wine, all of which can be enjoyed inside the theater.
58 High St.
Clinton
Massachusetts
978-365-5500
Buckle into the transformative vests and prepare to be transported into another dimension. Laser tag is an affordable way to live out video-game dreams, work out tensions with your roommate, or live out your fantasy of starting a ragtag militia of space marines with Erik from accounting. Instead of cartoon re-runs, treat the kids you babysit or your actual kids to a more active adventure for the imagination. Get a small group together and make it a social excursion—laser tag is great for double dates, office outings, or post-dental cleaning parties.
416 Boston Post Rd. E
Marlborough
Massachusetts
Film buffs across six states stare wide-eyed at large cinema screens, losing themselves in first-run Hollywood movies and the smell of fresh, buttery kernels within Your Neighborhood Theatre's 17 locations. Though all theaters prioritize comfortable seating, old-fashioned friendly service, and high-stakes preshow trivia slideshows, each location encompasses its own distinct charm, be it through arthouse décor, 3-D screens, or Rhode Island's vintage 1950's drive-in setting.
700 S Main St.
Sharon
Massachusetts
781-784-9300
Jump Trax's menagerie of inflatables plays host to kids of all ages for parties and open-play sessions. Sock-footed youngsters can explore two climate-controlled arenas filled with bounceable attractions, such as Spongebob's pineapple house and a prehistoric obstacle course overseen by a tyrannosaurus rex. Other activities abound, such as tyke-sized push cars, a slide shaped like the Batmobile, or an inflatable Scooby Doo Mystery Machine. To prevent the inflatables from becoming vitamin D deficient, Jump Trax's location is used for block parties, barbecues, and birthday parties. Their menu consists of pizza and sodas, as well as goodie bags. Check out their FAQ for more info.
1245 General Edwards Hwy.
Sharon
Massachusetts
781-793-9500
In his first design for 5 Wits, Mathew DuPlessie channeled the fedora-wearing, whip-cracking swagger of Indiana Jones. Called Tomb, this interactive entertainment experience threw its participants into ancient Egypt to solve riddles and clues from a supernatural pharaoh. Since then, DuPlessie, a graduate of MIT and Harvard Business School, has opened up two new adventures that combine the immersive special effects of a Hollywood movie with the interactive role-play of a video game. "It's hands-on entertainment," the former designer for Disney World and Universal Studios told the Patriot Ledger, "that forces people to get off their rear end."
Thus far, all of his adventures have worked to immerse the mind and the senses—the Shakespearean origins of the company's name. Taken from Much Ado About Nothing, "five wits" refers to the Bard's nod to memory, imagination, fantasy, common sense, and estimation. Though the scenarios are meant to thrill and challenge players, none are meant to frighten, nor are they designed to be beyond the reach of those with average physical ability and psychic powers.
202 Patriot Pl.
Foxborough
Massachusetts
508-698-1600
---