Things to Do in Holliston
---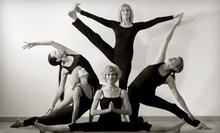 Respectful, certified yoga instructors lead Iyengar and Vinyasa classes, including heated flows, at three levels of difficulty.
Use Wednesday 3:00am - 6:00am
---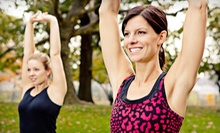 Peppy tunes play for 20 minutes of interval training, classical accompanies dynamic stretching, and new hits signal 10 minutes of ab work
Use Today 3:00pm - 6:00pm
---
Recommended Things to Do by Groupon Customers
---
Four classical works are on the playlist for the Spring Classical Concert: Fanfare for the New Millennium for brass ensemble by Kevin Kaska; Intermezzo for string ensemble by Franz Schreker; Concierto de Aranjuez by Joaquin Rodrigo, featuring acclaimed soloist Robert Belinić; and Symphony No. 9 (From the New World) by Antonin Dvorák.
201 Franklin St.
Wrentham
Massachusetts
Saba Alhadi was visiting her retired father when she received the phone call. A man on the other end, with a British accent, informed her he'd seen her photos of the city of Boston. He worked with Random House and wanted to publish her work—provided she write a book about the city and furnish it with her photographs of 16 historic sites. More than five years later, Saba's book, Boston in Photographs can be found on gift-shop shelves in the Old State House. Formerly a travel agent, she began building her portfolio as she turned her lens on the city and developed photography walking tours through historic neighborhoods.
On each of her tours, she reveals historic details such as brick sidewalks, verdant cemeteries, Romanesque courtyards, and flower-packed window boxes, and encourages those on her tour to look for unlikely subjects. Meanwhile, she interlaces the history with photo tips on how colors on different buildings complement each other, how a reflection of a historic church in a window can become a composition, and how to keep a historic interpreter from startling when the shutter goes off. She also devises scavenger hunts throughout Victorian neighborhoods, sending participants scattering to decode cryptic clues that draw on notable local facts, such as which districts were once home to wealthy citizens and which homes have pools in the backyard.
3 Village Way
Natick
Massachusetts
617-851-2273
Founded in 1924 as a vaudeville palace and movie house, The Strand Theatre harks back to the cinematic havens of yore with its homey auditorium space and vintage marquee. Groups enjoy recent releases and classic films while seated at tables, which grant unimpeded legroom and preclude fistfights over whose cup holder is whose. The tables are placed in a staggered and tiered arrangement that ensures every audience member has a clear sightline. The in-house restaurant shares a full-service menu of appetizers and entrees from the grill, as well as craft beer and wine, all of which can be enjoyed inside the theater.
58 High St.
Clinton
Massachusetts
978-365-5500
The Kingsbury Club, a multi-purpose health facility with a restaurant and multiple fitness/athletics options, ups the net worth of humankind with tennis programs for both raw and rehearsed racketeers. With the one-hour private tennis lesson ($78), taught by a certified senior tennis professional, and a one-day guest admittance ($15) to the Kingsbury Club, guests will refine backhands, polish up volleys, and learn how to properly grunt in spite of headband-wrought cranial pressure. The instructor will offer tips and suggestions on techniques and skills, helping students polish giant-scale ping-pong ability in time for summer's street-corner tennis showdowns.
2 Icehouse Rd.
Medfield
Massachusetts
Film buffs across six states stare wide-eyed at large cinema screens, losing themselves in first-run Hollywood movies and the smell of fresh, buttery kernels within Your Neighborhood Theatre's 17 locations. Though all theaters prioritize comfortable seating, old-fashioned friendly service, and high-stakes preshow trivia slideshows, each location encompasses its own distinct charm, be it through arthouse décor, 3-D screens, or Rhode Island's vintage 1950's drive-in setting.
700 S Main St.
Sharon
Massachusetts
781-784-9300
Local artists and spouses Denise Girardin and Steve Levinsky are the brains behind Palettes, a studio that aims to awaken the creative side of the community with painting's jubilant anthem. The couple's artistic endeavors stretch far beyond Palettes, though—Steve plumbs the depths of fire to find glass art, and Denise designs unique pottery inspired by the ocean and the seahorses that ride off into the sunset every evening. In addition, they are so involved in local affairs that Natick Center Associates selected them as the recipients of the 2012 Heart of the Community Award.
A row of easels dominates Palettes' roomy space during classes and open sessions, in which students re-create works of art while snacking on menu items such as asian-noodle salad and sweet-potato chips. Herb-, spice-, and fruit-infused potions flood the Water Bar, whose imported and house-made waters are perfect for making toasts to the art instructors for offering such helpfully Latin-free guidance. Palettes' people also teach students how to develop their taste buds during Waters of the World Club educational lectures, which lead to the studio's signature H2Ommelier certification.
29 Main Street
Natick
Massachusetts
508-318-8337
---