Holly Springs, NC Health and Fitness
---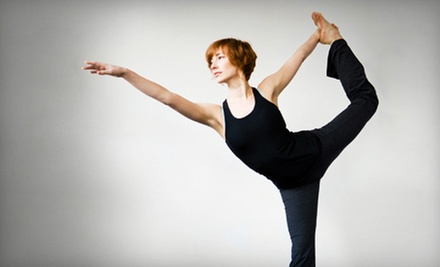 ---
Recommended Health & Fitness by Groupon Customers
---
Laced with elements of yoga, Pilates, and gymnastics, the women-only classes at Aradia Fitness sculpt lean, toned physiques. And though physical fitness is a cornerstone of the studio, it's not the only one. Classes such as Striptease and Lap Dance foster a certain amount of unrestrained confidence that, as Aradia puts it, "teach[es] women to unapologetically love their body and themselves." At 17 locations across the country, Aradia's staff of certified instructors, including world-record holder Amanda, lead women of all shapes, sizes, and experiences through sessions ranging from pole-dancing classes that teach aerial lifts and holds to Sexy Fit classes that forgo the pole for yoga fusion, boot camp, and lap dancing. No matter the class, the environment at Aradia is always light hearted, nurturing, and more supportive than a stainless-steel hammock.
8420 Chapel Hill Road
Cary
North Carolina
919-801-2141
Triangle Rock Club's state-of-the-art facility houses more than 9,000 square feet of expertly crafted terrain with upward of 100 routes. During small-size classes, drop-in sessions, and rock-climbing camps, novice and seasoned climbers scale freestanding boulders, dodging manmade obstacles while gripping the wall's slanted surface. Founded by two former Marines, Triangle Rock Club offers customers a large fitness center where guests can complement climbing's full-body workout with weights, kettlebells, squat racks, and spontaneous arm-wrestling matches. Other amenities include a climate-controlled interior and a lounge with WiFi and an HDTV.
102 Pheasant Wood Ct.
Morrisville
North Carolina
919-463-7625
Armed with the latest in chiropractic techniques, a state-of-the-art facility, and 19 years of experience, Doctor of Chiropractic Christopher R. Outten soothes spines and mends muscles. His diagnoses and treatments, in which he pulls from high-tech SpineMed equipment and Pro-Adjuster technology, aim to preempt disorders of the spine and skeletal system before they develop. Whether moving into a new pad has knocked your lower back out of whack, or you wrenched your back cage-wrestling at the company picnic, the friendly staff at Outten Chiropractic responds to clients' specific needs while treating ailments efficiently.
401 High House Rd., Suite 110
Cary
North Carolina
919-467-3362
Under the supervision of Dr. Ajay Ajmani, the staff at The Skin Institute provides clients with skincare procedures ranging from laser hair removal to acne treatments such as peels and deep-pore facials. Registered nurses and aestheticians round out the seasoned team, who all work to enhance patients' natural attributes and reverse signs of aging, sun damage, and repeated face xeroxing in the most naturally appearing way possible. The staff also knows that what's under the skin is just as important as the skin itself, spurring them to soothe muscles with a variety of massage modalities and other body treatments.
2046 Creekside Landing Dr.
Apex
North Carolina
919-303-4777
Sculpted through undulating, woodland terrain, Eagle Ridge Golf Club's par 71 course is a 6,904-yard testament to the inventive design of 1992 U.S. Open Champion Tom Kite, who made roughly two dozen trips to the site while crafting the layout. Multiple high-risk, high-reward shots manifest themselves throughout the round, creating a pin-hunting experience that—unlike trying to guess where the valet hid your car keys—challenges players without sacrificing fun. With many shots into elevated or downhill greens, the course places sound wedge and short-iron shots at a premium.
Before or after rounds, clubbers can warm up at the practice green or swing to their heart's content at the driving range, where practice balls paint racing stripes on themselves in anticipation of their trip into the clouds. To further promote score-shaving form, the club's pro shop peddles the latest in technologically enhanced golf gear, a PGA staffer offers lessons and clinics, and the dining facility fuels muscles for the next tape-measure drive.
565 Competition Rd.
Raleigh
North Carolina
919-661-6300
---