Hollywood, CA Health and Fitness
---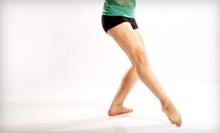 Intensive program helps dancers improve their technique in classes led by dance professionals
---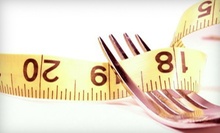 Program designed by a certified clinical hypnotherapist and nutritional counselor unlocks the power of the subconscious to quell cravings
---
Recommended Health & Fitness by Groupon Customers
---
At the end of a fruitful career that led her from the Cincinnati Ballet to the Sacramento Ballet, Jennifer Williams funneled her dance savvy into creating the barre-inspired exercise system taught at Pop Physique, a 2009 CityVoter nominee for Best Gym. Her fleet of handpicked and personally trained instructors pairs graceful ballet moves with other low-impact exercises in order to chisel cores without injuring muscles. Deep stretches further preserve tendons and leave each student more relaxed than a tortoise moseying past a state patrolman with a radar gun. Sessions run multiple times a day, seven days a week at an expanding network of SoCal locations. The roomy studios are lined with sprung dance floors and design accents that lend each location a distinct personality and a chance to forget its past as a storage room for defective food processors.
3501 W Sunset Blvd.
Los Angeles
California
US
With more than 68% of American families choosing to perform their own dental cleanings, x-rays, and dangerous dental surgeries in the comfort of their home or a makeshift dental shed in their backyard, the professional dental landscape is radically changing. The children who grow up performing all their own dental work may never enjoy the artistry of a skilled dentist. Instead they'll endure the "funny mouth" condition that comes with misusing consumer-grade dental hammers. But you don't have to suffer: take advantage of a highly skilled, professional dentist for 75% off.
9700 Venice Blvd.
Culver City
California
US
Today's Groupon gets you smiling brighter than the sun enveloping all of Saturn's moons. Receive a full checkup and cleaning from Dr. Thomas Stelmach at Smile Beverly Hills. Unlike street corner dentists who clean their tools in shallow streams and insist you pay in diamonds, a mere 70 bucks at Smile Beverly Hills gets you:"What is password?" gargled a voice like used soup.
8920 Wilshire Blvd., Suite 625
Beverly Hills
California
US
Led by co-owners with backgrounds in professional dance, the experienced instructors at Pilates Studio City cultivate carved torsos with exercises that target the core. During personalized private sessions, pupils to bend into Pilates poses or the shape of their own initials atop a mat and sliding equipment such as the Reformer, Cadillac, and Wunda chair. Teachers also divide their attention among students of all levels during group classes, which range from Level 1 mat sessions to dynamic Nia workouts. Nia blends elements of dance, martial arts, and the healing arts into a series of 52 movements that rotate from session to session to keep muscles from getting bored.
Fitness blooms at three locations, which together host more than 130 classes each week. The Studio City location surrounds exercisers in rustic wooden walls, in contrast with the floor-to-ceiling mirrors and undulating modern lines of the Porter Ranch studio's décor. Mat classes at The Annex stretch and bend beneath a large photo mural of a forest so that students can draw inspiration from branches' ability to hold themselves indefinitely in plank pose.
11650 Riverside Dr., Suite 1
North Hollywood
California
818-509-0914
For $49 today's Groupon gets you one month of unlimited core fitness classes at Pineapple Fitness, a $249 value. You'll work out using "pineapples": vibrating rectangular mini-benches designed to whip you into shape in record time (they can burn 400 calories every 15 minutes). Follow @Groupon_Says on Twitter.
12020 Wilshire Blvd.
Los Angeles
California
US
For generations, a smile has been used to indicate that you are experiencing happiness, or are proficient at creating the physical illusion of happiness. Today's Groupon will make sure your teeth give off no mixed signals with an exam, an oral cleaning, and dental x-rays from SmileWorks in Redondo Beach for $49 (a $225 value). Follow @Groupon_Says on Twitter.
1951 Artesia Blvd.
Redondo Beach
California
US
---