Beauty & Spas in Hollywood
---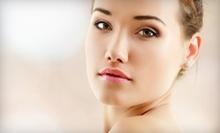 Use Today 10:00am - 9:00pm
---
Recommended Beauty & Spas by Groupon Customers
---
Like your unemployed former guidance counselor, hair can sometimes show up uninvited and refuse to leave. Today's Groupon will rid you of stray strands with the services of a hair-removal expert. For $25, you'll get $55 worth of waxing services for men or women from the aptly named WAX, located in the heart of Inman Park. Ben took a few steps back and observed his finished creation in its translucent, static glory. It was a golem of wax, misshapen and unpracticed, but firmly planted on its feet and unmistakably humanoid. Its eyes were hollow concaves, molded by an old billiard ball he kept for luck. Its mouth was a slit from a pizza cutter. Satisfied, he unrolled the ancient calfskin the old hermit gave him, and began to read aloud the spell of life. That redheaded ox Brendan Proshetti was sure going to be sorry at recess tomorrow. Everything was finally about to go right.
114 S. 20th Ave
Hollywood
Florida
US
954-922-2252
There is no follicle too wispy or fuzz too peachy to avoid Rochelle Pappas, Brooke Sweet, and their professional waxen maidens at Wax Nashville. As they like to chant in unnervingly deep Latin during their pre-day huddle: if it has hair, it can be made bare. A sleek visage is easily acquired with a brow wax, cover, and fill ($35), or lip and chin wax ($12 each). Remove cumbersome hair weight in time for the Tour de France with a full leg wax ($70), underarms wax ($25), or full arm wax ($50). Or prepare for a toasty poolside afternoon with a bikini wax ($40) or Brazilian wax ($75). Dudes, meanwhile, can de-scraggle their back, neck, or shoulders ($65), streamline their chest ($50), or find out how the other half lives with a BROzilian ($125). Wax's careful and pleasant skin-slickers will target each area's overgrowth and diligently weed it out in a calm, serene environment that puts the mind at ease. This relaxed mind translates into a relaxed body right down to the tips of each follicle—loosening hair's viselike grip on the skin and making it easier and less painful to pluck out.
114 S. 20th Ave
Hollywood
Florida
US
954-922-2252
Like your unemployed younger brother, hair can sometimes show up uninvited and refuse to leave. Today's Groupon will rid you of stray strands with the services of a hair-removal expert. For $30, you'll get $75 worth of men's or women's waxing from Wild on Wax, a salon specializing in waxing away hairs to transport you to a baby-like state of smoothness, but not a baby-like state of reduced pattern-recognizing ability.Follow @Groupon_Says on Twitter.
114 S. 20th Ave
Hollywood
Florida
US
954-922-2252
Ousia Day Spa's technicians wield all-natural ingredients when performing massage and aesthetic services. They aim cold-laser therapies toward skin ravaged with acne, sun damage, or sharpie stains. Various facials coat visages in champagne or aloe vera, as microdermabrasion treatments resurface layers of skin. Alternatively, hot wax plucks unwanted hair from bodies.
455 Southwest 78th Ave
Plantation
Florida
US
While working a cruise ship, holistic doctor and acupuncturist Ahuva Gamliel treated a passenger complaining of digestive issues. Impressed by how fast she found relief, the patient said she would send her husband so that Gamliel could treat his shoulder pain. But the woman added, "My husband is not going to tell you this, but he has erectile dysfunction and I want you to treat him for it." Noticing the man didn't mention erectile dysfunction on his intake form, Gamliel proceeded to treat him for it anyway, along with tending to his shoulder. A few days later, the woman stopped by and said, "What did you do to him? I feel like we are on our second honeymoon." Dr. Gamliel thrives on hearing such patient testimonials. Knowing since she was 5 years old that she would become a doctor, Gamliel began working as a phlebotomist in high school. But her first experiences with conventional medicine—which she recalls as "cold, callous, and impersonal"—left her disenchanted. After completing undergraduate study in psychobiology, Gamliel discovered the field of natural medicine and went on to earn a doctorate in naturopathic medicine and acupuncture from Bastyr University. Today, Gamliel pursues her vision of bringing natural healthcare to the masses through MiBaSo, an acronym for mind, body, and soul. Gamliel hopes to turn MiBaSo into a franchised, membership-based practice that increases the visibility, accessibility, and affordability of natural medicine.
1045 Kane Concourse, Suite 214
Bay Harbor Islands
Florida
US
786-537-0771
Baumann Cosmetic & Research Institute's board-certified dermatologist and New York Times–bestselling author Dr. Leslie Baumann leads an experienced staff of medical professionals as they restore lost youth with the latest cosmetic procedures. The internationally renowned doctor and founder of the University of Miami Cosmetic Medicine & Research Institute has been involved in the clinical trials of cosmetic medicines such as Botox, Dysport, and Juvéderm and has worked to see if botulinum toxin can smooth crow's feet, dry sweaty palms, or turn dogs back into puppies. She has a column in the Miami Herald and has appeared on Good Morning America and the Today show.
4308 Alton Road , Suite 910
Miami Beach
Florida
305-532-5552
---