Museums & Galleries in Hollywood
---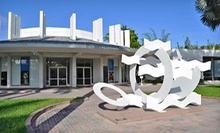 UM's on-campus art museum features more than 17,000 pieces; the Coral Gables Museum focuses on urban design
---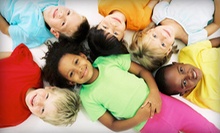 Fossil and artifact exhibit, hand-puppet theater, outdoor pirate-ship fort, and other kid-centric attractions
---
Recommended Museums & Galleries by Groupon Customers
---
The Miami Art Museum houses an ever-growing collection of more than 600 works of art, with pieces by such art-world luminaries as Chuck Close, George Segal, and Robert Rauschenberg. Spend 12 months getting physically lost and emotionally found in abstract landscapes of paint and perspective with a one-year membership. Individual memberships grant unlimited free admission to one person. The dual membership is ideal for families because it admits two individuals in the same household and any children under the age of 18. The one-year membership also includes invitations to exclusive members-only events and preview parties at the Miami Art Museum, without the need for a Members-Only jacket.
101 West Flagler Street
Miami
Florida
In 1989, Young At Art began as a small, 3,200-square-foot children's museum dedicated to shaping young minds and enriching the community through the transformative power of art. Since then, the tiny workshop has grown into a 55,000-square-foot collection of activities celebrating the diverse influences of art on our lives and imaginations, garnering a rare accreditation by the American Association of Museums for its efforts. At ArtScapes—one of the four main exhibits—kids and their parents travel through The Cave, a frantic slideshow of images conveying 5,000 years of human history, step into a replica of a New York City subway car, and view examples of graffiti as a means of creative expression against the oppressive forces of aluminum spray cans.
Elsewhere, WonderScapes transports children up to 4 years old to a world inspired by the illustrations of DeLoss McGraw, whose version of Alice in Wonderland won the Society of Illustrators Book of the Year award in 2002, and GreenScapes demonstrates the immutable intersection of art and the environment as visitors build sculptures from natural materials. Never ones to ignore their creativity, teenagers can find refuge in the Teen Center, where a graphic design lab with Mac computers and a recording studio let them convert their pre-calc homework into digital form before it's too late.
11584 W St. Rd. 84
Davie
Florida
The Gold Coast Railroad Museum began in 1956, when train enthusiast William J. Godfrey chanced upon the miles of abandoned railroad track snaking through the pineland of University of Miami's southern campus. He imported a newly retired steam engine to the premises, and a tribute to railroading history began.
Now in a new location in Miami proper, the museum continues to honor trains' role in American history, with nine exhibits on locomotives, passenger cars, and the Richmond's Naval Air Station's fleet. Visitors can hop aboard a full-size diesel locomotive passenger coach, or take a ride a miniature children's railroad that's ideal for transporting shipments of Lincoln logs. Alternatively, they can run motorized or free-wheeling trains through a model railroad, which zips through mountain tunnels and circles around to-scale landscapes.
12450 SW 152nd St.
Miami
Florida
305-253-4675
From its humble beginnings in 1949, the Miami Science Museum has expanded into a sprawling facility that includes informative exhibits, the Planetarium, and the Wildlife Center. Many current exhibits teach kids about scientific principles using interactive elements. Visitors literally light up the dance floor at the Energy Tracker exhibit— boogying down helps power neon lights underneath the glass floor. At Moving Things, youngsters can learn about the physics of moving objects by dropping objects of different shapes into flowing water, or they can challenge their spatial reasoning skills by packing blocks into perfect cubes.
The four-story dome at the Planetarium has a daily schedule of stargazing shows. Some of these take audiences on informative expeditions through the solar system and various constellations they might not typically see, such as the elusive Medium Dipper.
The Wildlife Center, meanwhile, is dedicated to the rehabilitation and release of raptors; here, guests can encounter an owl, falcon, and eagle.
3280 South Miami Avenue
Miami
Florida
305-646-4200
At Artists at the Falls Studio, Talia Rodriguez's artistic voice and guidance helps to breathe life into the up-and-coming Falls Art District and imbue kids and adults with aesthetic judgment. Within a former industrial warehouse, Talia leads classes in acrylic and oil painting, lending advice or letting students freely explore portraits, still lifes, and abstract representations of their school's mystery meat. The fun of classes can be extended to day camps and birthday parties, which branch away from canvases to explore clay and international art projects. Talia also hosts BYOB classes during evening hours, allowing adults to find their inner Monet or O'Keeffe with the help of liquid inspiration.
12974 Southwest 89th Avenue
Miami
Florida
305-278-2690
At the Art Institute of Weston, master artist Conchita Firgau and her associate professors lead students of all ages in learning the classic style of European painting. Drawing on traditions of color, light, and composition practiced by Renaissance painters, Conchita and her staff give students the confidence and skill to develop their own style. But painting is not the only activity that goes on here. Photography classes help shutterbugs master digital cameras, and guitar classes use fun, easily digestible techniques to give more credibility to students' air-guitar performances. The friendly studio also hosts after-school programs and camps to hone kids' artistic talents.
2900 Glades Circle
Weston
Florida
US
954-659-9050
---