Restaurants in Hollywood
---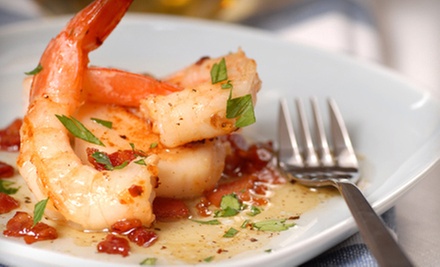 ---
Recommended Restaurants by Groupon Customers
---
A belly dancer deftly balances a sword on her head as her hips shimmy expertly to the beat of live Greek music on the patio of Mythos Greek Taverna. Shouts of "Opa!" rise from the doorway as black-clad wait staff usher in flaming plates of saganaki, the luscious cheese going gooey at the touch of the fire. The lively atmosphere is mirrored by equally lively cuisine crafted by Chef Christina Lempesi, who emigrated from Athens in 2007. Along with her tea, the chef whips up traditional Greek cuisine from scratch, without the help of a traditional Greek kitchen minotaur. Her platters of lamb and lemon-drizzled chicken, grilled kebabs, and charbroiled seafood arrive to tables surrounded by hanging plants and faux brick and stucco walls. Outside, umbrellas in classic Greek blue shield white-clothed tables from the spray of the fountain as diners enjoy a breezy meal.
2864 N University Dr.
Coral Springs
Florida
954-345-9559
After leaving France behind and settling down in Fort Lauderdale in 2007, owners Gerard and Christine became wistful with memories of their homeland. However, with the love for their new city quickly taking root, the duo decided that, instead of returning to France, they could simply add an authentic touch of the French Riviera to Florida's culinary landscape. Opening in 2009, St. Tropez Bistro didn't take long to win over new friends and neighbors, winning a 2009 Best French Restaurant award from the readers of DiningGuide and a rating from the food critics at Zagat. To foster that authentic French feel, they added Chef Dominique to their team, letting him craft fresh tuna tartare and spicy lamb sausages with ratatouille to complement the restaurant's wine list. A crew of experienced, knowledgeable wait staff—many from France, as well—bustles among the art-deco advertisements and accordion-playing Eiffel Towers that help complete the French Riviera vibe.
1010 East Las Olas Boulevard
Fort Lauderdale
Florida
954-767-1073
Situated at the threshold of the historic Anglin's Fishing Pier, Anglins Beach Cafe gives way to a sun-drenched, 975-foot-long boardwalk that bustles with anglers and sightseers from dawn to dusk. Outdoor diners are afforded panoramic views of the Atlantic Ocean, and the restaurant's interior proves no less idyllic: shaded booths abut the pier rails, and in the dining room, green tiles echo the hues of sea foam crashing against the shore. Considering that Anglins Beach Cafe is entrenched in the natural environment, it makes sense that its proprietors should take strides to preserve it. To that end, chefs draw upon organic greens, fruits, dairy products, craft beers, and wine, and pack leftovers and stowaway mermen in 100% biodegradable boxes.
2 Commercial Blvd.
Lauderdale By The Sea
Florida
954-491-6007
Shooters Waterfront Cafe USA showcases vistas of the intracoastal waterway as servers ferry plates of fresh seafood, burgers, and sandwiches to outdoor tables. Boat docking with valet assistance allows diners to pull up to the waterfront eatery after a day spent negotiating record deals with musically gifted whales. Shooters serves drinks on an outdoor patio, while their swimming pool allows guests to mimic those musical whales. On the weekends, a raw-food bar lures seafood lovers with fresh-caught oysters, clams, shrimp, and crab legs.
3033 NE 32nd Ave.
Fort Lauderdale
Florida
Dried blossoms lean against crystal vases on white tablecloths; ornate chandeliers bathe the high-ceilinged hall in an amber glow; and scents of fenugreek, cumin, and other spices from northern and southern Indian recipes waft from Madras Indian Cuisine's kitchen. The cooking staff bakes tandoori chicken, lamb, and vegetables in an authentic clay tandoor oven, and trains vegetables to assume formations atop flavored basmati-rice platters in the biryani tradition. Chefs also prepare meals to halal standards, and craft additional culinary fusions with Desi Chinese dishes. The culinary crew can pair mains with an array of sides such as six varieties of fresh-baked naan and other breads, and serve desserts in brass, footed vessels for a more delicious finale than samosa-shaped fireworks. Chefs lay out a wider range of their creations at Sunday buffets, when heated chrome containers perched atop linen-draped tables hold steaming meats, seafood, and vegetarian stews.
1434 S Powerline Rd.
Pompano Beach
Florida
954-977-5434
Wielding knives and sword-like skewers, the servers at Texas de Brazil seem prepared for impromptu duels. However, they only brandish the blades to replenish dinner plates, slicing meat from their spears at the behest of each table. The cuts of steak, lamb, and brazilian sausage are all slow roasted over an open flame in traditional churrascaria fashion—a technique that stems from the campfire meals of Brazilian gauchos, and one that fed the family behind Texas de Brazil during their life in Porto Alegre. In an effort to bring the South American style to the States, they established their first restaurant in Texas, thereby merging down-home charm with Brazilian spice.
Today, Texas de Brazil has expanded to several award-winning locations across the country. Despite the lofty ceilings and chandeliers that characterize their venues, the staff remains rooted in ranchers' habits. They conscientiously grill and season their meat, bake brazilian cheese bread in-house, and pass classic cocktails and loaner saddles over the bar for cowboys who consider chairs unnatural. To complement savory bites, guests can browse more than 50 gourmet sides at the salad bar—a compendium of soups, vegetables, and appetizers such as imported cheeses. They can also ask the resident wine specialist for recommendations on suitable pairings from the cellar.
800 Silks Run, Suite 1380
Hallandale
Florida
954-843-7600
---