Holtsville Cleaning and Home Services
---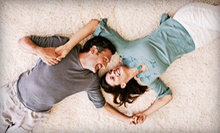 Insured and bonded cleaners follow careful steps and employ green products to thoroughly evict grime from carpets, tile, and sofas
---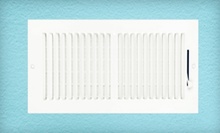 Insured cleaning technicians clean up air currents with van-mounted HVAC systems that trap dangerous pollutants and allergens.
---
Recommended Home Services by Groupon Customers
---
Budget Dry Waterproofing Inc.'s team, which boasts the only two NAWSRC-certified waterproofing specialists in Connecticut, keeps basements dry with waterproofing services to prevent flooding, mold, and mildew. Project managers evaluate each job and present homeowners with a plan that's mindful of their budget, whether mending cracks or protecting crawl spaces from dampness. While the job is in progress, a dedicated foreman keeps homeowners abreast of progress and how long it will be until basement ghouls can move back in. Each of Budget Dry's technicians trains continuously to keep abreast of new technology and evolving techniques for waterproofing and foundation repair.
800 Village Walk, Suite 266
Guilford
Connecticut
203-421-8560
With more than 75 years of making every season comfortable, T.F. O'Brien & Co.'s team of upbeat and certified technicians perform each job to the highest standards and aim to maintain long-lasting relationships with customers. The crew of house whisperers can customize home setups and install everything from Carrier air conditioners, furnaces, and heat pumps, to Rinnai tankless water heaters, energy-saving devices, and braces to straighten a home's crooked white picket smile. Temperature tamers perform tune-ups on heating and cooling systems for both commercial and residential buildings and keep families safe with carbon-monoxide detection and fire prevention. Each job comes with a guarantee of satisfaction, and the habitat experts show courtesy for their customers by cleaning up after themselves, removing shoes before walking on carpet, and eating all of the cookies and milk left for them before exiting out the chimney.
1219 Jericho Tpke.
New Hyde Park
New York
516-488-1800
Drawing from more than 40 years of combined experience, Affordable Home Solutions' team of insured and licensed servicemen rejuvenates homesteads with sundry repair and maintenance services. Technicians punctually arrive at abodes, where they can apply their carpentry and craftsmanship skills in constructing decks, closets, and roofs. The home-improvement gurus can banish gutters of debris and buildup, replace tile and grout, or repair doors that creak or whistle chewing-gum jingles as they shut.
1257 Southford Rd.
Southbury
Connecticut
203-264-0162
Royal Red Carpet Cleaners's professional technicians wield an arsenal of steam-cleaning tools to eradicate stains, dirt, and allergens from both homes and offices. With expertise gained from training and from earning their certifications, techs tenderly treat each surface with a penetrating cleaning-solution mix and a hot water rinse. Their extraction technique pulls debris from deep within carpet and upholstery fibers, and they suction up the resultant moisture for reduced dry time. The staff can also treat ceramic, porcelain-tile, and vinyl floors with thorough steam scrubs. For inquiries about general pricing or fees for extra services, such as washing behind mounted-moose-head ears, clients can call to receive complimentary service estimates.
787 Old Kensico Rd.
White Plains
New York
914-325-9633
Piano specialist Eric Johnson employs degrees in piano technology from the University of Wisconsin and composition from the Berklee College of Music as he restores stringed instruments to their pluckiest selves. After graduation, Johnson traveled to Vienna to train in the Bösendorfer piano factory, where he internalized the distinct European sound, achieved only through careful tuning or by padding the inside of the piano with a handful of pommes frites. After his European stint, Johnson traveled through North America, readying grand pianos for concerts, artists, customers, and dealers. He now works with skilled technician Jim Salvatore of PerArts to tune pianos in the Fairfield County area.
Together, Johnson and Salvatore bring an astute ear to their craft, improving the sound quality of traditional and high-end pianos, ensuring that middle Cs meet appropriate standards and high Cs quench lingering musical thirsts. In addition to tuning, Johnson and Salvatore can perform regulation, hammer replacement, and reconditioning as well as hold consultations and offer advice. Working in tandem, the duo helps customers through a range of piano conundrums related to repair, regulation, voicing, and advice.
1771 Post Road E, Suite 239
Westport
Connecticut
203-520-9064
Since 1998, Joe Catino and his staff of handymen have tackled home-improvement projects with a focus on remodeling and additions. The staff strives to maintain the integrity of traditional architecture while expanding homes with modern conveniences, ensuring that medieval castles retain their charm even with the addition of two-car garages. Their handyman services aid homeowners in installing air-conditioning units and upgrading lighting.
18 Clara Dr.
Norwalk
Connecticut
203-943-6946
---