Gyms & Fitness Centers in Holyoke
---
Gym & Fitness Center Deals
---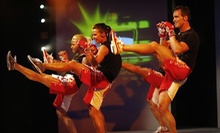 Experienced coaches inspire campers with high-intensity workouts designed to burn fat and build muscle with cardio and resistance
---
Recommended Gyms & Fitness Centers by Groupon Customers
---
The instructors at Accelerated Fitness Solutions create workouts with a scientific approach to fitness that helps clients achieve dramatic fat loss. The center's crew of nationally certified trainers challenges bodies through high-impact, results-driven workouts that are available in a group setting or one on one. During a standard session, exercisers can be seen hurling medicine balls into the air, pulling cargo ropes, or gnawing on iron ore to make their own kettlebells. Bolstering the sinew-shaping workouts is the FirstLine Therapy program, a holistic 12-week nutrition plan run by a certified nutritionist and tailored to each student.
259 Eastern Blvd
Glastonbury
Connecticut
203-681-5599
Paul Carson and Jack Banks started teaching fitness classes 30 years ago in a small abandoned dairy. Since those humble beginnings, they built Malibu Fitness—a modern gym where they help people build rippling muscles. Their trained group fitness instructors lead classes in yoga and Pilates, as well as more high-energy Zumba classes that set Latin dance moves to international tunes. Meanwhile, you'll hop on a stationary bike for the spinning classes, which rely on intense climbs and sprints to elevate heart rates and burn calories. There's also the option of one-on-one workouts with personal trainers, who can tailor workouts that shed girth, strengthen muscles, and improve athletic performance.
There are a number of nice bonus amenities at Malibu Fitness—it has flat-screen TVs, locker rooms, and a SunDome stand-up tanning booth. And if you're hungry after a workout, there's a shake bar that doles out Island Oasis protein shakes. The well-staffed team here even provides child care for kids ages 6–9 years old. And each year around Thanksgiving, the owners sponsor a road race that donates thousands of dollars to charities to offset America's turkey footprint.
15 Executive Dr.
Farmington
Connecticut
860-677-8888
Since its 1965 founding in Venice Beach, California, Gold's Gym has dotted the globe with more than 600 locations where professional athletes and exercise newbies gather under the umbrella of personal strength. Nearly 3.5 million Gold's members chart and aim for their fitness peaks, perspiring beneath the gaze of certified personal trainers or pedaling beside peers at cycling sessions. In a diverse lineup of group classes, patrons strengthen cores with Pilates, finger-paint pictures of ninjas in martial arts, and amp up heart rates along to the pulsating soundtracks of Les Mills routines. Many Gold's Gym locations stockpile futuristic amenities, such as cardio machines with individual iPod docks and televisions that help keep patrons motivated.
195 Troy Schenectady Rd.
Latham
New York
518-786-1500
The Strike Zone II gives parents a positive place to bring their whole brood for athletic, academic, or musical enrichment under one polymathic roof. While one child raises a joyful tune during music lessons, another can enlist a tutor for help with memorizing multiplication tables or searching the Gettysburg Address for hidden emoticons. For the athletically inclined, Mark Stevens—formerly a coach at the Division I, II, and III collegiate levels—heads up a staff of baseball and softball instructors who help cadets hone hitting, pitching, and fielding prowess during four-packs of lessons. The onsite batting cage lets hitters practice churning out frozen ropes within a safely confined space, and the practice pitching mound offers young hurlers a place to practice building moats for protection against charging batters.
1188 Wolcott Rd.
Wolcott
Connecticut
203-441-4431
Muvement is as much a gym as it is a physical-fitness lab. Certified strength and conditioning specialist Michael Houle and Jill Houle, who holds a BS in nutritional science, team up to invest clients with practical workout regimens and an intimate knowledge of how the body works on a physiological level. Before new clients lift their first weight at the studio, a personal trainer consults with them about their exercise and health history and runs physical assessments and lab tests to identify potential obstacles related to the immune, digestive, hormonal, and detoxification systems. Next, Jill draws on her background as a professional nutritionist to recommend a diet suited to the client's unique metabolism, and explains how the body breaks down calories and nutrients. Even their fitness regimens take a holistic approach. Whether in group or personal-training sessions, functional movements using resistance bands, TRX suspension, and kettlebells incorporate multiple muscle groups and joints into each exercise, building a physique more balanced than two eggs riding a seesaw during the spring equinox.
52 Main St.
Manchester
Connecticut
860-716-0717
Former college-football player Michael Reeves draws on his years of training and a degree in physical education as president of and a personal trainer at Top Form, a gym and field house. Whether training teams of young athletes or adults looking to get into shape, he blends his academic and practical experience to leave clients with a mental cache of exercises and routines. During personal-training sessions for individuals or groups, Reeves' cadre of instructors uses muscle-isolating equipment such as stability balls, free weights, and medicine balls to shape cores or kick off impromptu games of dodge ball. On the artificial turf of an indoor field, athletes perform functional-movement drills while pulling weight sleds.
Reeves' wife and the gym's vice president, Jen, leads mothers with newborns and toddlers through yoga-inspired workout classes. Little ones lie down or break dance on mats during the stretch and light-weight session as parents and progeny bond.
6 Corporate Dr., Suite 100
Clifton Park
New York
518-350-2966
---