Beauty & Spas in Home Gardens
---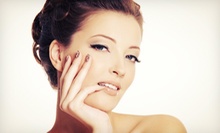 Use Thursday 10:00am - 2:00pm
---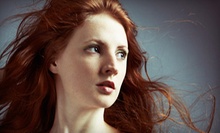 Bumble and bumble moisture treatment nourishes strands before stylists snip and blow-dry strands into well-edited shapes
Use Saturday 9:00am - 4:00pm
---
Recommended Beauty & Spas by Groupon Customers
---
Some say not to judge a book by its cover, but others say a carefully covered romance novel is the ticket to a thrilling train or airplane travelsperience. Dust your cover's corners with today's deal: a European facial at Mi Medical Rejuvenation Center in Chino Hills. Mi's staff of highly trained aestheticians combine personalized care with the latest techniques and products to revive and restore skin.
4200 Chino Hills Parkway, Suite 910
Chino Hills
California
Wild Earth's sugaring treatment uses a soft, all-natural, sugar-based paste that adheres just to hair, and because this paste is gently patted onto the skin and peeled off in the direction of hair growth, it's substantially less uncomfortable than traditional waxing. It's also more effective because fewer hairs break in the process and are therefore removed completely from their follicle foxholes. Wild Earth's sugaring mix is body temperature—not scalding hot—and completely sanitary.
2336 D Street
La Verne
California
Skin Perfect's hair-despising laser was sent back through time to terminate unwanted hair quickly and safely using handcrafted photons that harmlessly pass through the skin to directly dissipate hair follicles. Technicians can evict pesky hair from the bodily zones of both men and women with high precision. They handle light lassos like hair-wrestling cowpokes, with each beam carefully calibrated for empathy and small talk. Laser hair removal often bequeaths a longer-lasting hairlessness than waxing or shaving, and while not completely painless, it's less painful than laser hair addition.
12225 Foothill Blvd , #120
Rancho Cucamonga
California
The beautiful spa environment at Orchard Nails, which features wood paneling, dusky blue and brown walls, and carefully arranged flowers, is immediately relaxing. Sit back and let a friendly technician equip your opposable knuckle sticks with shiny new finger helmets worthy of a Costanza hand model. Put your hands where a member of the skilled staff can see them, and you'll be rewarded with a neat nail trimming of finger and toenails. Perfectly symmetrical tips will take the place of former unruly edges. Cockney cuticles will be gently groomed like Eliza Doolittle until they appear perfectly civilized. All mani-pedis also include a reflexology massage, soothing hot-towel treatment, and polish.
2150 California Ave., #102
Corona
California
Eden's ion bath uses a field of non-invasive electromagnetic energy to draw out cellular-level toxins and pollutants. It neutralizes and eliminates harmful free radicals, increases immune function, and improves overall wellness. Each individual Ion Workers Union Local 78 Certified ion is personally trained by Eden's experienced staff to enter your body imperceptibly, knock on the door of each and every cell, ask if they've had any problems, kick down the door when they receive no reply, and drag out the bare-chested, noxious nasty. Though the treatment only lasts a half-hour, detoxification continues for up to 48 hours, so don't be surprised when you encounter jealous shoe soles and resentful rugs.
2276 Foothill Blvd.
La Verne
California
The team of licensed beauty mages at Maximum Image Salon & Day Spa conjures elegant countenances and easy confidence with a slew of skin-care services. Hour-long European facials focus on flooding arid skinscapes with moisture to deeply cleanse, gently exfoliate, and prevent the type of feature-sliding erosion that plagued so many Picasso models. Inside the warm, pumpkin-hued treatment rooms, clarifying steam, a cleanse, a mask, extractions, a gentle massage with skin-care products, and decollete work coax clogged pores to finally release grime hidden deep within the dermal layer, imbuing faces with a fresh, clean, trustworthy glow. An arm massage rounds out the treatment. Clients should plan to arrive 15 minutes early in order to have time to suit up in a fluffy robe, lounge on the lobby's leather couch with a complimentary cup of coffee or tea, and exchange hair-styling secrets with the waiting room's thick shag area rug.
8052 Limonite Ave., Suite 104
Riverside
California
951-361-1515
---