Homer Glen, IL Spa and Massage
---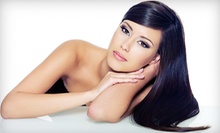 Use Saturday 9:00am - 4:00pm
---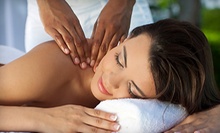 One of four massage therapists customizes massages to each client's needs and injuries, working to aid recovery and ease deep aches
Use Tuesday 9:00am - 6:00pm
---
Recommended Spa & Massage by Groupon Customers
---
Open for more than 22 years, Perry George Salon & Spa stakes its reputation on a team of stylists and aestheticians that wield international training experience and an eye for detail. Armed with Bioelements products, skin experts exact everything from facials to waxing treatments with conscientious aplomb. Stylists likewise tend to hair and nail technicians gussy up accusatory pointing fingers. The salon and spa also bundles its services into special-event packages, pairing mani-pedis with makeup for brides-to-be and Swedish massage with a businessman's facial for gents.
9025 W 151st St.
Orland Park
Illinois
708-460-4044
A recipient of CityVoter's 2011 award for Best Day Spa, Pure Daily Bliss Day Spa houses a team of skillful aestheticians who assuage clients' skin conditions through a blend of holistic and med-spa treatments. Five massage modalities—including Swedish, deep tissue, prenatal, sports, and combination—soothe generally tense or injured muscles, and microdermabrasion and specialized facials treat specific skin conditions and rearrange freckle constellations. Pores receive fruit and floral infusions from body scrubs, as well as from custom facials crafted with blueberry, pumpkin, and pomegranate. Waxing and spray-tanning services smooth and shade epidermises, enabling bodies to discreetly snorkel in penny-filled wishing wells.
18700 Wolf Rd., Suite 211
Mokena
Illinois
USA
Part tech-reliant med spa, part peaceful wellness center, Skin Bliss Health & Wellness Spa delivers results without losing sight of the client's experience of each treatment. The vengeful beams of an IPL machine rain down on acne and blemishes during the photofacial, and antioxidants and acids derived from fruits strip faces of dead skin cells during medical-grade chemical peels. The spa's laser hair-reduction technicians ride concentrated wavelengths to the stubble-free promised land, where goatees are considered witchcraft and peach fuzz doesn't even grow on peaches. In addition to cosmetic services, the center also treats clients to aromatherapy massages, sells nutritional supplements, and distributes healthy recipes.
18700 Wolf Rd., Suite 211
Mokena
Illinois
USA
A talented coterie of massage therapists, stylists, and nail artists hang their shingles in this peaceful space. Specialists nourish skin and hair with flower- and plant-infused Aveda products, anti-aging Bioelements skincare products, and eco-friendly Biolage haircare products. The hands of licensed massage therapists trace the body with honed techniques that target specific ailments; the gentle, sustained pressure of myofascial release combats chronic pain, and the gentle taps of Swedish massage share soothing messages via Morse code. Above all, D'Marie's pamperers aim to foster a soothing atmosphere for every service, from mani-pedis to age-busting facial peels.
24 Elwood St.
Frankfort
Illinois
815-469-1778
Billy Malley pays homage to three generations' worth of hairstyling alongside a skilled staff of beautifiers performing a diverse menu of salon and spa services. Stylists clip away excess strands, insert fresh hues into coifs, and add more curl to heads with perms. Mani-pedis and waxing treatments whip unkempt appearances into shape, and massages eradicate tension caused by bobbing for apples in shark tanks. Facials and body treatments harness the healing powers of vitamin C, seaweed, and Dead Sea salts to cleanse and de-mottle epidermises.
14322 S Golden Oak Dr.
Homer Glen
Illinois
708-590-6618
A collaborative effort between co-owners Jan and Mike, Jan Michael's Salon and Spa accommodates hair, nail, and skincare services behind its coral-hued walls. The 20-year-old salon employs the best and brightest in the beauty industry, including fully licensed massage therapists, colorists, nail technicians, and light bulbs. Spa services are performed in a separate, secluded area to minimize outside distractions and keep the massage oils from fraternizing with Moroccanoil hair serums.
6969 W 111th St.
Worth
Illinois
708-923-6969
---