Homestead, FL Outdoor Activities
---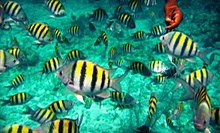 Catamaran shuttles guests to waters near John Pennekamp Coral Reef State Park and National Marine Sanctuary for hour of fun and instruction
---
Outdoor Activity Rewards Deals - Use Anytime
---
Recommended Outdoor Activities by Groupon Customers
---
Ever since football became too rambunctious for the limited confines of mess halls, it has been performed in stadiums. During this year's Pro Bowl weekend, celebrate the only sport legally allowed in football stadiums with today's Groupon. For $7, you get a single-day entry to the South Florida FanFest at the Miami Beach Convention Center—tickets normally cost $15 at the door. The exhibition, a 200,000-square-foot sports-memorabilia and card show, is the largest of its kind in Florida and is open from 10 a.m. to 8 p.m. on January 29–31. There is no purchase limit, so pick up a few to attend all three days. Gift a few to your old high-school football teammates to relive the glory days of the Bash Brothers.
1901 Convention Center Dr.
Miami Beach
Florida
US
Xtreme Indoor Karting's 90,000-square-foot facility buzzes with the energy of Bowman Arrow karts as they whiz between the checkered flags that line the railing of the indoor go-kart track. All sporting Honda engines, three kart models take to the half-mile asphalt stage where child and adult racers show off their skills, reaching speeds of up to 45 miles per hour. The racing theme pervades the facility, including the 18 holes of the indoor miniature golf course, which are peppered with half tires and watered with tears of joy from past Indy 500 winners. More than 100 different interactive games—including racing simulators—flicker inside the arcade, and rows of billiards tables line the black-and-white checkered floors of the Finish Line Sports Bar. Charged with fueling all of these activities, the kitchen staff at the Fast Track Café whip together burgers, wraps, and pizzas. For kid's-only entertainment, the staff supervise a day camp throughout the summer months, when all of the country's teachers traditionally lose their keys to the school.
5300 N Powerline Rd.
Fort Lauderdale
Florida
954-491-6265
At two locally owned locations, The Electric Bicycle Store team tends to a herd of battery-powered steeds that carry riders along the smooth pathways of South Florida. The shop stocks bikes by Pedego, Sanyo, Schwinn, Stromer, Trek, and others, and the staff helps outfit riders with accessories such as helmets and solar chargers. With rental packages, riders take to bike paths with helmets, lights, locks, chargers, and baskets that can fit a few pounds of spaghetti for midride snacks.
2599 N Federal Hwy.
Fort Lauderdale
Florida
954-565-0562
X-treme Rock Climbing offers a vertical maze of more than 14,000 square feet of climbing. USA Climbing–certified route setters mark basic paths for beginners, along with challenging roofs and overhangs for more experienced scalers. The routes change often, lending a layer of surprise to each return visit. Skilled instructors also teach students to master indoor and outdoor rock-climbing techniques, which they can use to blaze new paths at parks or reach top-shelf cereal boxes in grocery stores. In addition to climbing, X-treme Rock Climbing helps patrons achieve physical-fitness goals with yoga classes, a fitness center, and an onsite pro shop.
13972 SW 139 Ct.
Miami
Florida
As they continue to find their ice-footing this year, the Panthers strive to wrest control of the NHL's jungle gym by dominating visiting pucksters on their home ice. Witness the squad's skate-borne feats of athleticism as they attempt to vanquish their Eastern Conference foes the Ottawa Senators, New York Islanders, or Toronto Maple Leafs. Premium lower-bowl seating gets spectators close enough to see the intricate weaving of line formations and collect ice flecks from the players' skates to make snow cones. Your exact stadium location will be determined upon your arrival, and groups must purchase tickets together for consecutive seats if they don't want their painted torsos' letters to accidentally spell, "Flo, rid a pant. Hers."
1 Panther Pkwy.
Sunrise
Florida
Even before you climb inside, the GoCar is clearly a car with a personality. The petite, three-wheeled two-seater has a hood that slightly resembles an eager-to-please smiley face, and an open top that seems custom-made for letting the breeze ruffle your hair. Then the real fun begins: built with the company's own software and a compassion for the voiceless robots of America, a talking GPS system guides two-seater GoCars through the city streets of San Francisco, San Diego, Miami, Barcelona, Madrid, and Lisbon with cheerful, info-rich narration. Second only to having a knowledgeable local jog alongside your minivan, tours zip along at drivers' own pace and accommodate as many pit stops as time allows.
1655 James Ave.
Miami Beach
Florida
---