Restaurants in Homewood
---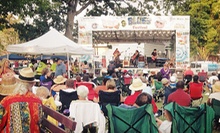 Stop in for a daylong festival of ribs, barbecue sandwiches, live blues music, inflatable slides, and face painting
---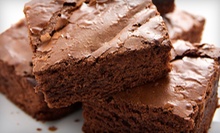 Brownies, cakes, and scones in flavors that rotate regularly including red-velvet cakes and toffee-almond scones
---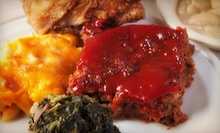 Grilled-chicken dinners, baked oysters, crab cakes, steaks, and pasta in industrial-chic restaurant
---
---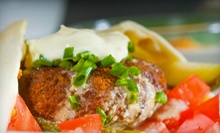 Hookah lounge conjures Mediterranean tastes with falafel plates, fresh-baked baklava, and chicken-kebab wraps
---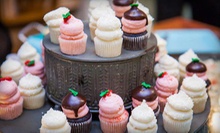 Mini cupcakes made fresh daily and packed by the dozen; flavors include white cake, chocolate, or a variety pack
---
Recommended Restaurants by Groupon Customers
---
Local meats, fresh veggies, and imported spices enhance the traditional Thai and Japanese food at Surin of Thailand. Chefs manipulate yellow, red, and green curry dishes with splashes of coconut milk, citrus juice, or peanuts, and they marinate select meats overnight before slow-roasting them until they're tender enough to fall apart when looked at. To ensure a sushi menu that's just as authentic as the Thai dishes, many of the restaurant's chefs train in Japan under the tutelage of sushi masters. The result is a menu of more than 20 varieties of sushi and nigiri, many of which feature pan-Asian flourishes such as plum sauce and drizzles of panang curry.
64 Church St.
Birmingham
Alabama
205-871-4531
Naji's Pita Gourmet stocks and cooks Middle Eastern foods of all kinds in their combination bakery, grocery store, and restaurant. The bakery is populated by warm and soft preservative-free pita bread, which bakers ship all across the country or turn into crunchy pita chips. In the restaurant, that same pita cradles tender slices of shawarma and gyro meat, dives into plates of hummus, and wraps up crunchy falafel. Patrons can try to mimic Naji's fare at home after a stop at the grocery store to pick up olives, grape leaves, spice bends, and cardboard cut-outs of the cooks.
166 W Valley Ave.
Birmingham
Alabama
205-945-6021
Classic Tex-Mex scents season the air at El Gringo, where a colorful mélange of nachos, chimichangas, and fajitas grace plates. Nachos and guacamole commence feasts before juicy cuts of sirloin transform into sizzling carne asada. Veggie quesadillas, enchilada-and-burrito combinations, and fried ice cream get washed down with buckets of beer or margaritas pulled up from local tequila wells.
100 Frankfurt Cir.
Birmingham
Alabama
The chefs of Dave's Deli slice deli meats into thin slices or hearty cuts, then stuff them into toasted sandwiches or loan their succulent flavors to specialty pizzas, crafted atop 8-inch sourdough crusts. They outfit a choice of homemade sourdough, wheat, dark rye, or jalapeño-and-cheese breads with the selection of meats, cheeses, and veggies before sliding them into the shop's toaster ovens to give them a golden exterior or a sense of self. Drinks and a choice of deli sides or two cookies form combo meals, and the shop can downsize its portions for kids.
1615 Montgomery Hwy.
Hoover
Alabama
205-822-8000
When Mudtown Eat and Drink owner Dave Horn returned to Birmingham after a stint in Atlanta, he remarked to Bob Carlton of the Birmingham News that there was no place "where you can just get a burger." He decided to build exactly what he sought: The Ridge Eat & Drink, a casual, neighborhood eatery that serves classic pub fare such as 100% Hereford beef burgers and upscale dishes ranging from steaks to seafood. The menu's Asian and southern influences emanate from starters such as grilled tuna tataki and fried green tomatoes. To make diners comfortable, the pub greets them with drink specials, flat-screen TVs, and daily dares scrawled on a chalkboard above the dark-wood bar.
3325 Rocky Ridge Plz.
Birmingham
Alabama
205-917-5080
Stacked mugs scatter light onto the robin's-egg-blue walls. Downturned wineglasses vibrate to the pulse of an Internet jukebox. All of the vessels at Tyler Navarre's Bar and Grill beg to meet in a treble chorus of toasts over the pool table, where patrons two-hand quarter-pound burgers or spicy po boys. Crispy appetizers segue into a menu of deep-fried shrimp or boneless wings washed down with beer, mixed drinks, or the velvet candy of a sweet tea. After head bobbing to occasional live entertainment or performing karaoke numbers to practice for the testy British judges stuck in their showers, patrons are encouraged to bust cork in weekly darts tournaments.
3221 Hwy. 52 W, Suite A & B
Pelham
Alabama
---