Restaurants in Homewood
---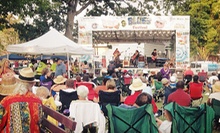 Stop in for a daylong festival of ribs, barbecue sandwiches, live blues music, inflatable slides, and face painting
---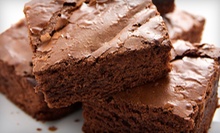 Brownies, cakes, and scones in flavors that rotate regularly including red-velvet cakes and toffee-almond scones
---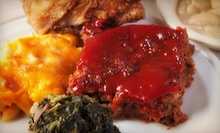 Grilled-chicken dinners, baked oysters, crab cakes, steaks, and pasta in industrial-chic restaurant
---
---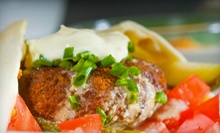 Hookah lounge conjures Mediterranean tastes with falafel plates, fresh-baked baklava, and chicken-kebab wraps
---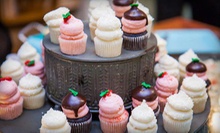 Mini cupcakes made fresh daily and packed by the dozen; flavors include white cake, chocolate, or a variety pack
---
Recommended Restaurants by Groupon Customers
---
Classic Tex-Mex scents season the air at El Gringo, where a colorful mélange of nachos, chimichangas, and fajitas grace plates. Nachos and guacamole commence feasts before juicy cuts of sirloin transform into sizzling carne asada. Veggie quesadillas, enchilada-and-burrito combinations, and fried ice cream get washed down with buckets of beer or margaritas pulled up from local tequila wells.
100 Frankfurt Cir.
Birmingham
Alabama
The chefs of Dave's Deli slice deli meats into thin slices or hearty cuts, then stuff them into toasted sandwiches or loan their succulent flavors to specialty pizzas, crafted atop 8-inch sourdough crusts. They outfit a choice of homemade sourdough, wheat, dark rye, or jalapeño-and-cheese breads with the selection of meats, cheeses, and veggies before sliding them into the shop's toaster ovens to give them a golden exterior or a sense of self. Drinks and a choice of deli sides or two cookies form combo meals, and the shop can downsize its portions for kids.
1615 Montgomery Hwy.
Hoover
Alabama
205-822-8000
When Mudtown Eat and Drink owner Dave Horn returned to Birmingham after a stint in Atlanta, he remarked to Bob Carlton of the Birmingham News that there was no place "where you can just get a burger." He decided to build exactly what he sought: The Ridge Eat & Drink, a casual, neighborhood eatery that serves classic pub fare such as 100% Hereford beef burgers and upscale dishes ranging from steaks to seafood. The menu's Asian and southern influences emanate from starters such as grilled tuna tataki and fried green tomatoes. To make diners comfortable, the pub greets them with drink specials, flat-screen TVs, and daily dares scrawled on a chalkboard above the dark-wood bar.
3325 Rocky Ridge Plz.
Birmingham
Alabama
205-917-5080
Stacked mugs scatter light onto the robin's-egg-blue walls. Downturned wineglasses vibrate to the pulse of an Internet jukebox. All of the vessels at Tyler Navarre's Bar and Grill beg to meet in a treble chorus of toasts over the pool table, where patrons two-hand quarter-pound burgers or spicy po boys. Crispy appetizers segue into a menu of deep-fried shrimp or boneless wings washed down with beer, mixed drinks, or the velvet candy of a sweet tea. After head bobbing to occasional live entertainment or performing karaoke numbers to practice for the testy British judges stuck in their showers, patrons are encouraged to bust cork in weekly darts tournaments.
3221 Hwy. 52 W, Suite A & B
Pelham
Alabama
Fat Sam's Sub Station, a local eatery neighboring UAB, doles out submarine sandwiches piled high with fresh meats, veggies, and cheeses. At sunup, chefs fold omelets, flip pancakes, and drizzle syrup on alarm clocks, crafting diner-style breakfast entrees. As lunchtime rolls around, foodsmiths shift their attention to preparing hot and cold sandwiches on pita, wheat, and rye bread or hoagies. Customers applaud the restaurant's namesake cook, noting Sam's boisterous personality and passion for sandwich artistry. Catering services are available.
1154 11th Ave. S
Birmingham
Alabama
205-252-2300
The chefs at Carlile's Barbeque slow cook cuts of meat using the same recipes and the original barbecue pit made famous by brothers Herman and Warren Carlisle, who founded the restaurant in 1945, following their return from World War II. Despite several changes in ownership, the tried-and-true restaurant––named after the misspelling of Herman's last name upon his entrance into the armed forces––has sustained its popularity for more than half a century, thanks to the addictive nature of its signature vinegar-based barbecue sauce, which graces everything from barbecue chicken salads to slow-roasted slices of tender pork butt and the door handles of every car in the parking lot. Full-meal platters showcase catfish, honey-mustard chicken, and slabs of ribs topped in their own sweet, ketchup-based sauce alongside a slew of hearty, house-made sides ranging from creamy mac 'n' cheese to crispy fried okra. Meals end on a sweet note, courtesy of the shop's specialty "Momma's recipe" banana pudding; lemon, chocolate, coconut, or pecan pies; or slabs of peach cobbler.
3511 6th Ave. S
Birmingham
Alabama
205-254-9266
---