Restaurants in Homewood
---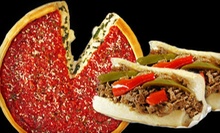 Thinly sliced italian roast beef sits atop an award-winning sandwich with peppers or cheese; deep-dish and thin-crust pizzas are available
Use Today 2:00pm - 4:00pm
---
Recommended Restaurants by Groupon Customers
---
We are a mix of BBQ, Mexican & Cajun food.
6501 W 79th St., At Natchez & Neenah Avenues
Burbank
Illinois
708-229-8700
At Ed Debevic's, every house burger, hot dog, and diner entree shares a not-so-secret ingredient: sass. The servers welcome guests to the vintage venue with tongue-in-cheek remarks and paper deli hats, seating them next to vibrant examples of what Centerstage calls "smart-aleck decor": fake autographs, old-timey ads, and signs that carry proverbs such as "Eat Now…Pay Waiter." The mischievously retro tone is cultivated in homage to one of the owner's favorite restaurants, Lill's Homesick Diner. Back in the '50s and '60s, Lill acquainted Ed with the classic flavors of comfort food cooked from scratch, showcasing the spirited moxie that made her a standout in the short-order world.
Ed chose to emulate both her classic cooking and feistiness at his own diner. Many of his menu items are housemade, including the meatloaf, mashed potatoes, the desserts, and the blue-cheese sauce on top of the Ed's Blue Moon burger. Milk shakes and malts pair well with a variety of hot dogs and sandwiches, especially when counterbalancing the effects of Atomic Mix: a blend of diced jalapeños, onions, and tomatoes that garnishes certain plates. The staff stays in comically impudent character throughout these meals. And every now and then, the servers pause to put on countertop dance numbers that are almost as exciting as the time your grandpa turned the lazy Susan into a zoetrope.
15840 S Harlem Ave.
Orland Park
Illinois
708-633-1300
Tommy Nevin's Pub was founded by Steven Prescott and christened for his grandfather Thomas Nevin, a WWI veteran. The flagship location in Evanston touts a bright red façade that pays homage to the renowned Temple Bar in Dublin, and the menus at all three locations likewise salute the culture of the emerald isle. Though it inhabits a decidedly Celtic corner of the pub world, Chicago Bar Project deemed the Evanston outpost "the best bar in the suburbs" for its "intriguing combination of country Irish pub, modern Chicago bar and cutting-edge alternative music venue." Chefs whip up corned beef and shepherd's pie as bartenders handle taps and spirits. Friends can cheer on local sports teams on TV or wrack their brains to remember the name of Azerbaijan's currency and most popular potato-chip flavor at weekly trivia nights.
9680 Lincolnway Ln.
Frankfort
Illinois
815-464-1000
J N Michaels' voluminous menu of classic American diner fare provides myriad meal options to sate the cravings of every guest at any hour of the day. Whether the time of day is early morning or long after the sun begins snoring below the horizon, cooks sizzle breakfast skillets, assemble lunch sandwiches, and plate hefty dinner platters. They craft many of the dishes from scratch, and in the eatery's bakery, they whip up pies and pastries that join handcrafted, old-fashioned milkshakes to conquer sweet teeth's lingering postmeal demands. J N Michaels is devoted to enriching its community and frequently helps support nearby schools' and churches' fundraising efforts.
5000 Lincoln Highway
Matteson
Illinois
708-481-3364
In the kitchens of Blueberry Hill's five suburban outposts, cooks forgo lazy morning lounging to pull together homey assortments of timeless brunch fare. Pancakes infused with fruit or sweets are made from scratch, much like hand-knitted socks or hand-painted report cards. French-toast slices get stuffed with apple and cream cheese, smothered in fruit, or rolled in Cap'n Crunch. Fresh meats and veggies take cover under eggs in savory skillets, and a selection of sandwiches quells cravings in handheld form.
2155 W 183rd St.
Homewood
Illinois
708-922-0800
At Mindy's Ribs, wooden pig cutouts dangle from the ceiling beside hefty hanging lights that illuminate the menu's many meaty, piled-high plates of tender American barbecue. For carryout, delivery, and dine-in seven days a week, skilled grillers slather hearty ribs, brisket, and pork chops with zesty sauces to help them stick to platters, overstocked sandwiches, and carb-spurning wraps. Crispy fried appetizers prep tooth muscles, and a wine and draft-beer menu offers numerous selections for filling an Olympic-size swimming pool. The large dining room can cater banquets for up to 50 and vaunts high ceilings and exposed rafters, ideal for echoing evil laughter.
9610 191st Street
Mokena
Illinois
---