Professional Services in Honolulu
---
Professional Service Deals
---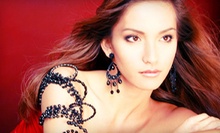 Makeup artists create two custom looks and hairstyles for in-studio photo sessions, which result in a CD with one copyright-released image
---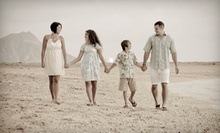 Mililani - Waipio - Melemanu
A staff with more than 30 years of experience snaps photos anywhere in Oahu during shoots and produces prints from two images
---
Recommended Professional Services by Groupon Customers
---
Pacific Junk Removal helps homes and businesses rid themselves of junk, yard waste, and unwanted furniture with speedy removal and free price estimates. Professional, uniformed technicians arrive at homesteads and office buildings to swiftly cart off any refuse, excluding hazardous waste, dirt, or other junk-removal guys who have camped out and refuse to leave. Pacific's 12'x8'x6' truck allows its haulers to pack away electronics, construction debris, and storm cleanup easily in one trip. And, rather than simply dropping off unwanteds at the dump, Pacific Junk Removal donates useable items to Goodwill and responsibly recycles whatever it can before safely disposing of all other materials.
99-1305 B Koaha Place,
Aiea
Hawaii
808-488-8870
Expressions Portrait Design's portfolio captures families, graduates, babies, and even pets. More than 100 backgrounds unfurl on set, letting subjects surround their poses with almost any mood or theme. After the flash has gone off and the "freeze time" switch has been flipped again, color effects and image editing add more options for customization. All photo packages include standard prints, but custom framing, greeting cards, and canvas images also are available to surround portraits with gallery-caliber fanciness.
98-1005 Moanalua Rd., Suite 553
Aiea
Hawaii
USA
808-951-7827
Capturing intimate moments, fleeting glances and pure emotion is my goal when I pick up my camera. I am laid-back and relaxed by nature, which attributes to my ability to capture images and subjects in "real life" as opposed to unnatural, posed photography.
3040 Waialae Ave
Honolulu
Hawaii
US
Tim Orden's four-decade journey as a professional photographer has been a winding one, taking him to picturesque positions including stints as a professor at the University of New Orleans and a photographer for a Hawaiian modeling school. Today, Orden coaxes unguarded moments out of subjects in stunning natural settings including Kailua Beach, Magic Island, and Kahala Beach Park. Orden's eye for aesthetics remains keen even after the shutters settle, aiding his post-production edits that ready each print for new homes in picture frames or on self-made billboards.
4925 Kahala Ave.
Honolulu
Hawaii
808-620-8876
Helmed by a registered nurse with more than 25 years of experience greeting newborns as a professional in the OB field, First Look Sonogram Hawaii's team of certified technicians introduces parents-to-be to their burgeoning offspring using an advanced General Electric Voluvision 730 sonogram machine. The routinely calibrated instrument safely scans rotund bellies, rendering high-quality 3-D and 4-D snapshots in both color and black-and-white of the developing infant as he or she mouths the lyrics to "Happy Birthday to You." The expert techs can determine the baby's gender while confirming a heartbeat, amniotic fluid, and number of babies nestled inside. Adding permanence to the experience, recordings of the session are available on DVD and the accommodating staff can even craft a sonogram music video from the footage.
98-1247 Kaahumanu St., Suite 104
Aiea
Hawaii
808-486-8439
In 1988, Natalie Brown-Aiwohi began working as a makeup artist at Headshots Hawaii. A month later, she was promoted to manager. In 2010, after 22 years as manager, Brown-Aiwohi purchased the studio herself and built a new location to house it at the Aiea Town Square. Immediately, she transformed a franchise that had been known for its 1980s-style glitz into a full-service photography studio that captures images of clients just as they are. "After all the glitz and glam, people wanted to look like themselves—they wanted more of a natural look," Brown-Aiwohi told Pacific Business News in 2010, shortly after the move.
Today, Headshots Hawaii is the only remaining Headshots franchise of dozens that had opened in the 1980s and 1990s, and Brown-Aiwohi's dream is still going strong. As a partner of the Miss Hawaii Pageant, Headshots Hawaii snaps photos of reigning Miss Hawaiis, drawing on Brown-Aiwohi's experience as a former pageant queen and model. Photographers also shoot images for weddings, businesses, aspiring models, and airtight alibis, tailoring the style to suit the client. Brown-Aiwohi gives back to the community with charitable work, such as supporting events to benefit homeless teens.
99-080 Kauhale St., Suite C-16
Aiea
Hawaii
808-484-8808
---