Hoover, AL Indoor Activities
---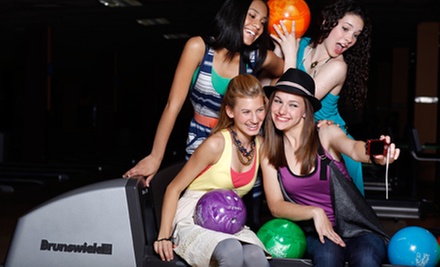 Brunswick Riverview Lanes
---
Recommended Indoor Activities by Groupon Customers
---
The Yoga Circle's focus on hosting classes that accommodate students of all skill levels earned the heated practice space the honor of CityVoter's Best Yoga Studio in 2009. The studio's robust selection of classes takes place amid temperatures up to 105 degrees. Instructors guide students through moves such as Hot Soul's repeated asana sequence, which establishes the fundamental alignment and breathing technique needed for continued yoga practice and Marvin Gaye–quality pipes. Kundalini sessions refocus minds on enhancing bodily energy with a combination of centering poses and mantras hummed in iambic pentameter, and core Vinyasa classes introduce deeply held stretches alongside such challenging postures as arm balances, inversions, and triple axels while instructors drift about to offer adjustments. Retreating to the on-site shower facilities after class, students can rid muscles of salty sweat before returning home to walk their pet slugs.
1425 Richard Arrington Jr. Blvd. S
Birmingham
Alabama
US
Time for Three mixes classical, country-western, gypsy, bluegrass, and jazz music to create a unique hybrid sound. Violinists Zachary De Pue and Nicholas Kendall and double bassist Ranaan Mayer met while studying music in college. The three-piece bonded over a shared love of musical improvisation and went on to play more than 200 shows. Conductor Christopher Confessore leads the trio with a skillful eye and even more skillful conductor's wand. Though the concert begins at 8 p.m., it's preceded by a cocktail hour that begins at 7 p.m., where guests can impress each other by playing octave-jumping leapfrog.
1817 Third Ave. N
Birmingham
Alabama
After working for decades as a successful oil executive, National Senior Games gold medalist Homer Brown decided to shift gears, opening BumperNets in 1999 to promote his beloved sport of table tennis to the masses. Nestled within the Riverchase Galleria Mall, Brown's well-stocked, interactive emporium lets visitors hone their ping-pong or pool skills under the tutelage of a trained professional, or master the finer points of team management at the foosball table. Homer and his knowledgeable staff help guests deck game rooms in felt-clad pool tables, glittering pinball machines, and skee-ball alleys for rental or purchase, and can assist with onsite assembly.
2000 Riverchase Galleria, Lower Level
Birmingham
Alabama
205-987-2222
At Vestavia Bowl Family Fun Center, kids are encouraged to knock things over. The staff strives to spread a passion for bowling through various youth incentives, from organized leagues to the Kids Bowl Free promotion—a system that awards children complimentary games to take up summer free time. The staff even lends out kits to area P.E. teachers as part of the In-School Bowling Program, furnishing classes with balls, pins, carpeted lanes, and lengthy lesson plans on how to find the ball's finger holes.
By tutoring youngsters in bowling techniques, the center hopes to instill the same fondness for the sport held by its managerial team. Certified bowling coach Keith Henderson heads the pack of competitive players—many of whom boast sanctioned 300 games on their records—and oversees 34 lanes equipped with computers and overhead scoring monitors. For an ethereal gaming environment, black lights illuminate the lanes during select hours and birthday parties. Guests can also test their dexterity at pool tables and arcade games. Meanwhile, the snack bar preps burgers, hot dogs, and wings to pair with draft beers; patrons can even take advantage of Eat & Bowl specials, which offer a combo meal and two games for one price.
1429 Montgomery Hwy.
Vestavia Hills
Alabama
The passionate instructors at Bliss Yoga and Wellness guide students of all skill levels through bends, stretches, and challenging poses during a full spectrum of yoga classes. Restore classes aim to foster internal journeys through meditation and visualization. The heated practice space hosts up to 50 students for classes, where they can sweat out bodily toxins, sink deeply into stretches without fear of injury, and develop the flexibility to fit into a barrel going over Niagara Falls. Classes such as Strength and Balance focus on specific yoga moves tailored to building muscles through challenging postures. Dedicated to creating an all-inclusive community, Bliss Yoga and Wellness also offers prenatal-yoga classes for expectant mothers, and kids' classes that take place concurrently with adult classes. Bliss houses a full locker room stocked with amenities, towels, and mats.
2221 University Blvd.
Tuscaloosa
Alabama
US
Led by co-owners with backgrounds in professional dance, the experienced instructors at Pilates Studio City cultivate carved torsos with exercises that target the core. During personalized private sessions, pupils to bend into Pilates poses or the shape of their own initials atop a mat and sliding equipment such as the Reformer, Cadillac, and Wunda chair. Teachers also divide their attention among students of all levels during group classes, which range from Level 1 mat sessions to dynamic Nia workouts. Nia blends elements of dance, martial arts, and the healing arts into a series of 52 movements that rotate from session to session to keep muscles from getting bored.
Fitness blooms at three locations, which together host more than 130 classes each week. The Studio City location surrounds exercisers in rustic wooden walls, in contrast with the floor-to-ceiling mirrors and undulating modern lines of the Porter Ranch studio's décor. Mat classes at The Annex stretch and bend beneath a large photo mural of a forest so that students can draw inspiration from branches' ability to hold themselves indefinitely in plank pose.
4274 Cahaba Heights Crt., Suite 100
Birmingham
Alabama
US
205-969-8998
---