Things to Do in Hoover
---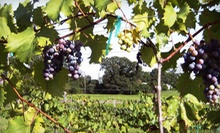 Tours lead groups through picturesque winery before tasting of wines from West Coast & Alabama grapes & lunch of Italian-style deli fare
---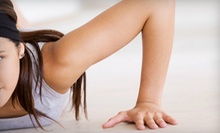 Trainers tone attendees' bodies during boot-camp and personal-training sessions; access to the gym's tanning beds instills a healthy glow
---
Recommended Things to Do by Groupon Customers
---
Along Stepping Stone Farm's 130 acres of pastures, trails, and tree-studded hills, owner Courtney Huguley provides opportunities for students to hone horsemanship skills and connect with natural surroundings. During lessons, Courtney and assistant instructor Melissa Croxton teach students the basics of saddleseat riding, a traditional English style from which many other methods have originated, including jousting with swimming noodles. Once students gain comfort and confidence during private lessons, the instructors introduce them to group lessons with up to four other riders to master walking, trotting, and synchronized neighing.
Weeklong summer camps are also available for younger riders. During these sessions, each camper is assigned to one specific horse, learning responsibility and companionship.
1154 Griffin Rd.
Chelsea
Alabama
Co-owners Cindi and Barbara put their 57 combined years of fitness passion to use by helming a team of expert instructors and stocking their bright, sunlit studio with cutting-edge equipment. During cycling sessions, instructors help students torch calories and tone muscle groups atop state-of-the-art RealRyder stationary bikes, which behave like real bikes by leaning into turns and cowering at the sound of thunder. They also work to enhance cores with brand-new Reformer machines in guided sessions for individuals or partners.
4274 Cahaba Heights Ct., Suite 200
Birmingham
Alabama
Under the shadowy cover of nightfall, and by the flickering glow of a lantern, the Birmingham Ghost Walk weaves gaggles of ghost seekers through the city's spirit-populated historical sites. Tour leader Wolfgang Poe leads each march through time, beginning with a group-bonding ritual that tunes minds into the vibrations of Wolfgang's spirit guides. Winding toward the Alabama and Lyric Theaters, walks stop to discuss brothels, taverns, and townhouses long since gone, but not vacated by their former inhabitants. As the moon slinks behind clouds and shadows move into the shapes of embarrassing childhood nicknames, tour-takers shake off spine-tingling chills to finish the adventure at the Tutwiler Hotel. Cameras are allowed and, due to its dark themes and subject matter, the Ghost Walk gives itself a PG-13 rating.
2100 Park Place
Birmingham
Alabama
---