Restaurants in Hopatcong Hills
---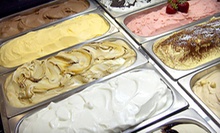 Bakers whip up roasted vegetable Panini, BBQ pulled pork on Kaiser roll & variety of Christmas cookies from scratch
Use Tuesday 11:00am - 8:00pm
---
Recommended Restaurants by Groupon Customers
---
Strains from live DJs and the happy chatter of busy silverware resound off the exposed-brick walls and looping whorls of the wooden bar at People's Republic of Brooklyn. Red tabletops billet platters of seared, fried, or blackened catfish, and plates of free-range chicken don adventurous garnishes such as avocado or the essence of an air kiss. Comfort-fare sides conjure nostalgia among guests perched at the bar, with options including mac 'n' cheese, deviled eggs, and sautéed arugula serving as foundations for a wide range of cocktails.
247 Smith Street
Brooklyn
New York
718-522-6100
At Casaville Restaurant, the chefs draw culinary inspiration from kitchens across the western Mediterranean and add hints of traditional Spanish and French cuisine to Moroccan staples. Time Out New York praised the dishes for their authenticity, noting that "to find better homespun North African cooking, you'd have to travel to Paris or Casablanca—or at least the far reaches of Brooklyn or Queens." Spiced merguez and pillowy couscous help to build upon that reputation, and trays of tapas drift around murmuring groups.
The dining room's yellow stucco walls brim with a number of Moorish-inspired accents, including tiled recesses. Navigating between the tables inside or on the outdoor patio, belly dancers occasionally swirl their hips, jingling pendant-laden belts. Servers dodge past to fill glasses with wine, selected from the restaurant's extensive list to pair with meals or work with the rhyme scheme of an extremely detailed autobiography.
633 2nd Ave.
Manhattan
New York
212-685-8558
As the sun rises, Chef Pasquale can be found one of two places. Most days, he wakes up early to visit a Bronx marketplace where he personally selects the freshest ingredients for Da Marino's menu. If he isn't there, then he's picking even-fresher produce directly from the vine in his home garden. Chef Pasquale learned the importance of fresh ingredients from his grandmother while he was first learning to cook in Calabria, Italy. From there, he honed his skills in Italy, Germany, France, and Finland before coming to the United States and opening Da Marino. Here, he crafts homemade pastas, such as the stuffed-cheese rigatoni and thin capellini, and prepares Old-World entrees of sea trout sautéed with tarragon and capers in a lemon-butter sauce and new york strip steaks grilled to order.
The chef pays attention to the restaurant's ambiance just as much as he does to the food. Once featured in a scene on Sex and the City, the restaurant is designed to mimic an Italian villa with faux stonework and murals of Tuscan scenery painted by Italian artist Davide Rodoquino. Even the restrooms match the Old-World aesthetic with stone fountains, vases of flowers, and vaulted ceilings painted with blue skies that earned a nomination for 2012's Best Restroom in America from Cintas and the Plumber's Tourism Agency.
220 West 49th Street
NY
New York
212-541-6601
Neon accents give the pristine white interior of Golden Crepes an orange and ice-blue glow. In contrast to the modern decor, however, their crepes and paninis celebrate tried-and-true combinations of flavors. Crepe-makers stuff savory wheat or buckwheat crepes with prosciutto and brie, salmon and cream cheese, or mushrooms and gruyere. Alternatively, sweet crepes tempt tongues with classic fillings such as dark chocolate and dulce de leche, as cups fill with illy coffee. Seated in cherry-red chairs, visitors can pair their crepes with pours from the wine bar or somersaults along a long white banquette.
262 West 15th Street
New York
New York
212-929-0816
---