Hopatcong Gyms and Fitness
---
Gym, Exercise, Weightloss Deals
---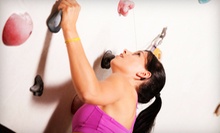 One or two people can enjoy unlimited access to the gym's climbing wall and a belaying lesson, or quartets can enjoy an hour of climbing
---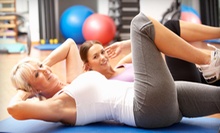 Boot camp class brims with climbing ropes, kettlebells, tires & various workout accoutrements to produce flurry of activity & caloric arson
Use Monday 7:45am - 9:45am
---
Recommended Gym, Exercise, Weightloss by Groupon Customers
---
CKO Kickboxing's Joseph Andreula opened up his first gym in Hoboken, New Jersey, back in 1997. In that humble location, the fitness guru helped his clients shed their spare pounds and ratchet up their self-esteem with intense kickboxing workouts. Once word got out that Joseph's program of punching and kicking weighted bags got you more ripped than stay-at-home programs of punching and kicking ghosts, the gym caught on. CKO Kickboxing locations began to pop up throughout the country, where the newly expanded company's commitment to delivering heart-pumping workouts even earned a mention on NBC's Today. At the Franklin location, a forest of professional, 100- to 125-pound bags serves as the backdrop to kickboxing classes throughout the week. Their coed team of 11 seasoned coaches leads signature CKO workout sessions, along with a kickboxing bridal boot camp and nutritional program. The staff even offers complimentary babysitting sessions for children.
109 Route 23 S
Franklin
New Jersey
973-944-7696
With more than 100 pieces of cardio equipment and numerous strength machines, the Rockaway branch of World Gym upholds the franchise's relentless tradition of providing comprehensive fitness. Each device in the cardio stable is hooked up to a personal cable TV. Conversely, a bevy of tanning beds help clients obtain a healthy glow to match their burgeoning biceps. Instructors lead a medley of aerobics and yoga classes, and personal trainers help members to craft their own custom fitness plans.
279 US Hwy. 46 , Suite 1
Rockaway
New Jersey
US
973-586-1500
Registered dietician Lori R. Lee, RD and certified personal trainer Bob Lee's marriage resulted in more than a family: it produced a business that united fitness and nutrition. The couple has spent a combined 40 years working in the wellness industry. Clients at The Wellness Center of Northwest Jersey experience the sum total of their experience, knowledge, and desire to share both.
The center's staff of experts in fitness teach Pilates and yoga classes geared toward students ranging of all ages, from teens to mature adults. In addition to their award-winning workouts, certified exercise specialists guide novice and experienced athletes through injury or post-injury rehabilitation exercises or assist teens and adults with management of chronic pain and overall body conditioning. Lori herself uses the science she learned as a registered dietitian to help clients reboot their diets. She reminds them that, "You are what you eat, except you never grow chicken wings."
765 Route 10 East, Suite 106
Randolph
New Jersey
US
973-895-2003
---