Museums & Galleries in Hopewell
---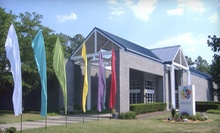 Exhibits showcase thought-provoking photographs, graphic posters, paintings, and works of clay; discounts on art classes
---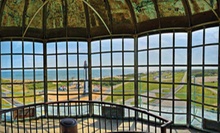 Expert guides regale guests with tales of the lighthouse's 200+ year-old past on tour that affords scenic ocean views
---
Recommended Museums & Galleries by Groupon Customers
---
Apart from the number of respective members and guests, the benefits of the Otter and Crab memberships are exactly the same. Both grant you a year of unlimited admission—including express entry through the mythical members' entrance—and, if you travel in an especially large school, both grant up to four additional guests half-off entry when accompanied by a cardholding member (per day). Although prices vary, today's deal offers you a year's access to the aquarium at a cost comparable to a single day's admission for the same number of people.
717 General Booth Blvd.
Virginia Beach
Virginia
One of the Science Museum of Virginia's current exhibits includes a few basketball players—just don't expect LeBron James or Kobe Bryant. These basketball players are two rats, playing a live one-on-one game to demonstrate operant and classical conditioning. Throughout the three-story museum, more hands-on examples of science await at five permanent exhibits. Inspect a rock from the moon, explore a life-size space capsule, and generate energy by pedaling a stationary bike. Kids can even build their own playground with materials such as mats and foam blocks.
Inside the IMAX Dome, a screen 10 times the size of a typical 35 mm screen shows a wide range of educational films. Outside the museum, plants in the BayScapes Garden thrive without pesticide, fertilizer, or the encouragement of a motivational speaker, and an onsite greenhouse offers free planting areas for visitors to contribute greenery and learn about sustainable farming.
2500 W Broad St.
Richmond
Virginia
Edgar Allan Poe holds a distinguished reputation in American literature, given his proclivity for dark work, such as "The Raven" and "The Tell-Tale Heart." But the Poe of legend is often at odds with the real Poe: the student who had to gamble and burn his furniture to make it through college; the career man who traveled extensively to find better opportunities; and the devoted husband who never recovered from the death of his wife. He even enrolled at West Point … though he was thrown out eight months later.
The Poe Museum educates guests on the writer's life, helping them reconcile the reputed Poe with the real Poe. Located within the Old Stone House that lies just blocks from Poe's first Richmond home and his first employer, the Southern Literary Messenger, the museum showcases exhibits and significant artifacts, such as Poe's walking stick, his boyhood bed, and even a lock of his hair. This collection reveals his journey, showing what drove him to become a master writer of short stories, lyric poetry, action-movie screenplays, and, of course, horror stories.
1914-16 E Main St.
Richmond
Virginia
804-648-5523
The White House of the Confederacy constituted the social, political, and military headquarters of Confederate States of America President Jefferson Davis during the Civil War. Later named a National Historic Landmark, the building still stands today. Daily guided tours lead guests through the grand 19th-century structure, which houses more than half its original wartime furnishings.
The White House is only steps away from The Museum of the Confederacy's Richmond location, where a core exhibit chronicles the Confederacy from its beginnings to General Robert E. Lee's surrender at Appomattox. Opened 25 years after that fateful event, the nonprofit museum displays artifacts from a collection of more than 15,000 items. They include Stonewall Jackson's sword, a letter from Pope Pius IX, and all the pennies Jefferson Davis etched his face onto in his spare time.
Meanwhile, another 400 artifacts adorn the permanent exhibit at the museum's Appomattox location. Here, a dozen audiovisual stations, parole lists, and the uniform coat worn by Lee illustrate the event that brought the Civil War to a close.
1201 E Clay St.
Richmond
Virginia
Walking across the dock to Nauticus, visitors' eyes are inevitably drawn to the sleeping giant nestled up alongside it: the 850-foot battleship Wisconsin. One of the largest battleships ever built by the United States Navy, its massive, 16-inch guns lent their firepower to WWII, Korea, and Operation Desert Storm. The hulking warship is now retired, its gigantic mass a testament to both its immense power and the strength of the open ocean whose waves it once plied.
This dichotomy between peaceful repose and thundering wrath is fully embraced by Nauticus, immersing visitors in exhibits that explore the ocean and man's use of it at their most peaceful and destructive. On the Wisconsin, visitors can tour crew messes and officer lounges, getting a taste of naval life. Inside the center, permanent exhibits include Our Mighty Seaport, which delves into Norfolk's busy maritime commerce, with real-time updates on ships sailing past and an observation deck overlooking the port. Turning to nature, the National Oceanic and Atmospheric Administration's Science on a Sphere exhibit simulates extreme weather conditions on a 6-foot video sphere. In Horseshoe Crab Cove, visitors can pet starfish, crabs, and sea urchins without having to take turns with nearby seagulls.
Following Memorial Day weekend, the Nauticus will host new features to their exhibits such as access to new interior areas of the battleship [Wisconsin], including the chapel, post office, a section of enlisted berthing, and dental office, a WWII era song and dance revue, and an interactive top secret mission on board the ship.
1 Waterside Dr.
Norfolk
Virginia
Founded in 1831, the same year chief justice John Marshall became its first president and former president James Madison its first honorary member, the Virginia Historical Society began amassing books, manuscripts, and historical objects to preserve the state's past. After moving its collections throughout the state during the Civil War, the society finally settled into the Lee House—the wartime home of General Robert E. Lee's family—in 1893 before moving to the Center of Virginia History in 1959.
The society showcases the state's heritage through long-term and temporary exhibitions such as The Story of Virginia, an American Experience, which contains artifacts from 16,000 years of Virginian history (from prehistory to the present) displayed in 10,000 square feet of galleries. Outside of its museum walls, Virginia Historical Society enlightens the public with educational programs and resources, publications, and rare nickels that caught Thomas Jefferson with his eyes closed.
428 North Blvd.
Richmond
Virginia
804-358-4901
---