Hopkinsville, KY Health and Fitness
---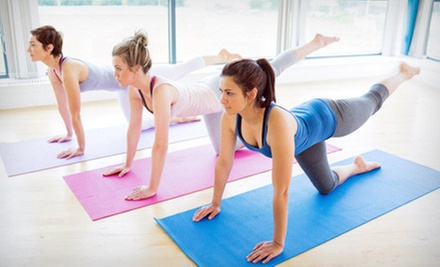 ---
Recommended Health & Fitness by Groupon Customers
---
Chances are that your days of balancing a scalding coffee atop an encyclopedia atop your head are numbered. A professional chiropractic exam can help you find out if your achy neck is related to the precariously stacked tower of bones snaking up the back of your body, known as the vertabrave or Devil's Jenga. Today's Groupon to Action Chiropractic gets you a spinal exam, x-rays, and an hour-long massage for $59 (a $250 value). Whether you suffer from a duck-like gait, migraine headaches, chronic pain, or debilitating ennui, doctor of chiropractic W. Casey Bearden and his knowledgeable team will spring into action like a well-oiled pit crew descending on an asphalt-eaten Pontiac.Abraham Lincoln: Spend four score and seven hours wearing the long, lanky frame of The Great Emancipator! Our 16th president's bones are still strong from a childhood spent chopping wood and learning nation-shaping values we still admire today! Pay entirely in five-dollar bills to receive 15% off! It's a deal so good it'll have you saying, "I'm thinkin' Lincoln!"
6410 Charlotte Pike, Suite 101
Nashville
Tennessee
US
The trainers at Life Fitness Academy act as motivating catalysts for muscle-pumping neophytes in one-on-one sessions that flatten flab and chisel chassis. In addition to fat burning, the sessions also focus on holistic training, stress reduction, and nutritional analysis. Prior to working out, clients undergo a comprehensive fitness analysis that will help formulate a plan of attack to keep muscles from bickering among themselves about the best way to squash calories. A constructed meal plan and training outline keep trainees on course and bodies in check even when outside the bounds of Life Fitness Academy's healthful gaze and beset on all sides by cheesecake.
1108 17 Ave. S, Suite D
Nashville
Tennessee
US
Fit-Rx's hot yoga classes are headed by happy, healthy instructors who will motivate you to do that extra downward dog, cobra pose, and other animal-themed postures in preparation for your inevitable fight with a rogue land otter. Participants will sweat through a sequence of 26 postures in a heated room of 100–105 degrees Fahrenheit and 50–60% humidity. Classes last 90 minutes and provide an excellent opportunity to sweat out toxins while engaging forgotten muscles that have turned cranky from underuse. After class, a cool cloth with essential oil is provided to wipe down salty sweat and soothe simmering skin. Customers also gain access to Fit-Rx's state-of-the-art facilities that include striking, oak-finished locker rooms and beautifully tiled bathrooms.
204 Ward Circle, Suite 300
Brentwood
Tennessee
Zumba is a raging fitness megasaurus that unites Latin dance rhythms with high-energy movements—creating a fitness program that exiles calories, perks up listless muscles, and scandalizes dull exercise routines. Instructor Rebecca Hinton has been teaching Zumba since 2008; her classes have since grown so popular that she expanded into b.fab.fitness and formed a veritable coven of Zumba fanatics with four other instructors. Their dance-inspired routines work every major body muscle and keep hearts thumping to the beat, all without the monotonous drudgery of treadmills, stationary bikes, and boulder-stacking.
4004 Hillsboro Rd
Nashville
Tennessee
Next Level Fitness is a private personal-training studio with a battery of advanced body-sculpting equipment and a platoon of highly reputable trainers. After a comprehensive fitness consultation, trainers take each client through one hour of fitness guided by fundamental training philosophies and techniques that improve performance and make future workouts more profitable. Next Level's trainers motivate and inspire through positive reinforcement instead of insult comedy, helping clients achieve overall health and wellness without hours of power crying.
1917 Church St.
Nashville
Tennessee
615-329-2747
Sporting two distinct nine-hole layouts built more than 20 years apart, Ravenwood Country Club's 18-hole golf course boasts 6,264 yards of splendid fairways running alongside the stately grounds' cerulean ponds and misting fountains. The lengthier of the two, the front nine eases rusty swings and slow-to-wake irons into the round with a relatively open, gently undulating layout before clubbers must contend with the dramatic elevation changes, larger greens, and omnipresent water hazards that await in the course's second act. Before duffers return through the majestic double doors of the clubhouse, they must traverse the climactic 18th hole, a 385-yard par 4 with a stream stationed squarely in the landing zone of aggressive drives and local spacecraft.
Along with its picturesque par 72, Ravenwood Country Club encompasses a recently refurbished outdoor swimming pool and eight tennis courts flanked by covered spectator areas. Guests weary from days looping the course, lapping the pool, or combing the tennis courts for edible neon fuzz can retire to the club's dining facilities, which host everything from quiet dinner dates to lavish events and celebrations.
Course at a Glance:
18-hole, par 72 course
Length of 6,264 yards from the farthest tees
Course rating of 71.0 from the farthest tees
Slope rating of 125 from the farthest tees
Four tee options
Link to scorecard
1176 Stones River Rd.
Hermitage
Tennessee
615-883-1763
---