Horsham, PA Outdoor Activities
---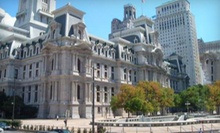 Two-hour tour visits the Liberty Bell and Independence Hall, passing coffee shops and galleries; tour ends with a beverage at a brewery
Use Monday 8:00am - 2:30pm
---
Recommended Outdoor Activities by Groupon Customers
---
Founded by Spring Mill Country Club assistant golf professional Matthew Davis, OzGolf provides lessons to equip golfers of all skill levels with the tools and advice they need to play their best. Mr. Davis draws on his 12 years of experience teaching and playing competitively to help players shorten backswings, make solid contact with the ball, and learn how to hide an extra 9-iron up their sleeves. Each lesson includes an in-depth analysis of areas where players could use improvement, and customers walk away with a step-by-step guide to help them reach their goals. Any golfer who signs up for multiple individual lessons receives a 15-minute session with the V1 Pro video-analysis system, which breaks down biomechanic swing techniques.
80 Jacksonville Road
Ivyland
Pennsylvania
215-266-3264
The flavor-savvy guides of Chew Philly Food Tours acquaint both visiting and veteran Philadelphia taste buds with the dishes that encapsulate the city's culinary heritage. During each 2.5-hour journey, groups visit family-owned restaurants, bakeries, and grocery stores— many of which have been around for decades—where merchants show off their specialties to curious palates.
Tidbits about local architecture, city history, and the philly cheesesteak's historic boxing victory against Chicago-style pizza spring from tour guides as tasters proceed with their 1.5-mile jaunt, which keeps feet moving at a moderate pace to accommodate guests of all ages and fitness levels. Once the last morsel has been devoured, groups disembark with a cache of coupons garnering discounts at the shops and eateries visited on the tour, so customers can return to toss pebbles at a bakery case to attract the attentions of the cupcake they have a crush on.
4360 Cresson St.
Philadelphia
Pennsylvania
800-838-3006
Propelled by an affinity for fresh air, the family that helms Hispaniola Cycling fosters the same free-spirit mentality in its guests who embark on the outfit's bike tours, which include cycles and helmets. Hispaniola's guides are experts on the local topography, calling upon their respect for Mother Nature and a healthy fear of her mood swings to guide groups for spins around town or weekend jaunts through Valley Forge and along the Schuylkill River Trail. They can also expand fitness with wellness tours and camaraderie with corporate tours that follow custom routes around worksites, kick-starting employee heart rates a midday slump after they wrestle faulty fax machines.
Schuylkill River Trail, Valley Forge Entrance
King of Prussia
Pennsylvania
610-616-5321
Beyond providing an opportunity for friendly competition and social interaction throughout the DC area, the organizers of Capital Bocce League only have one mission: help players have fun. During each season, teams of up to 12 players compete in lighthearted bouts of the classic Italian game, which unlike other sports, requires little to no experience, physical exertion, or physics PhDs to master. After each game, teams can head to local bars for exclusive drink specials, and a variety of prizes await the victor of each season's playoffs.
3521 Bowman St.
Philadelphia
Pennsylvania
Philadelphia's history fills the pages of textbooks across the world. William Penn, Benjamin Franklin, and the Liberty Bell fill the indexes. But these texts do little to educate people on and preserve the physical history of Philadelphia, specifically its buildings.
Enter the nonprofit Preservation Alliance for Greater Philadelphia. Its volunteer team of tour guides leads architectural walking tours past downtown Philadelphia's landmarks, buildings, and cityscapes, and its staff coordinates an array of events each month, which have previously included graveyard tours, concerts, and archaeological digs. Proceeds from these activities, along with various grants, are then used to preserve the Philadelphia region's historical buildings, subsequently preserving its historical communities and the story of the city's influential past.
1616 Walnut St., Suite 1620
Philadelphia
Pennsylvania
215-546-1146
Knowledgeable, friendly locals enlighten visitors on their city's rich history, art, culture, and dining scene during Philadelphia Urban Adventures' informative walking excursions. Following a philosophy of responsible travel—which aims to support local businesses whenever possible—the guides steer sightseers through intriguing neighborhoods and districts such as Center City, the Ninth Street Italian Market, and the campuses of Drexel University and the University of Pennsylvania. Along the way, they make pit stops at local pubs, cafés, galleries, and food trucks, working to cultivate an authentic experience for all guests. They also dispense helpful tips, such as how to talk to locals and where to find good views of cheesesteaks in their natural habitat.
1 Penn Square
Philadelphia
Pennsylvania
215-280-3746
---