Restaurants in Horsham
---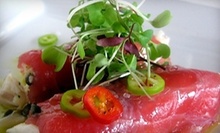 Chef Boccella cooks local meats & produce into braised short rib sandwiches, spanakopita & pan-roasted swordfish in Zagat-rated BYOB cafe
Use Tuesday 11:30am - 2:00pm
---
Recommended Restaurants by Groupon Customers
---
The Adobe Cafe's chefs find a way to accommodate nearly every diner without sacrificing the piquant flavors and aromas attributed to southwestern cuisine. They skillet-sear filet mignon and marinate chicken breasts and duck before tossing the seasoned meat with black beans, sautéed green peppers, and white onions for fajitas. But they also alter their traditional Mexican-inspired fare by substituting ground beef, chorizo, flank steak, and carnitas with seitan and tofu for vegetarians or meat eaters' pet goats. The chefs' use of ranchero sauce, roasted peppers, jerk seasoning, and even barbecue has earned the eatery a number of awards; The Adobe Cafe was recently named Best Southwestern Restaurant in Philadelphia by LocalEats.
1919 E Passyunk Avenue
Philadelphia
Pennsylvania
US
215-551-2243
Whether pursuing a life as a professional cook or a behind-the-scenes mover in culinary arts and restaurant management, the students at JNA Institute of Culinary Arts have honed their craft with professionalism and skill for more than 20 years. Students learn real-world lessons in a demanding professional setting, from running a kitchen to pleasing food critics with menus sung in four-part harmony. JNA shows off the fruits of these labors at its onsite restaurant, where the food is both prepared and served by students. The restaurant boasts a seasonal menu, gracing plates with items that have ranged from housemade gelato to cornmeal-dusted scallops.
1212 S Broad St.
Philadelphia
Pennsylvania
US
215-468-8800
Paddy Whacks Irish Sports Pub brings the best of Ireland and the States together under one roof, thanks to its hearty menu of Irish and American fare. Patrons can gather around the bar to watch sports on a high-definition TV as they munch on everything from spicy buffalo wings and philly cheesesteaks to golden-fried fish 'n' chips or bangers and mash. Friday and Saturday nights encourage customers to take their draft or bottled beers to the dance floor, where they can burn calories to the beats of a house DJ, the live crooning of a local band, or the constant reciting of the Pledge of Allegiance that hasn't left their heads since middle school.
150 South St
Philadelphia
Pennsylvania
US
Science has proven that the sense of smell is closely connected to both memory and cookie desire. Sniff your way to memorably tasty baked goods with today's Groupon to Sugar & Spice Bakeshop. For $5, you'll get $10 worth of muffins, croissants, cookies, cupcakes, and sandwiches. The vibrant red walls and colorful wall art beckon even the noseless to sit atop a tall chair at the serpentine counter or cozy up with a friend on the red sofa.
3510 Scotts Ln
Philadelphia
Pennsylvania
US
For more than 30 years, the team at Woody's Bar B Q has been perfecting its methods for slow-roasted meats to cook melt-in-your-mouth ribs, brisket, and other specialty barbecue recipes. From the signature full rack of baby back ribs—slow cooked in Woody's secret marinade recipe—to tender, slow-smoked north carolina pork, savory meats take center stage at the casual, family-friendly eateries. Woody's Bar B Q was initially founded in Jacksonville, Florida, and now can be found in several states—like Ben Franklin's progeny.
832 W Street Road
Warminster
Pennsylvania
215-674-5500
Conquer pancake addictions, treat sandwich deficiencies, and confront fermented-grape-juice obsessions at Taste Cafe. The Sunday brunch menu brims over with egg-based treats, ranging from the traditional croissant sandwich ($6.50) to the more elaborate Robin's South African breakfast, with scrambled eggs, braised tomato, onion, and bacon ($7.50). The lunch menu fills boxes and stomachs with fun fare such as the tongue-in-cheekily fancy le cheekon sandwich, bedecked with grilled chicken, apples, brie, and honey butter ($7.49). The crafty comestible creators also prepare a dinner menu of tastetastical tapas and entrees that change every night. Past incarnation have included tapas with hot queso blanco and mango salsa ($6) and beef stroganoff served with a side salad and choice of mixed vegetables, brown rice, mashed or rosemary potatoes, or egg noodles ($12). Finish off any meal with one of many desserts baked on location and constantly changing to keep pastry saboteurs and industry spies baffled.
711 Easton Road
Warrington
Pennsylvania
US
215-343-4528
---