Auto Service in Houston
---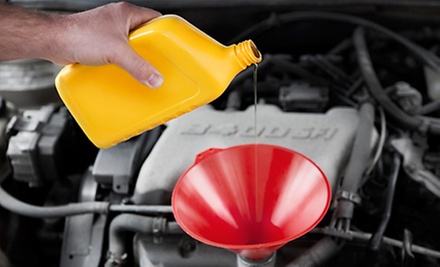 ---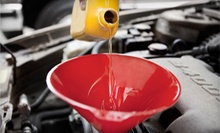 Oil change includes up to 5 qt. of synthetic-blend oil
---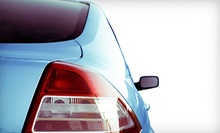 Technicians revamp drafty automobiles with efficient window installation & ensure lasting results with warranty covering leaks & defects
Use Saturday 8:30am - 4:30pm
---
Recommended Auto Service by Groupon Customers
---
The crew at Soap Hand Car Wash employs deep-nap mitts and a three-bucket technique that uses less than 10 gallons of water per wash. From Bucket 1 they pull amber-colored lamb's wool mitts and scrub wheels, tires, bumpers, undersides, and other gritty areas. Then they strap on white synthetic-wool mitts from Bucket 2 to clean the paint. Bucket 3 holds clean water, which the detailers use to rinse out the white mitts before dunking them in fresh soap and cleaning the paint a second time. Their special yellow sponges (made by Pinnacle) remove bugs without messing up the finish, and their terry towels (white for windows and painted surfaces; blue for everything else) leave all cars—including Maseratis, BMWs, Bentleys, and antique Mercedes-Benzes—dry and swirl-free.
Soap's detailers build wonders on that three-bucket foundation. Dressings spiff up leather, tires, and wheels. Shampoo cleanses carpets. Orbital buffers add shine, and vacuums scoop up interior crumbs before they rot and conspire to poison the Garfield window cling. Wax upgrades are available, including handcrafted premium carnauba Lusso Oro wax and Pinnacle Souverän show-car wax.
While they wait, drivers can sip complimentary coffee or access free WiFi in the waiting room, which is equipped with flat-screen TVs. A kids' area entertains youngsters as they dream up ways to retain the lot price of their Matchbox cars.:m]]
3759 Richmond Ave.
Houston
Texas
713-636-9646
Every car is different, but they all look good after a fresh wash. The technicians at South Beach Auto Spa keep that in mind, delivering expert detailing services while taking the extra steps needed to protect vehicles. On top of traditional hand wash and wax services, the staff offers three- and five-stage polishing that buffs out nicks, scratches, water spots, or hood paintings of Princess Leia. Techs even use different wash sponges on the wheels than on the body, ensuring that sponges don't pick up the brake dust that can scratch a car's paint finish.
One of only a few local shops lucky enough to carry 3M products, South Beach Auto Spa also protects auto interiors with tint-installation services. Customers can gauge the potential appearance of different tinting films through a simulator, opting for color-stable, crystalline, or premium films. All tinting films are digitally cut using software and a Roland plotter, and help fend off UV rays and adverse temperatures while increasing each auto's security and appearance.
126 West Gray Street
Houston
Texas
713-529-3444
A pair of husband and wife teams preside over Texas Splish Splash Hand Car Wash's original Webster and brand new Pearland locations. At the base of a comprehensive service menu, lamb's mitts buff out scratch-free shines and lull restless cars to sleep. By-hand detailing services ranging from window cleaning and carnauba wax to paint restoration and tar removal help customers thwart the damaging swirls of machine-wash procedures. Rain-X products and air fresheners cap off services to cars, trucks, motorcycles, and RVs, and the Pearland location's stocked snack area caps off satisfied customers with coffee, sodas, and empty cups with toupee tape.
521 East Nasa Parkway
Webster
Texas
281-554-2280
The Peveto family's name became synonymous with stopping power when John Peveto II opened his first Brake Check shop in 1968. More than 40 years and 40 shops later, the family still helps cars stop (and go) with brake-pad inspections, wheel alignments, battery replacements, and oil changes. With convenience in mind, each shop opens its work bays seven days a week, offers online appointments, and backs up several of their services with lifetime warranties that are then backed up by other even more muscular warranties.:m]]
2621 Spencer Hwy.
Pasadena
Texas
713-943-1300
Empire Auto Detailers' skilled technicians strike fear into the scratchy, whirring brushes of automatic car washes everywhere. These dedicated detailing experts roam the DC area ready to perform fully loaded service packages that incorporate biodegradable carpet shampoos and steam cleaners, paint sealants that last from three months to one year, and waxes that leave cars with the sleek, wet look of a seal zooming down a Slip 'n' Slide. Ever ready to help autos in need, the technicians lend their careful hands to tint windows, install audio and alarm systems, and repair wheels and rims. Meanwhile, waiting customers can enjoy the shop's free Wi-Fi, watch cable on a flat-screen TV, and sip on complimentary coffee and tea.
5211 Spruce St
Bellaire
Texas
US
713-664-5211
The skilled staff members at Auto Concierge restore vehicular topcoats and tires to their original luster within a 1,200-square-foot detailing studio comfortably heated or cooled according to the season. Armed with top-notch waxes and wheel sealants from brands such as Swissvax and Nanolex Premium, employees make over cars from hubcap to roof rack, bathing exteriors before gently lifting entrenched debris and paring down uneven paint. Compressed air blasts grime from interiors, and dry vapor steam purifies carpets and upholstery while staffers wring out smoky scents and other lingering odors such as fast-food fries, frankincense, or myrrh. Auto Concierge also rights wrongs inflicted by auto dealerships by leveling and polishing flawed paint jobs. Roadsters that need to stay overnight at Auto Concierge are locked indoors and chaperoned by a 24-hour surveillance system.
2000 Edwards Street
Houston
Texas
713-933-7360
---