Education & Classes in Houston
---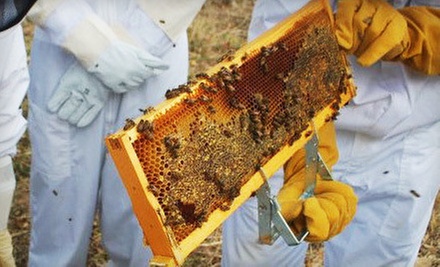 ---
Education & Classes Deals
---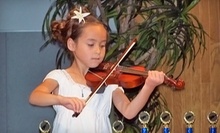 Kids & adults strum & plink during one-on-one Suzuki method tutelage that covers scales, theory games & performance technique
Use Today 4:00pm - 7:00pm
---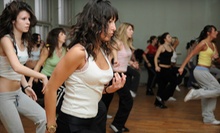 Energetic instructors motivate students with Latin-infused beats in 45-minute Zumba class.
Use Tuesday 4:15pm - 7:15pm
---
Recommended Education & Classes by Groupon Customers
---
MUSIC LESSONS IN YOUR HOME - taught by the best professional musicians in Houston! Serving Houston since 2005, we currently have over 100 instructors for all instruments, subjects and languages in the greater Houston area!
800 Wilcrest Suite #258
Houston
Texas
713-789-2352
With more than 10 years of professional dance competitions and teaching experience under her belt, Dance Passion's owner, Gloria Jones, puts her affinity toward dance and instruction to use in her own studio. Gloria teaches budding boogiers the basics of ballroom, and salsa dancing during private and group lessons. In addition to her regular sessions, she also hosts wedding-themed lessons, where she prepares couples for their first waltz, tango, or chicken dance as husband and wife.
3300 Chimney Rock Rd., Suite 500
Houston
Texas
713-443-8275
It's not easy to take over for a guy like Allen Darnel, a 55-year ballroom-dance veteran who taught celebrities such as Zsa Zsa Gabor and Aldous Huxley. But now W. Michael Smith and Enrique Baez-Trevino are cutting in on the recently retired Beginners Only Social Ballroom & Latin Dance Studio founder's waltz, and they have impressive resumés of their own to brandish. Baez-Trevino has studied under prominent trainers since he was 13, and Smith has trained in both theater and broadcasting, a background he believes helps him give clear instructions to his students. These two masters lead 45-minute private lessons for individuals, couples, and groups of eight or fewer, sharing their knowledge of swing, salsa, and the tango in private rooms. The schedule is unusually flexible, with lessons available seven days a week all the way until 10 p.m.
5959 Westheimer Rd., Suite 100
Houston
Texas
US
713-789-5959
"I believe art isn't just hanging on the walls—it is all around you in everyday life," says The Artist Within founder Thomas Cleveland. This affinity for art was established when Cleveland was only 5, and it has grown as he has garnered various awards and done commissioned work for Nickelodeon and Coca-Cola. Cleveland helps students develop their own artistic style as they learn pastel-painting techniques in summer camp or use mixed media to illustrate their disdain for yard work.
12754 Grant Rd.
Cypress
Texas
281-370-9336
In 1985, drawing from his own struggles with learning to read, Dr. Ken Gibson set out to change the way we learn. After convening with other experts to discuss challenges children were facing in the classroom, he cocreated a cognitive-skills program that eventually became the foundation of the LearningRx centers.
The clinically proven brain-training method, which is used on adults and children alike, consists of specific targeting, one-on-one coaching, and immediate feedback. Using professional cognitive tests, the centers first identify where strengths and weaknesses lie in their clients' cognitive framework. From there, they are able to tailor mental workouts that help strengthen those areas of the brain and even create new neural pathways. The brain-training method can be beneficial for struggling students, adults wanting to remain competitive in the workplace, and the elderly.
2649 Town Center Blvd. N
Sugar Land
Texas
832-886-5878
---