Houston Outdoor Activities
---
---
Houston Outdoor Activity Guide
Even though the weather in Houston can be "a bit warm", the sometimes humid conditions don't stop city residents from heading outdoors and enjoying all that the biggest city in Texas has to offer. So when the constant buzz of the air conditioner and summer reruns become too much to bare, check out these "cool" Houston concerts, parks, and other outdoor activities.
From country to rock to jazz to blues, Houston has plenty of outdoor concerts that fill the air with music. Head on over to the annual Free Press Summer Fest held every June in Eleanor Tinsley Park or show off one's samba moves at the Caribbean American Heritage Festival (also in June) at Jones Plaza. Finally, the Miller Outdoor Theater features jazz, classical, theater, and ballet from March to October. And the price is definitely right (free).
The unusual Houston area landscape, which includes the waterfront, bayous, and rolling hills, creates some of the most interesting hiking, trail riding, and exploring in the state. Houston parks also offer world-class golfing, fishing, and even concerts such as the blues tribute festival at Sam Houston Park in downtown. For outdoor activities in Houston try Buffalo Bayou Park, a 12-mile stretch that offers some prime biking and running opportunities, or kayaking on one of the many picturesque Houston waterways.
Explore the unusual or seldom seen side of Houston with tours of the Port of Houston and Ship Canal (once the city's lifeblood and still a significant industry), historical tours of the city's past, walking tours, canoe tours, and even a few ghost tours that will teach something about the city one probably didn't know.
Don't let the Houston heat stop the fun. Explore the wide variety of outdoor activities in Houston that make the area the place to be.
From country to rock to jazz to blues, Houston has plenty of outdoor concerts that fill the air with music.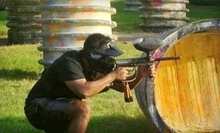 Use Sunday 10:00am - 10:00pm
---
Recommended Outdoor Activities by Groupon Customers
---
Buckhorn's buckets of imminent to-doables fills this 50-acre spread with numerous attractions, including a swimming pool, a fort, a viewing zoo, a giant sandbox, a volleyball court, a barn, a moonwalk, and a game room stuffed to the ceiling with ping-pong and foosball tables, a climbing wall, a putt-putt course, and a trike raceway. Use the included 10 tokens to pay for concessions like funnel cakes and hot dogs, or use them toward special activities like catch-and-release fishing (20 tokens for all day), kiddie horse rides (5 tokens per ride), paddle-boat rides (3 tokens for all day), and more.
15627 Garrett Rd.
Houston
Texas
A fleet of segways ferries tour takers to scenic outposts in downtown Houston and along the historic bayou during four tours, seven days per week. Guides lead groups of up to eight riders in snapping sunset pictures during the Twilight Bayou tour and spout off historic anecdotes during the Houston History tour. In addition to tours of the city and scenery, friendly guides can travel with a brigade of segways to a client's home or office to teach friends, families, and coworkers how to navigate the two-wheeled steeds more effectively than a renowned segway whisperer.
501 Texas St.
Houston
Texas
866-673-4929
M2 Sports supplies adrenaline seekers the skills and gear to temper waves, powder, or concrete. M2's snowboarding division carries name-brand planks from brands such as Forum and Lib Tech, as well as all colors and styles of snow-ready gear. A Smith Holt men's snow helmet ($89.99) protects the brain's ever-expanding library of memorized zip codes, and Volcom Believer men's snow gloves ($109.99) keep hands from making skin-to-snow contact. Skate enthusiasts can peruse an exhaustive array of decks, long boards, and protective gear, tuning out chatty crossing guards with Skullcandy's iCon 2 on-ear headphones ($29.95), whose headbands are lined with rubber grips to prevent slips midride. M2 also equips wakeboarders with name-brand gear from Ronix and Hyperlite, and fosters future enthusiasts through lessons and summer wake camp held at a private lake.
6375 Westheimer
Houston
Texas
713-433-4475
Mysterious fires. An old bank vault that can't be destroyed. A deceased opera singer who refuses to draw the curtain on the living world. These are the stories that Houston Ghost Tour's seasoned phantom chasers impart to mortals as they guide them to local nooks and crannies where spectral squatters may dwell. Guests on the Houston tour tiptoe through the ghostly grounds of Rice University and explore Hermann Park, where the songs from Miller Outdoor Theatre and animalistic shrieks from the Houston Zoo converge to form an eerie soundtrack for sleuthing. Travelers drink in local history during the Old Town Spring adventure, which teems with tales of Civil War battles, high-stakes gambling bets, and brothels filled with the ghosts of bats forever tangled up in lingerie. Along the way, guests can also glimpse the bullet holes of a bank robbed by Bonnie and Clyde. The Tomball tour explores a paranormal train depot and a cemetery that, like an igloo made of dry ice, is said to have vanished into thin air.
6001 Fannin St.
Houston
Texas
936-333-0994
When Sandra Lord first visited Houston in 1984, she only planned to stay a month. But the city's diverse community, rich history, and distinctive architecture quickly lured her in, and nearly 30 years later, the cheerful history buff still resides in the Emerald City. Today, she partners with Urban Adventures—an international touring company—to share her love of the city through exciting and informative walking tours of Houston's underground tunnel system and historical local pubs. Locals have nicknamed Sandra "The Tunnel Lady," as she was one of the first guides to introduce tourists to the city's subterranean system of shops and restaurants, originally constructed to shield commuters from the hot Houston sun and the stray hacky-sacks of med students on study breaks.
701 Texas Ave.
Houston
Texas
713-222-9255
Reliant Stadium's titanic venue, home to the Houston Texans and the Houston Livestock Show and Rodeo, covers 125,000 square feet of sporting ground. The facility is the first in NFL history to have a retractable roof, which sightseers can view from the field during public gridiron tours. While strolling across Reliant's stadium floor, fans can relive their favorite memories of Super Bowl XXXVIII, or search every nook and cranny for John Madden's lost bus keys.
1 Reliant Park
Houston
Texas
832-667-1842
---