Restaurants in Houston
---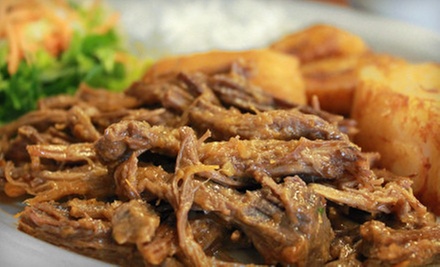 ---
Houston Restaurant Guide
With over 8,000 restaurants in the Houston area, finding a place to eat is easy, but choosing one is the real challenge. Houston restaurants are as diverse as the city's residents, with a variety of different cuisines and styles. Dining in Houston can be a rewarding experience, whether one's in search of greasy, dive bar food or an elegant entree from a fine dining establishment. Eating in Houston is an adventure all its own!
For cheap dining in Houston, without sacrificing flavor, the Hubcap Grill serves up mouth watering burgers that are never frozen and come on toasted buns. Dive into a chili cheeseburger in their small, relaxed dining room and receive excellent service from their friendly staff. In historic downtown, Frank's Pizza is a popular Houston restaurant that specializes in serving the late night crowd. For dine-in slices and downtown delivery, Frank's New York style pizza is a great deal.
A chic, modern environment sets the stage at the award winning restaurant, Reef. The chefs at Reef are world class and they are very proud of what they are able to offer the customers at the restaurant. Chosen as the best seafood restaurant in the U.S. by Bon Appetit Magazine, Reef serves up dishes like roasted Gulf shrimp with bacon and slow baked salmon with meyer lemon risotto. Comfort food dishes, like fried macaroni and cheese and crispy snapper, are served with an elegance that is truly a unique experience.
Brennan's is another great place in Houston that allows for an excellent dining experience. They have a variety of items on their menu, and there is anything from seafood to elegant items like old fashioned duck.
Gather an adventurous spirit and venture out to explore the culinary experiences that Houston has to offer. Great Houston restaurants provide southern hospitality, unique eats that are surely unforgettable.
Dining in Houston can be a rewarding experience, whether one's in search of greasy, dive bar food or an elegant entree from a fine dining establishment.
Recommended Restaurants by Groupon Customers
---
Frank's Chop House has menus full of soulful offerings at both lunch and dinner, allowing the taste buds to nestle into flavors as familiar and enveloping as a well-worn beanbag chair. Do Frank proud with a lunchtime pork chop and potato, green beans, and a tomato salad ($15.95), or have the local favorite, a chicken-fried steak ($15.95). To start a dinner right, have a jumbo lump crab cake ($12) or ahi-tuna tartare ($15). Then dive into some home cookin' with fare such as the Chop House burger and fries ($12) or a fried gulf-shrimp and oyster platter ($24). Comfort food isn't complete without a side of green beans or mac 'n' cheese ($7 each).
3736 Westhemier
Houston
Texas
A swanky ambiance defined by an elegant decor, including stained-oak mouldings and maroon drapes, complements the high-caliber steakhouse cuisine served at Post Oak Grill. The Houston bistro has been around for 23 years, so it just got out of college. The restaurant's chef, Polo Becerra, pairs bold flavors in starters such as duck-confit crepes with blackberry sauce and melted gorgonzola. For a main course, he might grill Gulf Coast red snapper or cook a center-cut steak and augment its juiciness by adding a port-wine-and-fig reduction. Chef Becerra and his team can even bring their culinary services to homes and offices with their catering.
At a jade-green bar, servers pour a long list of international wines. Nearby, a pianist tickles the ivories during happy hour. On Thursday–Saturday evening, musicians perform classic songs or melodic readings of the newspaper fine-arts section.
1415 South Post Oak Lane
Houston
Texas
713-993-9966
Begin your culinary journey with an order of spring rolls or cheese rolls, stuffed with raisin-studded rice paper and deep-fried (both $4.25). Classic dishes done well appease traditionalists, including spicy Tom Yum soup ($4.25–$5.25), pad Thai ($8.95), pad see eiw ($8.95), and five kinds of curry ($8.95–$9.95). Build a balanced meal with the entree and rice dishes including garlic and pepper lover ($8.95) with stir-fried meat tossed in black pepper sauce over cabbage. Diners can also pick from grilled selections ($10.95–$12.95), served with shrimp fried rice and steamed veggies. Cool off a spice-saturated palate with a sweet scoop of coconut ice cream ($3.50) for dessert. Expect friendly service, carefully curated curry, and a cozy ambiance at any of the eight outposts. Like the recipe for Play-Doh, Thai Cottage adheres to simple, timeless standards.
5124 Cedar St.
Bellaire
Texas
Avalon Diner cooks up all-day breakfasts and third-pound burgers in addition to blending shakes, floats, and sundaes. Served all day, omelets hide an array of fillings within their golden folds, and stacks of pancakes come with toppings such as pecans, blueberries, bananas, and strawberries. Nightly blue-plate specials rotate through entrees such as beef stew, house-made meatloaf, and fried catfish. The all-American meals are washed down with desserts such as a malt presented in its chilled mixing can or a banana split presented upon the axe-blade that split it.
12810 SW Fwy.
Stafford
Texas
281-240-0213
Dubbed "a carnivorous extravaganza" by the Houston Chronicle, Angus Grill Brazilian Steakhouse serves all-you-can-eat feasts of skewered meat prepared in the churrasco tradition of southern Brazil. Servers run the piquant pageant, carving slabs of Angus beef at tables lined with crisp white linens instead of the stolen Little League rain tarps that some restaurants prefer. Filet mignons borrow crispy texture by donning strips of bacon, and top sirloin, the house specialty, flavors succulent juices with a hint of garlic. Treats such as fried bananas and papaya cream conclude meals on a sweet note.
6106 Westheimer Rd.
Houston
Texas
US
713-334-5206
---