Bars in Hudson
---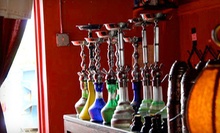 Casual lounge serves up Meditteranean cuisine & unique Hookah blends
Use Sunday 6:00pm - 11:45pm
---
Recommended Bars by Groupon Customers
---
Originally called Elephant & Hammock, Elephant & Castle is a national chain that brings classic British grub to the American digestive system. More than just fish 'n chips, E&C's chicken pot pie, bangers 'n mash, and shepherd's pie will fill you up like a small-stomached British boy who can't control himself around puddings. Pair your dish with one of the many beers on tap and you've got the perfect combo for unwinding after a tough day at work.
161 Devonshire St.
Boston
Massachusetts
US
The man behind Savino's Grill is Tom Cutrone, a veteran chef who's pushing three decades in the cooking business. His menu of Italian and Mediterranean cuisine features cured Italian meats, artisanal cheeses, and entrees such as chive pappardelle, lamb loin chop with fried polenta, and pan-roasted salmon served over pasta shells—all of it enhanced by European wines. On Thursday nights, live jazz washes over guests as they enjoy their meals and stack complimentary bread rolls into the shape of the Leaning Tower of Pisa.
449 Common St.
Belmont
Massachusetts
US
Today's Groupon charms the orneriest taste buds and bewitches the most ravenous bellies with $20 worth of food and drink for $10 from Goody Glover's. Goody Glover's is a laid-back restaurant and pub that the Boston Phoenix calls a "new-wave Irish bar with good food." It was named after the last woman in Boston to be hanged as a witch, an Irish laundress named Goodwife Ann Glover.
50 Salem St.
Boston
Massachusetts
US
With Super Bowl Sunday, March Madness, Cricket Craziness, and the World Cup all on the horizon, Boston sports fans will be in desperate need of a table surrounded by HDTVs. Today's deal gets you all this, plus a trivia night: for $20, you get $40 worth of creative pub grub and drinks at Tavern in the Square. This Groupon is good for all three Boston-area locations, as well as one secret mailbox location if you are quail-sized or smaller.
1815 Massachusetts Ave.
Cambridge
Massachusetts
US
A past winner of Boston magazine's Best Pool Hall award, Flat Top Johnny's complements its felt-topped tables with home-cooked food and a laid-back atmosphere. Games of billiards ($12 an hour/table) at any of a dozen tournament-size pool tables send balls bouncing while several old-school pinball machines mutter nervously nearby. Fuel a rousing game of eight-ball with an appetizing bowl ($3) or cup ($5) of homemade chili, complemented by Johnny's house-made corn bread, or with a crew of sandwiches, wraps, and snacks from Flat Top Johnny's menu. Johnny's can stuff grilled chicken and feta cheese into a corner pocket of ciabatta bread ($6), or mix pork, beef, or veggie sliders with two other identical sliders (three for $7). Toast an evening of trick shots and twisted dough by hoisting a beer mug filled with pretzels ($3), chased by a shot of mustard.
1 Kendall Square, Building 200
Cambridge
Massachusetts
The menu at 007 is packed with high-protein thrills. Cut to the sating chase with a hefty half-pound 007 burger, topped with grilled mushrooms and onions, bacon, provolone, lettuce, tomato, and blue-cheese dressing ($9.99), or a 14-ounce grilled sirloin with their secret spice rub ($19.99, 10-ounce available for $15.99). To escape the New World tastes and return to an Old World state of tongue, have a classic order of fish and chips ($10.99).
6105 Post Rd.
North Kingstown
Rhode Island
---