Things to Do in Hudson
---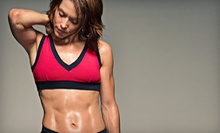 Group cardio, group cardio toning, and Zumba classes help clients burn calories, improve stamina, and tone muscles
---
Recommended Things to Do by Groupon Customers
---
Pole-dance fitness at Lifesource Yoga combines seductive shimmying with fun fitness exercises in a comfortable, women-only environment. The sampler pole-dancing workshop, held two or three Saturdays a month, introduces women to the fundamentals of cabaret and burlesque dancing, mixing saucy accents such as glove-, stocking-, and contact lens–removal techniques with calorie burning workouts and pole dancing. Supportive, experienced teachers lead classes through the leg-toning chair work of Cardio Cabaret, the bumps and grinds of Burlesque, and enticing floor work moves such as the "clock" and the "flirt." The two-hour long workshop furthers the hip-shaking revelry, familiarizing pupils with the personality of the pole during Pole Fitness Level 1. Students saunter through spins, climbs, and sits while improving flexibility, and shaking off calories.(https://clients.mindbodyonline.com/ASP/home.asp?studioid=5126) for class times.
300 N Cleveland Massilon Rd, Suite 02
Akron
Ohio
330-835-9945
Yoga Lounge was founded as a studio where yogis new and old could grow into their yoga practice. This explains the range of class styles that they offer: restorative yoga gently heals achy muscles, while challenging power flow whittles muscles and hones concentration. Over time, those who stick with the practice report a slew of health benefits, including improved flexibility body-wide, increased strength, and a deep-breathing technique that helps when challenging a dolphin to a diving contest.
89 First St. , Suite 207
Hudson
Ohio
Start the painting process by selecting any piggy bank, mug, plaque, plate, or unexpected pottery discovery from All Fired Up!'s stock of more than 250 decorative and functional artifacts (an average piece costs $21–$25). All Fired Up!'s colorful design books and friendly staff can help if you need inspiration or artistic guidance. Pick out paint colors, then carefully direct your brush in tune with your dreams and wishes, letting your creative juices gush onto the dinnerware of your choosing. Once you're finished, All Fired Up! glazes and fires your piece in a kiln; it'll be ready for pick-up in about a week. All new additions to your pottery family are food safe, and because only lead-free, nontoxic paints and glazes are used, they're suitable for holding bologna sandwiches or tropical drinks toting a tiny parasol. Feel free to bring snacks and drinks of your choice (alcoholic beverages are allowed) to nosh and sip on while you paint.
1686 W Market St.
Akron
Ohio
Set in the rolling hills of Cuyahoga Falls, the Blossom Festival summer series welcomes the Cleveland Orchestra on August 28, yielding center stage for a night of world-class classical music. Settle into a pavilion seat and treat ears to a cochlear night out as conductor James Feddeck leads the orchestra through a series of heartstring-plucking pieces, such as Britten's Variations and Fugue on a Theme of Purcell, Bernstein's Three Dance Episodes, and Elgar's In the South. Relax as the music and breeze wash over the crowd, letting the smooth rhythms and swaying melodies fight for ears' adoration and the last stick of gum.
1145 W Steels Corners Rd.
Cuyahoga Falls
Ohio
---