Restaurants in Huntersville
---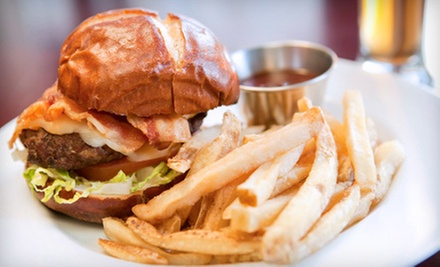 ---
Recommended Restaurants by Groupon Customers
---
The non-traditional bar food menu features a variety of apps, salads, sandwiches, and build-your-own burgers and quesadillas. Your Groupon can be used toward anything non-alcoholic on the menu, but does not include the chicken wings, as they are harvested from rare flying chickens and therefore cannot be legally discounted. Start with bacon and asparagus frites served with house avocado-ranch dressing ($6.50) or a cup of big, bad Corey's chili ($4.95). Lettuce lovers will go green with joy for salad selections including the toasted walnut and pear with blue cheese served with white-balsamic vinaigrette ($8.95). Build your own burger, starting with the basic hand-pattied burger ($6.50), and then add your choice of free toppings (lettuce, tomato, onion, pickles) and non-free toppings, like chili, fried egg, or blue-cheese crumbles ($0.25–$0.75). The custom build-a-dilla ($5.50) gets the same treatment with the extra bonus of adding additional meats ($1.25–$1.50).
1401 Central Avenue
Charlotte
North Carolina
Southern Living says Sonoma's dinner menu blends "a Slow Food philosophy, which focuses on local, organic, peak-season ingredients, with true culinary artistry." Menus change with the seasons; current appetizers include gruyere- and bacon-topped Kobe beef sliders ($7) and popcorn shrimp tempura with chili mayonnaise ($8). Main courses such as a roasted half chicken ($14), chipotle glazed pork tenderloin ($19), and a mushroom and bacon burger ($10) take aim at the freshest fruits and vegetables in Old MacDonald's inventory. Neptune also sacrifices some denizens to Sonoma's flavorful fare; sup on grilled Atlantic salmon ($19) and whole fried red snapper ($21). Salads, sandwiches, and daily specials populate the lunch menu.
100 N Tryon Street
Charlotte
North Carolina
Situated within the elegant DoubleTree Hotel, The Orchards Restaurant serves upscale American dishes to world travelers and Charlotte locals alike. Service kicks off in the early hours of the morning, when chefs begin whipping up three-egg omelets, belgian waffles, and country-fried steaks. As the day progresses, the chefs turn their attention to juicy burgers, crispy sandwiches, and fresh seafood specialties.
895 W Trade St.
Charlotte
North Carolina
Diners can take a trip around the US, with a glance at the menu at Alton's Kitchen & Cocktails, which borrows heavily from American regional fare. The kitchen stokes dreams of the Old West by gracing tables with lamb shanks from Colorado and salmon from Seattle, each teeming with tales of a life of train-hopping and hitchhiking east. Chunks of shellfish nestle into the New England–style lobster roll, and shrimp simmer in creole barbeque sauce, giving diners a taste of New Orleans.
A curved bar extends from exposed brick walls, which frame shiny dark wood floors. These floors match the tall, bistro-style tables and the high-manteled fireplace, which gleam beneath the light of cascading chandeliers, giving the room a refined, yet cozy feel. Diners can also find seating on an outdoor patio, where they can feel the breeze on their face, a sure sign that the moon is sneaking up behind them to steal their dessert.
19918 N Cove Rd.
Cornelius
North Carolina
704-655-2727
The textile warehouse had seen many uses since it was built in 1925, but it had been empty when Susie Peck and her friends moved in. They saw its hardwood floors, exposed brick, and massive timber ceiling beams as warm and rustic—the ideal setting for the new Pewter Rose Bistro. Named for a small, pewter tin the original Pewter Rose Bistro owner purchased on her worldly travels, the now collectively owned restaurant posits a distinctively American take on casual European fare, which the agile hands of head chef Cory Zupon bring to fruition at every service.
The kitchen blends southern-style comfort fare with Mediterranean dishes and other ethnic cuisines, with many dishes assembled from local produce and fresh seafood into risottos and finely cooked filets. Dishes pair with more than 170 wines, each handpicked to join the eatery's focused collection, which features California and European varietals. At weekend brunch, more than 25 à la carte offerings rise from foundations of egg, toast, and produce, which also evoke the eatery's signature creative touches. On some evenings, aromatic tendrils rise from tables to mingle with strains of live music from the laid-back Pewter Lounge bar area, where guests relax on padded couches or chairs to listen to acoustic strains and jazz on Wednesday and Thursday.
1820 South Blvd.
Charlotte
North Carolina
704-332-8149
Salvador Deli offers a menu decorated with signature sandwiches and a "paint your own portrait" option that allows you to create your own masterpiece. Sink your hunger fangs into the fan-flavorite Cubano ($5.99), a medley of ham, baby swiss, tangy mustard, and pickles pressed between two hearty slices of focaccia bread. The star-crossed veggie lover ($5.99) is a layered concoction of pesto mayo, muenster, avocado, red-pepper hummus, sprouts, red onion, lettuce, tomato, and cukes on multi-grain bread. If the eclectic art sprinkled throughout the deli inspires you to explore your inner creative weirdness, you can customize your own sandwich ($4.99 to $6.99). Start by choosing a bread base, then decide on the proper protein source, and top it off with veggies and sauces.
3215 N Davidson St.
Charlotte
North Carolina
---