Things to Do in Huntersville
---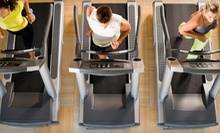 Gym members can make unlimited visits and participate in an unlimited number of specific fitness classes
---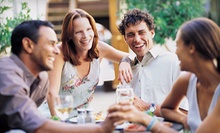 Expert wine guides lead guests through three boutique wineries' scenic vineyards, tasting rooms, and barrel rooms as tongues savor varietals
---
Recommended Things to Do by Groupon Customers
---
The Light Factory's snapshot savants school camera wielders of all skill levels about basic lighting and composition techniques before shepherding them through uptown Charlotte on a guided two-hour photo expedition. First, instructors help participants get the most out of their frozen moments by reviewing basic camera techniques such as adjusting shutter speed, framing shots, and accurately placing bunny ears. Then groups of up to 100 shutterbugs will venture into uptown Charlotte's tangle of streets to trap the souls of its modern buildings in confining rectangles, creating carefully composed photographic keepsakes. Escape work early to attend the excursion at 4 p.m. on your chosen date, or opt for the 10 a.m. sojourn to capture cold-blooded buildings as they climb nearby rocks to bask in the morning light.
345 N College St.
Charlotte
North Carolina
After owning Duffy electric boats in Newport Beach, California, where the company has its headquarters, the Textor family decided to introduce the fun-filled and stress-free world of electric boating to Lake Norman in 2010. Thanks to the electric motor and patented Power Rudder propulsion device, Duffy boats carry passengers over water with a remarkable speed and maneuverability and cost as little as $1 per day to maintain. Since 1970, Duffy shipwrights have constructed each vessel exactly to the client's specifications, outfitting crafts with Duff-Eze cabin enclosures that allow captains to pilot their ship in any climate and ensure that boats never have to be winterized, covered, or sent to Florida because of cold weather.
Customers can rent out 21-foot Avalon models that carry 10–12 passengers for brief lakefront voyages, dancing to tunes from the onboard mp3 and CD hookups, warming themselves with the heater on chilly nights, and sunbathing on the bow. Specialty cruises entertain guests with floating wine tastings, catered feasts from Lake Norman cottage, and movie nights, and a seasonal schedule of special events dazzles families with upcoming attractions such as electric-boat sleigh rides.
200 N Harbor Pl., Suite B
Davidson
North Carolina
704-765-9143
Masters of kinetic self-expression, the instructors at Charlotte Latin Dance teach progressive-style salsa, cha cha, bachata, and merengue to dancers of all experience levels. Students should dress in a comfortable outfit, or at least a freshly oiled suit of armor when attending the regularly scheduled four-week courses (though sneakers are not recommended), and can indulge in a game of dress-up at the monthly events that end with a three-hour dance party. Sessions are open to anyone aged 14 or older and are conveniently set in studios all over Charlotte.
8535 Hankins Rd., Suite D
Charlotte
North Carolina
704-707-4016
At Megart Pottery Painting Studio, visitors of all ages bring plain white clay to life with kaleidoscopic splashes of color. Upon entering the shop, guests can peruse the selection of more than 1,000 pieces of decorative pottery that owners Sherry and Scott George have hand selected, including cookie jars, ornaments, child and pet handprints, and piggy banks. Adult and kiddie visitors embarking on new painting projects can look to the gregarious proprietors for guidance, and Sherry and Scott gladly will help them with each step of the painting process, from penciling in their patterns onto the bare clay, to turning their clay pieces into shiny new vases or uncontrollable living golems. Visitors can make their painting sessions even more relaxing with tasty drinks and desserts from the in-house espresso bar, which serves tea, milk shakes, and java from Counter Culture Coffee. After guests are done putting the finishing touches on their pottery, the helpful staff will fire pieces in a kiln for no extra charge, and each item is available for pickup in 7 - 8 days.
15940 Northcross Dr.
Huntersville
North Carolina
US
At Our Paintin' Place, bouquets of paintbrushes, a palate of bright paints, and a crafty staff inspire customers to bedeck vases, mugs, and decorative ceramics in fire-glazed designs. Prior to painting, artists browse blank ceramics, ranging from functional chopstick holders ($4) to a plethora of decorative items such as a miniature owl ($14), cocktail-party plate ($18), or a figurine of Rutherford B. Hayes' beard. Pottery Picassos get full access to the studio, including supplies, inspiring samples, stencils, tracing paper, and stamps. After four or five days, painters can collect their pieces, fired and glazed to a professional gloss.
9325 Center Lake Dr. , Suite 160
Charlotte
North Carolina
Virginia Grzech, a member of the Charlotte Area Paranormal Society, articulates Davidson's history and ghostly folklore to visitors of all ages on family friendly walking tours. As customers inspect landmarks for haunted certifications from building inspectors, Virginia recalls the supernatural legends, some dating back to the 1800s, behind the area's arboreal parks and brick-lined sidewalks.
104 S Main St.
Davidson
North Carolina
704-928-5452
---