Dance Lessons in Huntington
---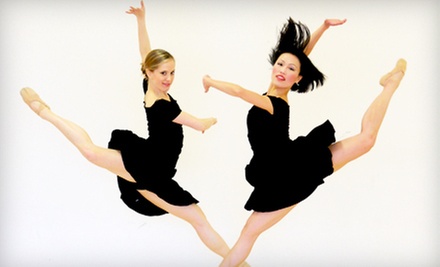 ---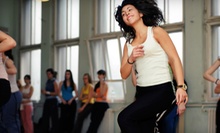 Instructors lead kids in ballet, Latin mix, or Zumba classes; adults sweat in dance-fitness classes and learn skills in ballet and salsa
---
Recommended Dance Lessons by Groupon Customers
---
Since 1976 Joy of Motion Dance Center, a nonprofit arts organization, has strapped on its ballet flats to kick down the doors that traditionally bar people from learning dance. Since then, it's won two Mayor's Arts Awards, one for Excellence in Service to the Arts, and the other for Outstanding Contribution to Arts Education. In 11 studio spaces across three different locations, instructors teach adult and youth programs, and lead an outreach initiative that gives disadvantaged kids the chance to learn dance with free classes or merit-based scholarships. Additionally, the center holds performances and showcases where students and patrons get a taste of professional performance without having to become zombies.
5207 Wisconsin Ave. NW
Washington
District of Columbia
US
202-362-3042
Professional dancer Michael Rye mesmerizes students with his agile movements and 100% bona fide Australian accent. To help students become fluid in the language of ballroom and Latin dance, he works alongside a team of expert instructors to helm group and private lessons seven days a week. During lessons, they prepare students for regular social-dance parties where guests partner up with able-bodied peers to practice their moves and toe wrestle over who is going to lead. The seasoned two-steppers can also prep engaged couples for their big event with wedding-specific lessons. They devote Monday to Latin dance fitness and Thursday to west-coast swing. The studio features two floors laid with sprung maple for a softer feel on the dancers' feet and robotic joints.
8227 Woodmont Ave., Suite 2A
Bethesda
Maryland
301-951-3660
Saphira, the matriarch and founder of Saffron Dance, didn't even exist 20 years ago, much like "I survived Y2K" bumper stickers. Saphira was known as Rachael Galoob-Ortega, a lawyer who practiced in DC and Florida for a decade. But her high-power career and hefty paycheck couldn't extinguish her passion for dance. And so she became Saphira, an international belly-dance artist and instructor with numerous accolades, including being featured in American Belly Dancer, a documentary about belly dance in the United States.
Along with a staff of 14 fellow instructors, Saphira channels her years of expertise into dance courses that get progressively more challenging from week to week. Welcoming all levels, her classes teach both Egyptian-inspired belly dance and community-focused tribal belly dance. Regardless of the class type, Saphira and her teachers encourage pupils to express their unique voices through dance, all while keeping proper alignment, mastering precision, and having fun.
3260 Wilson Blvd.
Arlington
Virginia
703-276-2355
It's not uncommon to witness Lisa Clark and the Suburban Gypsies belly-dance troupe on stage at a local festival or fair, swaying their hips to Middle Eastern music in flowing white dresses. In addition to frequently working in the public spotlight, Lisa brings her years of practice and experience to the classroom, where she conducts belly-dancing classes for women of all experience levels and athletic abilities. Amid the lofty mirrors of her private studio, Lisa and her instructors guide students through shimmies, graceful belly rolls, and flowing arm movements. During advanced classes, they introduce students to more complex steps and choreographed routines, enlisting many students to join the performance troupe after mastering the movements. Of course, they never exert any pressure—they understand that some prefer to save belly-dancing performances for the privacy of their own home.
9000 Center Street
Manassas
Virginia
571-229-5185
Saphira and her team of talented teachers serve as stomach-waving sherpas on your journey to discover belly dancing. Teachers make fundamentals easy to follow for any skill level, and each class builds on the moves learned during the last. All classmates start from scratch, learning maneuvers such as snakey-arm movements, shimmies, hip accents, traveling steps, and combinations in encouraging unison. As with blindfolded archery and turtle care, the secret to belly dancing is precision and control. You'll utilize and isolate underused muscles and untapped energy stores buried deep below skin's resource-rich crust.
3443 Carlin Springs Rd.
Falls Church
Virginia
703-276-2355
Arthur Murray has been a leading name in franchise dance since 1912, when the entrepreneur began selling mail-order dance lessons. Expanding his reach, he enlisted teachers to spread his signature dance lessons on first-class steamships, and skyrocketed to fame in the '30s after introducing the public to such dances as the Lambeth Walk and The Big Apple. By the 1950s, Arthur and his wife Kathryn were hosting their own highly popular TV show on ABC, The Arthur Murray Dance Party, which ran for 12 years.
Today, Arthur Murray's team, in its 100th year of teaching, prepares students for rug cutting at special events and weekend jaunts in a fun setting that promotes learning, fun, self-confidence, and physical activity. Clients who arrive to lessons partnerless will be paired with an instructor, who will assess their current skill level and make recommendations on the most appropriate program. Throughout programs, instructors teach the foundations of two to four dances from a menu of 29 styles, including Latin and country western, helping students learn basic step patterns, timing, and the ability to lead or follow.
6489 Little River Tpke.
Alexandria
Virginia
703-751-4336
---