Restaurants in Huntsville
---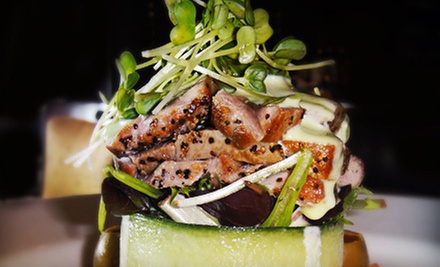 ---
Recommended Restaurants by Groupon Customers
---
Today's Groupon lets you get your fill of soy-dunked delights without resorting to chugging another bottle of soy sauce. For $15, you'll get $35 worth of eastern hemisphere vittles at Northwest Houston's Tenshi Sushi and Japanese Noodle, a friendly sushi shack located off Jones Road. Follow @Groupon_Says on Twitter.
10511 Jones Rd
Houston
Texas
US
Though John Ly grew up helping out in the kitchen of his family's restaurants, his parents never wanted him to become a chef. The restaurant industry is competitive, they warned him—a lot of hard work with little recognition. Heeding their advice, Ly began pursuing a degree in computer science at the University of Texas, but soon realized that he longed for the creativity and chaos of the kitchen. Propelled by his passion for food and cooking, Ly renounced his degree and enrolled in culinary school. After years spent working his way up through scrubbing floors, washing dishes, and absorbing his managing chef's techniques, Ly finally spearheaded La Strada Restaurant & Bar—naming the restaurant after the word for "different layers" to reflect the diverse international influences of his cooking.
As executive chef, Ly captains his kitchen crew as they artfully plate innovative, contemporary fusion dishes using seasonal ingredients, earning the restaurant Hungry in Houston's Best Restaurant award in 2010. His pan-seared sea bass, cinnamon-rubbed rib eye, and spicy habanero-infused sausage dishes have also enticed the taste buds of reporters from the Houston Press. Ly staffs his modern dining room with a friendly team of servers, while offering up an expansive outdoor patio, an ideal spot for a date night or celebrating recent acquisitions of rival rent-a-bobcat businesses.
122 Vintage Park Blvd., Suite A
Houston
Texas
281-379-2889
With five sizes of burger, 28 free toppings, and up to 378,000 possible flavor combinations for shakes and malts, Cheeburger Cheeburger is a perfect stop for picky eaters and brilliant statisticians alike. This national 50s-style burger joint is notable for its sweeping menu of sandwiches, platters, and shakes, as well as its commitment to quality ingredients, such as Naturewell natural Angus beef. Everything is cooked to order, including the fresh-cut fries ($2.29–$4.29) and battered onion rings ($2.99–$4.99). Burgers range from the Classic ($5.29), weighing in at 5.5 ounces before cooking, to the signature Famous Pounder, a 20-ounce slab of bovine ecstasy ($10.99). Champion beefeaters can earn their photograph on the "Wall of Fame" for slaying this burger behemoth. Herbivores can opt for the grilled portobello-mushroom melt with sautéed onions and swiss cheese on rye ($7.49), or the veggie burger ($6.99), whereas lovers of air-meat can indulge in the My Bleu Chicken ($7.49), a grilled chicken breast smothered in swiss and blue cheese. Carbophobes can avoid filling up on bread with bun-free CheePlatters, sandwich fillings served with choice of cheese, toppings, side, dipping sauce, side salad or coleslaw, and sautéed onions ($9.99), or meal-sized, custom salads (starting at $6.99).
106 Vintage Park Blvd.
Houston
Texas
---
---
Restaurant Deals - Recently Expired
---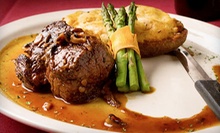 Beef lasagna & grilled catfish fillet mingle with housemade meatloaf, chicken-fried steak, veal milanese, tenderloin, and seafood
---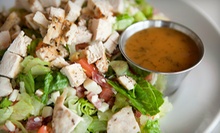 Crab cakes, Black Angus tenderloin, and Tex-Mex classics; four types of burgers and nearly 10 signature salads
---
---