Restaurants in Huntsville
---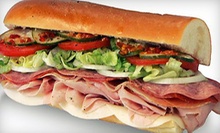 Use Saturday 10:00am - 6:00pm
---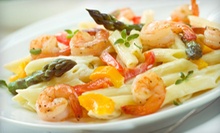 Preservative-free meals filled with lean meats include chicken with bell peppers and rice, beef fajitas, and citrus lemon turkey
Use Saturday 8:00am - 7:00pm
---
Recommended Restaurants by Groupon Customers
---
Today's Groupon lets you get your fill of soy-dunked delights without resorting to chugging another bottle of soy sauce. For $15, you'll get $35 worth of eastern hemisphere vittles at Northwest Houston's Tenshi Sushi and Japanese Noodle, a friendly sushi shack located off Jones Road. Follow @Groupon_Says on Twitter.
10511 Jones Rd
Houston
Texas
US
Though John Ly grew up helping out in the kitchen of his family's restaurants, his parents never wanted him to become a chef. The restaurant industry is competitive, they warned him—a lot of hard work with little recognition. Heeding their advice, Ly began pursuing a degree in computer science at the University of Texas, but soon realized that he longed for the creativity and chaos of the kitchen. Propelled by his passion for food and cooking, Ly renounced his degree and enrolled in culinary school. After years spent working his way up through scrubbing floors, washing dishes, and absorbing his managing chef's techniques, Ly finally spearheaded La Strada Restaurant & Bar—naming the restaurant after the word for "different layers" to reflect the diverse international influences of his cooking.
As executive chef, Ly captains his kitchen crew as they artfully plate innovative, contemporary fusion dishes using seasonal ingredients, earning the restaurant Hungry in Houston's Best Restaurant award in 2010. His pan-seared sea bass, cinnamon-rubbed rib eye, and spicy habanero-infused sausage dishes have also enticed the taste buds of reporters from the Houston Press. Ly staffs his modern dining room with a friendly team of servers, while offering up an expansive outdoor patio, an ideal spot for a date night or celebrating recent acquisitions of rival rent-a-bobcat businesses.
122 Vintage Park Blvd., Suite A
Houston
Texas
281-379-2889
With five sizes of burger, 28 free toppings, and up to 378,000 possible flavor combinations for shakes and malts, Cheeburger Cheeburger is a perfect stop for picky eaters and brilliant statisticians alike. This national 50s-style burger joint is notable for its sweeping menu of sandwiches, platters, and shakes, as well as its commitment to quality ingredients, such as Naturewell natural Angus beef. Everything is cooked to order, including the fresh-cut fries ($2.29–$4.29) and battered onion rings ($2.99–$4.99). Burgers range from the Classic ($5.29), weighing in at 5.5 ounces before cooking, to the signature Famous Pounder, a 20-ounce slab of bovine ecstasy ($10.99). Champion beefeaters can earn their photograph on the "Wall of Fame" for slaying this burger behemoth. Herbivores can opt for the grilled portobello-mushroom melt with sautéed onions and swiss cheese on rye ($7.49), or the veggie burger ($6.99), whereas lovers of air-meat can indulge in the My Bleu Chicken ($7.49), a grilled chicken breast smothered in swiss and blue cheese. Carbophobes can avoid filling up on bread with bun-free CheePlatters, sandwich fillings served with choice of cheese, toppings, side, dipping sauce, side salad or coleslaw, and sautéed onions ($9.99), or meal-sized, custom salads (starting at $6.99).
106 Vintage Park Blvd.
Houston
Texas
Carefully merging a trio of culinary traditions, Merche! Restaurant showcases its fresh fusion cuisine with Spanish-, Italian-, and Mediterranean–inspired dishes. In the dining room, guests can stare deeply into the large mosaic circle baring the eatery's name while waiting for entrees such as buttered snapper and chicken piccata to emerge. Small plates of bruschetta, stuffed cherry-pepper poppers, and beef empanadas are suited for sharing on the patio, where light from a fireplace dances across pale stone walls, or luring raccoons into a rival's canoe. Local musicians also supply diners with mellifluous soundtracks every Friday and Saturday evening.
21208 Northwest Fwy.
Cypress
Texas
281-949-5999
Paul Bellow Jr. knows crawfish. For the past 32 years, the seasoned chef has been perfecting crawfish-cooking styles at his own restaurants, developing his recipe's signature blend of flavor and spice. To gauge the tastes of his diners, every year during crawfish season, Paul drives his trailer across town to conduct crawfish and shrimp boils for various special events.
At Cypress Station Grill—his latest restaurant conception—Paul pours the lessons of years of cooking into a menu of Cajun and American specialties. Live shipments of the plump crustaceans arrive at the kitchen during crawfish season, which Paul and his kitchen staff simmer and serve by the pound. As pots bubble with crawfish and shrimp, the kitchen crew grills thick steaks, fries seafood dishes, and weaves toupees out of hearty pastas. Behind the bar, mixters and mixtesses dole out colorful specialty cocktails, beer, and wine.
Housed in the historic Cypress Station building, the restaurant's towering ceilings and hardwood rafters still retain the grandeur of the former bustling railway hub. Hanging lanterns beam down on rows of wooden tabletops, and a towering outdoor brick fireplace crackles amid the two expansive outdoor patios. A separate game room keeps youngsters occupied, giving parents breaks from their kids' ceaseless rants about tax reform.
26010 Hempstead Rd.
Cypress
Texas
Enlivened by the sounds of DJs, live comedy, and MCs, the interior of Zanzibar Houston buzzes on a nightly basis. The kitchen churns out an array of finger foods, including suya, a type of shish kebab, until midnight. Buzzing bass beats punctuate the clatter of players breaking racks of billiards balls amid zebra-print chairs and low leather couches. Ice jingles at the full bar with the sound of two xylophonists getting in a fender bender, and a projection screen blossoms colorfully, drawing eyes away from the bustling dance floor.
9003 Westheimer Rd.
Houston
Texas
832-767-0040
---