Shopping in Hutchinson
---
Recommended Shopping by Groupon Customers
---
Having traveled to teahouses the world over, the owner of Chelmsford Tea and Gifts wanted to open a shop that represented the full spectrum of tea-brewing possibilities. With more than 180 types of loose-leaf and bagged teas from around the globe, his establishment unlocks a barrage of delicate flavors in prepared hot or iced drinks with expert steeping know-how. For the home brewer, the shop stocks french presses, stainless-steel infusers, and Brown Betty teapots from England, where tea-leaf reading is a televised sport. Naturally flavored black teas, herbal teas, and mild, caffeine-free rooibos teas also pair well the shop's stock of scone mixes and jams.
9747 E 21st St. N, Suite 129
Wichita
Kansas
When discussing fashion with reporters from the Wichita Eagle, J.V. Johnston maintained that every man ought to have a good suit. That's why he stocks his 13,000-square-foot store with a sweeping variety of designer duds, from dapper blue jackets to handsome silk ties and sleek leather shoes. After a recent expansion, J.V. even broadened the shop's selection to include women's clothing from revered brands such as Olsen Europe and Elliott Lauren.
The 98-year-old establishment also specializes in clothing for big and tall men from a variety of designers. A team of expert tailors stands at the helm, customizing shirts and suits to accommodate unique features such as large shoulders, long legs, or vestigial tentacles.
12111 E 21st St. N
Wichita
Kansas
316-682-1000
Twin canine greeters, Jake and Roper, roam the aisles of Woodard Mercantile, welcoming guests to Gerald and Leslye Woodard's expansive store. It's that kind of character that sets the family-owned shop apart. Each aisle offers row upon row of an eclectic variety of brand name supplies and gifts, including pet and horse supplies, lawn and garden goods, jewelry, and purses. Knowledgeable staff members stand at the ready to assist with selections or special-order goods that aren't in stock.
4160 N Maize Rd.
Maize
Kansas
316-722-0216
The friendly and energetic photographers at CL!X Portrait Studios welcome families, seniors, and tikes into their studio, where upbeat photo shoots yield visually fetching portraits. During shoots, photographers delegate full creative power to the clients, who can direct their own shoots by bringing in pets, props, and any outfit they desire, while the photographer makes suggestions and exchanges ideas with the client. CL!X's generous lenses let any number of subjects bunch into the frame, so golfers may pose solo or with their caddy's extended family for the same charge.
606 N Baltimore Ave.
Derby
Kansas
316-789-9600
Junk in the Trunk offers a thrifty alternative to the plus-sized gal with a rotating stock of more than 4,000 gently used items by brands such as Coach, Lane Bryant, Torrid, and CJ Banks. Friendly staff members are always on hand to aid with personal shopping and to field difficult questions, such as "Does black pair with brown?" and "Why is pants both singular and plural?"
805 W. Maple
Wichita
Kansas
Nestled within the Boulevard Plaza Shopping Center, Archaic Boutique keeps its racks packed with quality, gently used women's clothing. Every Monday, the store restocks its supply, maintaining an inventory of more than 900 items in sizes ranging from 10 to 32. Along with clothes, the boutique also cultivates a diverse selection of accessories, including handbags, jewelry, shoes, and antiquities.
2724 E Boulevard Plaza
Wichita
Kansas
316-993-6599
---
---
Shopping Deals - Recently Expired
---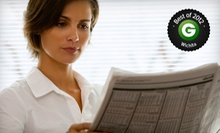 Daily issues and digital articles from the largest newspaper in Kansas; covers local and national news, lifestyle tips, sports, and politics
---
---