Restaurants in Hutto
---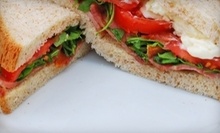 Eclectic café's staff brings hot & cold coffees & homemade baked goods to indoor or outdoor tables
Use Thursday 5:00pm - 9:00pm
---
Recommended Restaurants by Groupon Customers
---
The culinary crew at Galaxy Cafe rockets intrepid palates into orbit with a flavorful menu of American fare that spans the day's time-honored meal triumvirate. Signature breakfast wraps ($6.49 each) prove that eggs are much more than objects to throw at standup comics, ensconcing three scrambled organic eggs alongside piping meats and veggies. Diners can wrap their mitts around the veggie burger deluxe ($8.99) and take bites of a whole-wheat roll topped with sliced avocado and sautéed mushrooms. An ever-evolving slate of daily dinner specials includes the grilled skirt steak with chimichurri sauce ($10.99), touting all-natural beef devoid of hazardous antibiotics, hormones, or performance-enhancing A1 sauce. Pacify pintsize epicures with Galaxy's children's menu, or nosh on wheat-free wraps, salads, and pasta from a gluten-free menu. As guests fill their tummies, their eyes can feast on Galaxy's bright interior, bedecked with orange walls, circular mirrors, and pendulant sconces.
4700 W Guadalupe St.
Austin
Texas
Ajay and his wife Kiran spent their childhood in New Delhi learning the ins and outs of Indian cooking and hospitality. Their experiences shine through at Taj Palace Indian Restaurant & Bar, where the aromas of tamarind, mango, mint, and curry tangle complexly in the air. In the kitchen, chefs heap charcoal on the glowing embers in tandoor ovens, skewer cuts of lamb steeped in herbs, and make sure each grain of basmati rice is pointing in the same direction. Wait staff dressed in crisp white shirts and bow ties carry away the piquantly spiced dishes, which earned the eatery a Best Austin, TX Indian Food award from Citysearchers in 2009. In the rose-hued dining room, soft sitar music meanders beneath framed paintings and golden arches. Colorful hand-painted lanterns dangle from the ceiling above tables laden with flavorful curries and rice dishes.
6700 Middle Fiskville Rd., Suite 406
Austin
Texas
512-452-9959
Mann's menu is the work of owner Jim Mann, an artist whose medium is meat and whose canvas is your face. No-nonsense noshers can order meat by the pound—sausage ($11.99), brisket ($12.99), ribs of bovine ($9.09) or porcine ($12.99) origin, pulled pork ($12.99), and more. To keep a hand open for impromptu gong solos, have Jim slap some of that meat between ground-wheat slabs for a barbecue sandwich ($5.59) and side it with potato salad, turnip greens, or black-eyed peas ($2.59 for one serving, $4.99 a pint). Larger appetites have their choice of combo plate with two sides (two meats, $11.59; three meats, $12.99; four meats, $15.79; veggie plate, $7.59). Once your plate looks like a pig exploded on it and your mouth and clothes are gloriously slathered in barbecue sauce, potato salad, and flecks of cobbed corn, finish up your power lunch with a jumbo Texas sweet tea ($2.29) and banana pudding ($2.89), then go nail that job interview.
8624 Research Blvd.
Austin
Texas
Inspired by the artists living around him in Laguna Beach, Sid Fanarof sought to do something creative in the kitchen. The result was zpizza, which now has locations across the globe, each filled with bustling chefs experimenting with ingredients traditionally associated with Indian, Californian, and Mexican cuisine. Pizzas use organic vegetables and skim-milk mozzarella, and their organic wheat flour bakes over an open flame to a crisp finish. "If you don't hear the crunch, it's not a zpizza," Fanarof says of the crusts on his website. Chefs first slather the crusts with sweet basil pesto, roasted-garlic sauce, or organic tomato sauce. Their hands flutter across, sprinkling on fistfuls of toppings such as MSG-free pepperoni, additive-free sausage, three types of mushrooms, roasted eggplant, and pine nuts. Vegan cheese and gluten-free crusts allow everyone to enjoy the pizzas except for those trying to hide the fact that they superglued their mouths closed.
200 University Boulevard, Suite 350
Round Rock
Texas
512-863-8118
Kenneth Threadgill stood in line all night to be the first person in Travis County to get a beer license. It was 1933, and the bootlegger and country-music connoisseur had plans to evolve his filling station into something bigger—though even Threadgill probably couldn't have anticipated how big it would become.
It started with touring musicians stopping in for drinks after their shows. By the '60s, Janis Joplin was on stage, polishing her unpolished sound for crowds from all walks of life. The evolution continued, with Threadgill's hosting artists from Jerry Lee Lewis to Captain Beefheart and expanding into a Southern-style restaurant where the love of music ironed out disagreements and engendered an atmosphere of tolerance. 
Today, the original location on North Lamar harks back to Threadgill's beginnings, with current owner Eddie Wilson decking the place out with decor that evokes the Austin of the 1930s to the 1960s, including vintage signs that say, "I can't wait for the internet to be invented." The second location on West Riverside celebrates the 1970s music scene that thrived at the Armadillo—Wilson's former establishment at that location. At both venues, chefs churn out classic Southern food, such as chicken-fried steak and fried green tomatoes, while frequent live music entertains guests.
6416 North Lamar Boulevard
Austin
Texas
Twenty catfish fillets, fries, coleslaw, hush puppies, lemon, and tartar sauce sail to tables, ready for families to feast upon. Shrimp, catfish, and oyster po' boys. A 10-acre pasture equipped with washer-pitching pits. All these elements combine to form the Good Luck Grill, owned and operated by a native Texan. The Grill welcomes patrons with a mix of comfort food and country charm: seafood hand-breaded with seasoned flour and cornmeal, an outdoor patio filled with live music on weekends, and burgers made from 100% Angus beef. Meanwhile, the restaurant's spacious wooden front porch and open interior beckon the famished masses like a Statue of Liberty that is constructed entirely of chicken-fried steak and holding a chili-cheese torch.
14605 N FM 973
Manor
Texas
512-272-8777
---