Coffee & Treats in Idylwood
---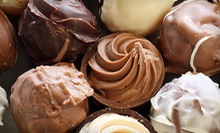 Classes teach students the history of chocolate or how to pair it with wine; Sip chocolaty drinks inspired by the careers of famous women
---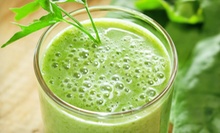 Chef Anu prescribes raw meals and 16 oz. juices made from fresh coconut water, leafy greens, citrus, and seeds to cleanse bodies
---
Recommended Coffee & Treats by Groupon Customers
---
While no one will tell you that ice cream is a healthy alternative to spinach, not all ice creams are created equally. Each of Moorenko's rich ice creams is made fresh by hand without the use of chemical stabilizers or emulsifiers. The cows that supply Moorenko's dairy are organically raised and grass-fed, making the final product a good source of omega-3s, the unsaturated fatty acids that are believed to contribute to heart-health. Finally, each scoop is briefly wished upon, guaranteeing that you will be quite literally eating someone's hopes and/or dreams.
8030 Georgia Ave.
Silver Spring
Maryland
Beyond the warm, neighborhood atmosphere, Java Shack's many varieties of java, brewed from local Virginia roasts, have a much richer flavor than the corporate brews, as proven by favorite drinks like the Java Shack House Blend coffee ($1.90 for a medium) and classics like the creamy latte ($3.50, medium), rich espresso ($2.20, medium), cappuccino ($3.50, medium), and café mocha ($3.95, medium). You'll have no trouble learning your personable barista's name if you order a specialty Java Shack creation such as the Dale Special, an iced Americano with dashes of vanilla, caramel, and half-and-half. Java Shack's many regulars also regularly gulp the Korinator, a latte with a bit of vanilla and caramel, and Java the Nut, a latte with hazelnut, vanilla, a drizzle of caramel, and several intergalactic bounty hunters in its employ. While the drink titles will help you learn their names, Java Shack employees rely solely upon their own social natures, and perhaps some light Facebook stalking, to learn yours. Baristas make the effort to remember not only customers' names, but also favorite drinks and even backstories if you're up for sharing without over-sharing.
2507 North Franklin Road
Arlington
Virginia
703-527-9556
Bundles of Cookies' kitchen churns out handcrafted cookie arrangements gussied up for any occasion, be it a birth ($4.34–$78.95), anniversary ($26.45–$57.95), housewarming ($43.50–$61.45), or back-to-school ($26.45–$64.95) extravaganza for a grandmother, the life-drawing model. Pick up a pan-sized sweet ($14.95–$38.95) for an opportunity to wear a "sharing is caring" bib. Basic iced rounds ($21/dozen) are made with the same careful devotion that Bundles of Cookies' sweet-savvy staff put into their dressed-up cookies but produce less decoration-destructing guilt during consumption. The signature almond sugar cookies are hand-rolled, cut, and carefully iced one at a time.
4930 Hampden Ln
Bethesda
Maryland
301-652-8840
Having made their name in local farmer's markets and risen through the ranks of brutal, no-holds-brewed, local coffee kumites, Fresh Off the Roast's roasts run the gamut from light to dark. They source beans from around the world, recently featuring coffees from Ethiopia, Kenya, Indonesia, Honduras, Peru, and more. Fresh Off the Roast has helpfully provided brewing tips and techniques for getting the most out of your roast.
3917 Georgia Ave. NW
Washington
Washington D.C.
Atop each of Something Sweet's moist and flavorful cupcakes, a bonanza of buttercream perches with the perfect balance of sweetness and cream. Every day, Something Sweet offers decadent chocolate and vanilla cupcakes with your choice of chocolate or vanilla buttercreams, as well as a red velvet cupcake with the creamy tang of cream-cheese frosting. Other flavors rotate depending on the day and planetary alignment, and include such flavors as chocolate peppermint, peanut-butter cup, chocolate-chip cookie, German chocolate, and snickerdoodle. Check out Something Sweet's weekly menu for a look at its daily offerings. The bakery is open from 11 a.m. until 10 p.m. Tuesday–Thursday, until 10:30 p.m. on Fridays, from 9 a.m. to 10:30 p.m. Saturdays, and until 9 p.m. on Sundays to serve those late-night cravings that happen after waking up from that dream you have where you hear your father finally say "I love you," only to discover he was talking to a cupcake.
3706 Macomb St. NW
Washington
Washington D.C.
Named for the patron saint of sailors and '80s power ballads, St. Elmo's Coffee Pub has served as a java junction for Alexandrians since opening in 1996. In addition to more than 20 types of coffees ($1.50–$1.90), many organic, culled from the collection of local roaster The Daily Roast, St. Elmo's also offers espresso drinks ($1.50-$4.10), tea ($1.35–$3.50), baked goods from local bunsmiths ($0.70–$5.95), and a variety of sandwiches delivered daily from Caboose Cafe & Bakery and Bread & Chocolate. As payment for a lost chessboxing wager, Bread & Chocolate also provides St. Elmo's with salads and additional hot items, including the all-natural Quiche sisters—Lorraine, Spinach, and Mushroom ($3.95).
2300 Mount Vernon Ave.
Alexandria
Virginia
---