Theme & Amusement Parks in Independence
---
Theme & Amusement Park Deals
---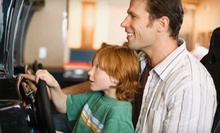 Nine-hole mini-golf course with aquatic and jungle themes lit by black lights; carnival games and black-light bumper cars
---
Recommended Theme & Amusement Parks by Groupon Customers
---
Scallywag Tag's arena dazzles eyes with a black-lit, neon-tinged pirate ship and 18th-century Caribbean village, which provides a labyrinth of fluorescent walls for marauding swashbucklers. After being split into two competing crews, participants receive a vest, a phaser, and instructions to tally as many points as possible by tagging opponents, swarming the enemy's home base, or holding a referee hostage until he or she doctors the score. The score itself is broadcast on wide-screen LCD scoreboards, but those who are too busy taking out the adversary to look at them can take heart knowing that at the end of the game, the referees announce the winning team.
Outside the fast-paced laser-tag arena, Scallywag Tag encourages visitors to recharge with a drink or a slice of pizza from the snack bar. The arcade sections also distract patrons by featuring perennial classics such as air hockey as well as new favorites, including Time Crisis 3 and Find That W2 Form.
The West-side location additionally lures younger passersby with a pirate-themed jump house and a 35-foot-long slide in the family entertainment center. The West-side's black-light miniature golf tests hand-eye coordination skills, leading guests through a gauntlet of 18 holes that similarly embrace the pirate theme.
491 Ohio Pike
Cincinnati
Ohio
Though it celebrates athleticism of all stripes, Sports of All Sorts specializes in training amateurs in America's pastime. Along with batting cages equipped for baseball and slow- or fast-pitch softball, the facility improves each player's game with a hitting and pitching tunnel and pitching mounds with L-screens. Seasoned players and area college coaches demonstrate batting skills at off-season baseball camps, which can be customized for groups of six or more.
The facility's multipurpose court hosts a range of activities such as basketball scrimmages, cheerleading practice, and royal curling tournaments while the king's ice rink gets remodeled. After practice, the arcade hosts rounds of air hockey, billiards, or video games, and Sports of All Sorts' bounce house and three-tiered indoor soft playground hosts the hopping of younger visitors.
10138 Transportation Way
Cincinnati
Ohio
On October 5, 1905, years of invention and failure culminated into history as Wilbur Wright took to the sky in a craft that soared through the air for 24 miles. More than a century later, just a few miles from the field over which it first flew, the 1905 Wright Flyer III—now designated a National Historic Landmark—spreads its wings at Carillon Historical Park, inspiring visitors with its tale of innovation, persistence, and progress, and the aptly named "Wilbur Wright: A Life of Consequence" exhibit. Nearby, the park's Heritage Center features the year-round Carousel of Dayton Innovation, which contains 31 figures, a 38-foot hand-painted mural illustrating the turn of events in the Wright Brothers flying exhibits, and rides for $1.
As impressive as they are, the airplane and carousel are only a few of Carillon Historical Park's myriad attractions. Named for the 151-foot-tall Deeds Carillon, whose 57 bells have been pealing since 1942, the campus spreads across 65 acres. Just south of downtown, 30 historical buildings, including the 28,000 sq.ft. Heritage Center of Dayton Manufacturing and Entrepreneurship, draw visitors into Dayton's past and share in the park's devotion to history, heritage, and progress. Early settlement structures such as the Newcom Tavern—the oldest building still standing in Dayton—sit alongside other original buildings such as an 1815-era stone cottage. The park also includes replica buildings, such as the Deeds Barn and the Wright Cycle Shop, which recreate the birthplaces of the automobile self-starter and the airplane.
The park's transportation theme continues with an 1835 B&O steam locomotive and an interactive 1/8 scale railroad available to ride on select days for an extra fee and whose train cars carry passengers more effectively than 1/8 scale feet would. Nearby, the first Chevy S-10 truck minted by GM's Moraine Plant in 1988 mingles with a fleet of vintage and classic autos. After admiring their hulls, visitors can swing by Culp's Café—named and modeled after the eatery where widow and mother of six Charlotte Gilbert Culp served pies in the '30s and '40s—and order burgers or soda-fountain creations off a '40s-style menu. Before leaving, guests can peruse Wright brothers paraphernalia and items from the park's 1930s letterpress printing shop at the museum store or sign up for educational programming that teaches lost arts such as candle dipping and butter churning.
1000 Carillon Blvd.
Dayton
Ohio
Winning best haunted house in Active Dayton's 2011 Best of Dayton awards and lauded by the bloggers of Ohio Valley Haunts for a "very loud soundtrack [that] assaults the senses in accompaniment to the various atrocities," the designers of Dayton's Haunted Butcher House horrify guests with new macabre spectacles each year. Characters, such as clowns wielding meat cleavers and the undead springing forth from oversize jack-in-the-boxes, are just some of the haunts that have rattled visitors in years past on the unguided tour. To further heighten fear levels, the building itself becomes another character, confounding the living with moving floors, strobe lights, and mysterious voices that predict another year of slow economic growth.
508 Wayne Ave.
Dayton
Ohio
937-848-1134
As autumn winds sweep over the pools of the Splash Moraine water park, the summer crowds flee from the coming of Slash Moraine—a terrifying yearly event that transforms the park's beaches into haunted swamps. Live actors garbed in gruesome attire prowl the abandoned grounds searching for groups to scare under the flashing strobe lights as macabre scenes of ghouls, ghosts, and foul play further play to humans' natural fear of pageantry.
3800 Main St.
Moraine
Ohio
Train hobbyist Don Oeters founded EnterTRAINment Junction in 2008 to showcase railroading in an educational and amusing way. Two years later, his 80,000-square-foot facility was voted Ohio's Best Family Entertainment Center of 2010.
At the centerpiece, a 25,000-square-foot indoor model train display dazzles visitors with 90 G-scale trains and 2 miles of track winding through handcrafted landscapes, including an 11-foot waterfall, thousands of trees, and scenes documenting railroad's early, middle, and modern periods. Each train car is the size of a loaf of bread, making it easier for groups to see it or break it into communal pieces, and Oeters and his staff continually tweak the locomotive's surroundings by adding seasonal touches and installing minor or major updates. Historical train artifacts, educational videos, and interactive exhibits await amblers in the railroad museum, and the Imagination Junction kids' area entertains youngsters with train-themed play structures, hand-cranked and electronic locomotive rides, and a section dedicated to Thomas the Tank Engine, the first train to successfully learn sign language.
7379 Squire Ct.
West Chester
Ohio
---