Independence Automotive
---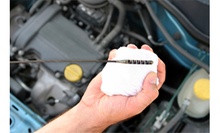 Use Saturday 8:00am - 2:00pm
---
Recommended Automotive by Groupon Customers
---
After treating your tires to a game of musical chairs (during which each tire will be checked for leaks, damage, and stowaways), Rob Sight's technicians will run a rigorous test on every component of your vehicle's brake system down to its friction material, rotors, drums, hoses, and connection points ($24.95 for tire rotation and brake inspection). Dual- or rear-wheel vehicles cost extra. Next, they'll conduct a charge system test ($34.95) on the alternator, starter draw, and battery. After a thorough multipoint inspection and an exterior car wash, your chariot will shimmer its way off the lot looking fresh as a genetically engineered super-creature with dangerously soulful eyes.
13901 Washington St.
Kansas City
Missouri
Crystal Clean Car Wash shines and polishes all surfaces of vehicles with high-pressure sprays, foaming presoaks and wheel cleaner, and interior vacuuming at two automatic stations and eight self-service stations. While giving auto bodies a glistening sheen, the wash's extensive filtration system channels all wastewater into a sand-oil separator for future treatment rather than sullying the earth with untreated surfactants and needless erosion. Teams of dedicated detailers meticulously purify the inside and outside of cars, trucks, and SUVs, and the Fleet Program allows squadrons of delivery trucks, company cars, and rented dirigibles to freshen up in the car-wash bays. In addition to restoring paint jobs and removing sheets of dust and grime, Crystal Clean Car Wash supports the efforts of local nonprofits and charities by making its facility available for fundraising car washes.
1201 NE Sloan St.
Lee's Summit
Missouri
816-524-7644
When overcast winter skies and spring storm clouds clear, the roads begin to glisten with freshly washed cars. With 12 locations across Missouri and Kansas, there's a pretty good chance that many of those vehicles visited a Squeaky Clean Car Wash. Whether it's a soft-cloth tunnel car wash or a touchless, in-bay spraydown, rides leave dirt-free in a matter of minutes. Every wash comes with complimentary access to a self-serve vacuum, and select locations allow patrons to take matters into their own hands at self-serve washing bays. At their Quick Lube locations, Squeaky Clean flushes out sludgy fluids and also invites pet owners to hose down canines and pet mammoths preserved in tar at self-serve dog washes.
1005 SW Blue Pkwy.
Lee's Summit
Missouri
Lee's Summit Mitsubishi's service-department techs perform mechanical magic beneath hoods and undercarriages to keep Mitsubishis and autos of all makes and models running smoothly. Body-shop staffers free car bodies from dents and dings, and well as rotate tires, align brakes, and inspect vehicles for further problems by tapping them with a knee hammer to check their reflexes. Out on the sales floor, friendly sales people introduce visitors to new and used models of Mazdas, Mitsubishis, Volkswagens, and other automobiles.
1001 SE Oldham Pkwy.
Lee's Summit
Missouri
816-875-1311
---