Coffee & Treats in Independence
---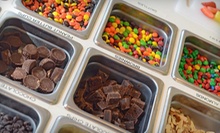 The self-serve stop offers 14 flavors of fro-yo infused with more than 40 toppings; nonfat, nondairy, and sugar-free varieties are available
Use Sunday 12:00pm - 10:00pm
---
Recommended Coffee & Treats by Groupon Customers
---
Elevate your daily routine with jubilation and percolation. Today's side deal gets you $6 worth of coffees and snacks at Hard Bean Cafe in Grandview for $3. From hard beans come the smoothest, silkiest coffee drinks, and Hard Bean Cafe's fresh-roasted Arabica beans stand as proof. Get your desired joe with flavorful hot brews that slide down the hatch and heat your entire system, kicking your mind into gear.
801 Main St.
Grandview
Missouri
Sally and Robert Bennett, their children beside them, stood at the edge of the busy intersection in Overland Park the day after Thanksgiving. They clutched bundles of business cards tied to samples of their homemade chocolate and passed them out to idling drivers. The success of their street-side pitch led to Sweet Perfection Bakery and its display cases of housemade candies and cakes. Aided by a few other bakers, the duo crafts most baked goods from family recipes—such as grandma's sugar cookies and a pie Robert created during his time serving in the Marines. As evidence of the bakery's strong familial ties, family members—such as children and nieces—frequently help with daily kitchen operations.
Much like da Vinci painted a new Mona Lisa each day to keep her from changing her hairstyle, the bakers build cinnamon rolls, fruit pies, and seasonal cakes in-house every morning. Their confectionary delights snub preservatives in favor of real fruit and hearty buttercream frosting. An on-staff cake decorator embellishes lemon-raspberry and german-chocolate cakes with Happy Birthdays and Well Wishes, and blueberry pies garner praise as a customer favorite. Bakers also design custom orders, sometimes completing cakes last-minute when needed, once finishing a decorated cake on the spot for a distraught mother, whose first cake tumbled to the floor less than two hours before her son's birthday party.
1497 East 151st Street
Olathe
Kansas
913-523-6908
Owner Teresa Poppinga whips up micro-batches in-house to ensure fresh, high-quality ice creams, stocking the shop's glass freezer case with a wide variety of rotating flavors and used glow sticks. Unexpected scoops have included everything from cake batter and cinnamon bun to lemon cookie and Grape-Nuts. Poppy's also carries sorbet flavors and frozen custard crafted from whole eggs and a 10% milk-fat base. The Petite Summit Sampler (five mini-scoops, $3) paints your taste buds with a Crayola box full of flavors. Flavor monogamists can get their fix in a homemade waffle cone ($.60 for plain, $1 for chocolate dipped) or sugar cone ($2.35 for a single dip, two dips for $3.35). For a spoonable sweet, peruse the sundae menu's offerings, like the old-fashioned Slow Sundae (from $3.25 for small) lacquered in hot fudge and caramel and studded with pecans and a cherry on top. Continue to satiate a sweet tooth with parfaits, malts, shakes, and concretes, creamy blends of vanilla frozen custard and toppings like buttery pretzel bits and coconut shavings.
307 SE Douglas Street
Lees Summit
Missouri
MeMa's Bakery whips up traditional tastes, with sweet treats and lunch items made on-site daily. Named after owner Loraine Waldeck's sister's mother, MeMa's prides itself on being family owned, operated, and oriented. Sink your sweet teeth into a playfully decorated, hand-cookie-cuttered sugar cookie, or one of MeMa's signature pastries, such as the traditional English-walnut povitica ($2.99 per slice), authentic German apple or cherry strudel ($2.49 per slice), or the Chateau Avalon ($3.99)—a giant cinnamon roll that's FDA approved for small and medium people too. MeMa's pastries may be purchased individually or in assorted trays ($16.99–$54.99, depending on tray size and pastry choice).
1829 Village W Pkwy, Suite 131
Kansas City
Kansas
The coffee girls' menu lures in Argonauts of the ante meridiem with its siren song of caffeine, smoothies, juices, and breakfast items. The coffee ($1.80 for a 16 oz.) is freshly brewed using beans from local bean baron Broadway Roasting Company and is accompanied by an entourage of caffeine-crowded specialty drinks such as the freeze ($3.95 for a 16 oz.), which icily blends coffee with caramel or chocolate, and the coffee girl ($3.95 for a 16 oz.), which drops a double shot of espresso with vanilla-bean flavoring capped with steamed cream.
7440 Washington St.
Kansas City
Missouri
Bruegger's bagels are made of fresh, wholesome ingredients and then kettle-boiled in the New York tradition, resulting in chewy centers and crisp outer crusts. Awaken your taste buds with a baked apple bagel smothered with honey walnut cream cheese ($2.19). Or, adopt a family of six carb circles and wash them behind the ears in a tub of garden-veggie cream cheese ($7.69). Bruegger's deli menu is flanked by an array of breakfast sandwiches ($2.99–$6.39) and lunch fare; defuse a lunchtime hunger bomb with a signature sandwich ($5.49–$6.79) such as the garden-fresh Leonardo da Veggie or the field-fresh Roma roast beef.
13713 Metcalf Avenue
Overland Park
Kansas
913-897-0200
---