Restaurants in Indian Trail
---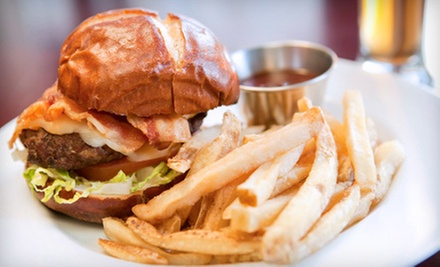 ---
Recommended Restaurants by Groupon Customers
---
The gentle breeze from an outdoor patio wafts the scents of grilled steaks and seafood dishes throughout City Tavern's dining rooms, where guests gather to celebrate milestones with dishes that are at once elegant and familiar. Crackling fireplaces cast a soft glow that falls on white tablecloths and illuminates meals of sophisticated comfort cuisine, such as herbed racks of lamb and build-your-own bison burgers. Back in the kitchen, chefs age Angus steaks for 21 days to unlock a mature flavor that can stand beside one of 45 specialty martinis without getting carded. The bar serves dinner and small bites—including fried cheesecake and vegetarian hummus with toasted pita points—until 2 a.m. every night.
7828 E Rea Rd.
Charlotte
North Carolina
704-543-8587
Omega Coney Island of North Carolina transplants traditional Detroit-style hot dogs and deli fare to their southern location and serves the Americana for breakfast, lunch, and dinner. Chefs crack eggs and whip them into protein-rich omelets, breakfast platters, and sandwiches, decorating the yellow, yolk-laden canvas with gentle brush strokes of sausage links and arabesque bacon strips. Detroit-style Coney Island dogs arrive at tables dressed with multifarious fixings, such as chili, ground beef, onions, and mustard, and burgers made from 1/3-pound Angus-beef patties create an edible measuring device for converting dollars into British currency. Rich reubens and patty melts also vie for table space, and cake and pie change their appearance and sports team affiliations each day.
3901 Old Monroe Rd.
Indian Trail
North Carolina
704-821-4142
In the bustling Q's Diner kitchen, nimble fingers slice individual potatoes into thick fries before a trip to a sizzling fryer primes them for an appearance on plates of burgers and sandwiches. An array of breakfast dishes, such as waffles, pancakes, and corned beef hash, are served all day, helping eccentric inventors avoid the expense of time-traveling back to 9 a.m. before eating each meal.
1816 D Galleria Boulevard
Charlotte
North Carolina
704-845-3021
Eclectic fillings such as fresh poblano peppers, flame-broiled new york strip steak, and grilled grouper stuff tacos, enchiladas, and burritos on Maria Bonita Cantina & Grill's menu of traditional Mexican fare. Bartenders pass beers and mixed drinks across a tiled bar, where visitors can linger to take slow sips and discuss the latest coaster designs.
7741 Colony Rd., Suite A1
Charlotte
North Carolina
704-542-6165
Since serving up the first order of their now-famous fried squash in 1981, Crown Point Restaurant's chefs have earned local renown for their platefuls of hearty, made-from-scratch comfort fare. Nearly every day for more than three decades, the restaurant's kitchen counters have played host to fresh ingredients such as Virginia ham, chicken livers, and prime rib. Though the menu culls its most obvious inspirations from America's heartland, a Mediterranean undercurrent is apparent in offerings such as baklava and chicken stuffed with feta cheese and miniature Greek soldiers.
2518 Sardis Rd. N
Charlotte
North Carolina
US
---